Coca-Cola (KO) is one of the stalwart stocks within the dividend growth champion stalls, but did you know he has a son who is a dividend growth challenger? A yearling at present, but already shaping up to be a thoroughbred champion like his father. This article will look at the performance of both the Coca-Cola Company listed in the United States [US], but also at its junior entity Coca-Cola Amatil [CCL] listed on the Australian Stock Exchange [ASX].
Coca-Cola has a strong consistent performance record as a dividend growth stock, with 50 years of sustained dividend gains, while Coca-Cola Amatil has a proven track record of growth over the last 13 years. This article will illustrate Coca-Cola's suitability for inclusion in a Dividend Growth Investment [DGI] portfolio for US investors, as well as Coca-Cola Amatil's suitability for Australian investors looking to replicate similar performance.
Company Overview
The Coca-Cola Company is an iconic brand worldwide; a quick trip to their corporate website provides an excellent snapshot of the company's diverse range of operations, the complexity of which can be summed up in the following visual: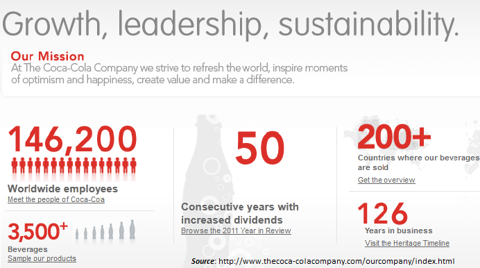 Coca-Cola Amatil is one of the largest bottlers of non-alcoholic ready-to-drink beverages in the Asia-Pacific region and one of the world's top five Coca-Cola bottlers. The company employs 15,000 people to service a consumer market of 265 million people through a network of 700,000 active customers. It has operations in five countries - Australia, New Zealand, Fiji, Indonesia and Papua New Guinea - manufacturing, selling and distributing a diversified product portfolio including carbonated soft drinks, water, sports and energy drinks, fruit juice, flavored milk, coffee and packaged ready-to-eat fruit and vegetable products. It also sells and distributes the premium spirits portfolio of Beam Global Spirits & Wines. The Coca-Cola Company owns 30% of Coca-Cola Amatil shares and has two directors on CCA's eight member Board of Directors.
Current Financial Performance
Coca-Cola. KO closed today at $36.38, $4.29 (10.5%) below its 52 week high, and $4.01 (12.4%) above its 52 week low. The company trades with a yield of 2.78%, at a PE ratio of 19.20 and holds a Market Cap of $163 Billion. The most recent quarterly earnings transcript can be accessed here and the company's 12 month share price performance is shown below: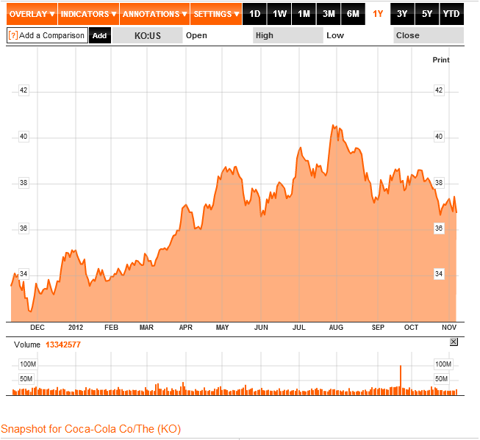 Coca-Cola Amatil. [CCL] closed today at AUD$13.36, AUD$0.83 (5.6%) below its 52 week high, and AUD$2.06 (1.8%) above its 52 week low. The company trades with a yield of 4.12%, at a PE ratio of 14.80 and holds a Market Cap of AUD$10 Billion. The company's 12 month share price performance is shown below: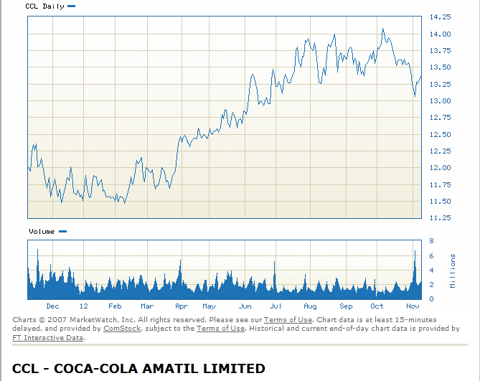 Dividend Growth Performance
The suitability of a stock for inclusion in a dividend growth portfolio, besides the company continuing to grow and perform, is that the dividend increases and there are no periods where dividends are not paid or dividend growth is negative. A notable strength for both Coca-Cola and Coca-Cola Amatil is that their dividend growth is sustained, both during and after the global financial crisis. One year performance is stronger for the US parent company, but the Australian entity has the hallmarks of a challenger looking to become a contender, and performance in dividend growth is fairly matched for 3, 5 and 10 year comparisons. The performance for each entity is listed in the tables below: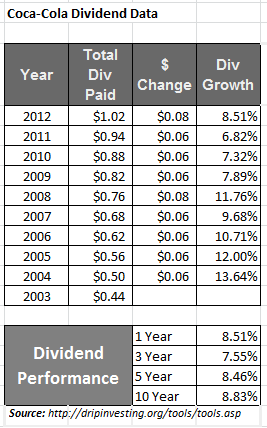 Coca-Cola Amatil figures shown below are in $AUD and dividends paid 2004 - 2012 are fully franked; dividends paid 2003 and prior are only partially franked.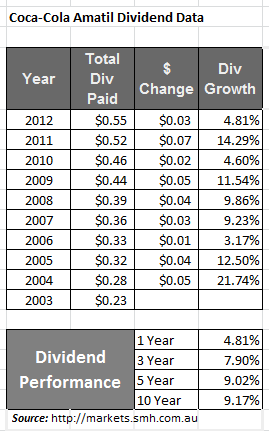 Risks & Opportunities
Coca-Cola has to face the same challenging market conditions as its competitors, that is placed on it by a lagging global economy, however this is a challenge the company is aware of and working to ensure the company generates sustainable revenue and profit. Management sees five significant factors that will shape the businesses, governments and civic institutions for the next 10 years and beyond:
Global Inflation
China
Global climate change
Resource scarcity
Demographic shifts.
Dividend growth investor 'chowder' has commented previously on Seeking Alpha (although I can't find it now amongst his 2,900+ comments) that a good goal is to find companies that offer products that will be in demand regardless of what market conditions are like, and then choose the ones with a good track record of paying dividends that increase. To that end, buy fuel companies, buy food companies, and buy beverage companies - and in both Coca-Cola and Coca-Cola Amatil you have a quality company selling products that will always be in demand. Regardless of the five significant factors above, ask any soldier who has deployed on operations what they will find in some of the most isolated and out of reach uncommercialized places in the world - bottled water and Coca-Cola (and that's just a fraction of the brands being marketed). In my mind, this is just the type of company profile to look for that 'chowder' suggests.
Continuing to grow revenue while controlling costs is vital for big companies to ensure they continue to grow, and grow in a sustained manner. Coca-Cola recently announced a new system investment of "US$300 million over the next three years in Vietnam to capture growth opportunities in one of the worlds major emerging consumer markets; the commitment will bring to US$500 million the total investment that The Coca-Cola Company and its bottling partners have committed to Vietnam from 2010 through 2015".
Growing smaller ventures is also a challenge, and keep in mind that to be included in a DGI portfolio, investors must closely manage the dividend returns of their investments. While Coca-Cola has a 50 year strong track record, Coca-Cola Amatil has a few blips before its 13 year run of dividend growth. Dividends paid prior to 2000 experienced no annual growth from 1997 to 1998, dropped by 36.8% in 1999, and experienced no annual growth until 2001. This is contrary to the expectations of a dividend champion, however its solid performance over the last 13 years warrants its consideration as a dividend contender.
Summary
Coca-Cola is a quality example of a dividend growth stock, with a strong track record of dividend growth over 50 years, and is an ideal stock to hold within a United States DGI portfolio. Australian investors can also look to hold the US stock as an international equity within a diversified portfolio, or alternatively hold the Australian Coca-Cola Amatil stock within an Australian DGI portfolio. Like father, like son, the contender demonstrates potential to become a champion.
Disclosure: I have no positions in any stocks mentioned, but may initiate a long position in KO over the next 72 hours. I wrote this article myself, and it expresses my own opinions. I am not receiving compensation for it (other than from Seeking Alpha). I have no business relationship with any company whose stock is mentioned in this article.
Additional disclosure: Thanks to SA Contributor David Fish who provides such an easy to use spreadsheet for Dividend Champions, Contenders and Challengers.