Nvidia (NASDAQ:NVDA) reported strong fiscal Q3 results, with earnings per share beating the estimates by 10%. If that wasn't enough good news, Nvidia became the latest dividend paying tech stock by announcing a dividend of 7.5 cents a share per quarter.
When investors look up chip companies to invest in, Intel (NASDAQ:INTC) and Qualcomm (NASDAQ:QCOM) stand out as the top choices. Intel stands out because of its strong yield and dividend growth, while Qualcomm is one of the few companies with both growth prospects and a decent yield. Nvidia, from a common investor's perspective neither had the dividend lure of Intel nor the growth prowess of Qualcomm. However, with this latest report and the dividend announcement, Nvidia might have reduced the gap with the other two names. Let us get into the details of this new dividend and make a case for Nvidia in your portfolio.
Yield: The annual dividend works out to 30 cents a share and at the current share price of $12.7, the yield for Nvidia's investors works out to about 2.4%. That puts Nvidia somewhere in between Intel's 4% and Qualcomm's 1.7% yield. Not a bad start.
Payout Ratio: Payout ratio is an important metric for all dividend paying stocks, especially when the company operates in an industry like Semiconductor that is generally considered to be in decline. Nvidia's payout ratio will be at 36% based on current yearly EPS of 82 cents a share. Once again, Nvidia finds itself right in the middle between Intel's 40% payout and Qualcomm's 28%.
Cash on Hand: In addition to a moderate payout ratio, a company's cash on hand comforts/worries investors about the company's ability to maintain/increase dividends. Nvidia has a cash hoard of $3.27 billion and has been on an upward trajectory as shown below.
The cash amount might seem to be small compared to Intel's $10 billion or Qualcomm's 12 billion. But, we must remember that Nvidia is a much smaller company than the other two. To put the cash number into proper context, Nvidia's cash represents 41% of its market cap. The corresponding number for Intel is less than 10%, while Qualcomm's is at 12%. In other words, Mr. Market has a very low regard for Nvidia's on going business.

(Source: YCharts.com)
Earnings History: In spite of the impressive cash hoard and a moderate payout ratio, Nvidia must keep its earnings moving forward to satisfy investors. When you talk about earnings, it is important for a stock to a) show improvements year on year b) Meet/beat analyst estimates, failing which can be brutal for the stock and c) have positive forward estimates and sentiments. The table below shows Nvidia stands good on all three aspects. These numbers actually completely outclass Intel's and compare fairly well against Qualcomm's.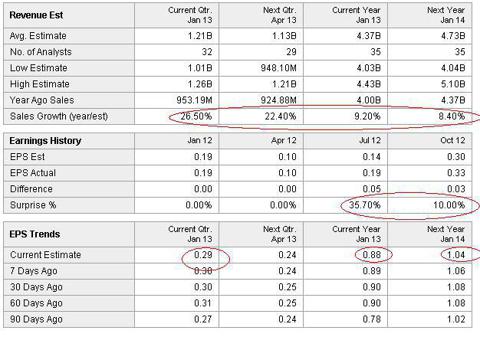 (Source: Finance.yahoo.com)
Forward-Looking Analysis and Conclusion:
Even though the company's Q4 revenue outlook is below the street's $1.2 billion, expect Nvidia to surprise on the upside given the recent earnings history.
Also, as the CEO Jen-Hsun Huang noted during the conference call, the capital expenditures are beginning to pay off and this trend should continue given the promise shown by the company's Tegra chips. As indicated in this report, Tegra is already increasing its market share thanks to Microsoft's (NASDAQ:MSFT) Surface and Google's (NASDAQ:GOOG) Nexus.
Nvidia's earnings are expected to grow at about 13%/yr over the next 5 years. That should translate to equal, if not better, annual dividend growth of about 10%. This statement is backed up by the cash and the moderate payout ratio.
Nvidia is still probably the third best bet after Intel and Qualcomm for investors, as Intel is heavily favored by income investors and Qualcomm is sought after mainly by growth investors. However, as shown in this article, Nvidia at least commands a closer look, if not a position in the portfolio already.
Disclosure: I am long INTC. I wrote this article myself, and it expresses my own opinions. I am not receiving compensation for it (other than from Seeking Alpha). I have no business relationship with any company whose stock is mentioned in this article.