According to a recent market survey by Natixis, a global asset allocation firm, stock market volatility and prolonged global economic turmoil are contributing to a lack of investor confidence in traditional asset allocation models.
Investors want to learn more about alternative strategies.
Even though the S&P 500 is up 15% this year, many investors have missed this rally, contributing to their frustrations. And this frustration is compounded by the fact that so many investors lost their shirts in the crisis of 2008 and then sat out the rally of 2009.
The chart below shows the inflows and outflows from the equity funds at precisely the wrong times.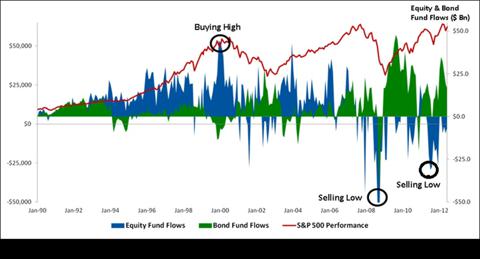 Therefore it is no surprise that an overwhelming majority of investors are ready to move beyond traditional portfolio approach of buy and hold 60% stocks and 40% bonds.
Here are the highlights of the survey:
1. 69% of the respondents believe it is time to replace traditional investing techniques with some more creative approaches.
2. 75% of respondents described the traditional 60/40 portfolio as no longer the best way to generate returns and manage risk.
3. 52% of the investors said they are interested in products not correlated to the performance of the broader market.
4. Nearly 33% of the baby boomers and 50% of younger investors want alternative investments in their portfolios
But the biggest hurdle faced by investors is a lack of knowledge:
How to Think About Alternatives
When it comes to thinking about alternatives we, at MA Capital Management, believe that it goes way beyond just picking foreign equities or commodities in your portfolio. It is a multi-dimensional approach that can be broken out into these 4 steps:
Systematic Investing - not based on human emotions
Hedging
Risk Management
Picking assets beyond the traditional mix of US stocks and bonds
It is also true that until now most of these portfolio features were available to only the large institutional investors, but not anymore. There are a few choices available to investors for alternative portfolios.
If you seek additional information, please feel free to take advantage of this upcoming free webinar on how to construct an alternative portfolio.
1. Systematic Investing
Systematic investing's advantage is that it is not driven by or slave to human emotions and biases. It is not prone to human oversight or limited by computational abilities. But, systematic investing is NOT the same as technical analysis.
We call systematic investing, Technical Analysis - The Next Generation. The main problem with technical analysis is that no single indicator like moving average, crossovers, volumes or volatility measures can be looked at in isolation. No single indicator produces consistent results that can translate into a profitable system.
Systematic investing takes these technical signals, from a universe of hundreds and feeds them into a mathematical algorithm. The algorithms are based on a combination of statistical models that have been optimized for risk and return.
Most of these algorithms are learning machines, i.e. they evolve with changing market conditions. These algorithms have been categorized by the investment community under the following categories, though we believe that these categories are too narrow in their scope.
Momentum or Trend Following
Pattern Recognition
Volatility Arbitrage
Neural Networks, etc.
These systematic models crunch through a lot of computations and then unemotionally, spit out 'buy', 'sell' or 'hold' signals. The models are further calibrated to produce these signals every few weeks to as frequently as every few milliseconds. The latter algorithms are called high frequency trading systems.
2. Hedging
Hedging or dynamic rebalancing is the antithesis of 'buy and hold'. Assets are usually picked by investors based on the following metrics:
Alpha
Beta
Volatility
Correlation to other assets
But one thing to remember is that the above factors are not constant over any significant time period. They change with macro-economic conditions, government interventions and geo-political conditions. . I think the last economic crisis followed by global QE programs has shown that.
Therefore it is prudent to change the allocation to the assets in your portfolio based on the changing metrics of the assets, both on an absolute level as well as relative to other assets.
3. Risk Management
Risk management in a dynamic long-only portfolio comes down to making a decision between staying in the market and going to cash. Once again there are several measures that can be used to determine when it is time to get defensive and move to cash. Investors have used:
Volatility
Max drawdown
Macro-economic news
Technical Indicators like moving average, RSI, etc.
But once again the important thing to remember is that because no market cycle is completely consistent with past cycles, risk management measures also need to be systematically determined based on the current market cycle.
Therefore a lot of systematic investing models incorporate risk/return metrics in determining when to buy and when to sell, so that these decisions are not tainted by the human psychology of greed and fear.
4. Picking assets beyond the traditional mix of US stocks and bonds
Every investor strives to pick assets in their portfolio that have one of the following characteristics:
Potential for high returns
Low correlation to other assets in their portfolio
Good hedge against a drop in the equity markets
Large institutional investors and ultra-high net worth investors have access to the entire possibilities of such investments. They use hedge funds, private equity investments, special purpose vehicles and more structured exotics offered by investment banks. But there are quite a few investments that can be used by individual investors that do not require an 8 figure account. Here are some that we like:
Frontier Markets: Investors have known about the emerging markets of BRICs for quite a while, but most of the juice (alpha) from those markets has already been extracted and has been replaced by beta. Frontier markets refer to the markets of Africa, Eastern Europe, Middle East and Asia. These markets are benefitting from a demand for natural resources, political stability, demographics and the development of a middle class.
Managed Futures
The following is a chart of the performance of the managed futures index versus the S&P500.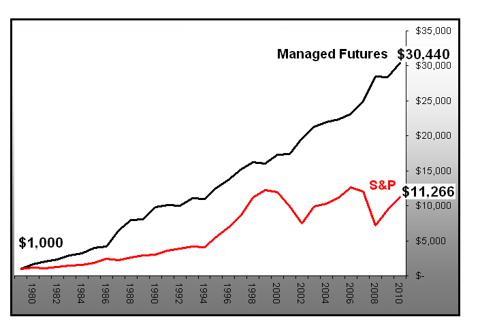 Source: ESignal, BarclayHedge
The managed futures index is the performance of the BarclayHedge BTOP 50 Index.
The above results for the frontier markets as well as the managed futures show the performance of non-investable indices, which makes picking the correct investments paramount.
In our portfolio construction we come across several mutual and hedge fund managers that profess to offer alternative assets like frontier markets and managed futures products. Some of these managers are new comers while some are well established funds with years of history and large assets. But given our strong belief in systematic strategies and emphasis on downside protection, we reject over 99% of these funds.
Even the handful we find promising, need to be replaced from time to time as their specific systems might not be suited for the current market conditions.
In conclusion, an alternative approach to portfolio management is multi-dimensional. It is not just about allocating a portion of your existing portfolio to commodities or frontier markets or managed futures. It is a 4 step process as described above that needs to be actively and systematically managed.
Here are some choices for retail investors to access alternative portfolios. Some of these are mutual funds and some ETFs.

If you seek additional information, please feel free to take advantage of this upcoming free webinar on how to construct an alternative portfolio.
Disclosure: I have no positions in any stocks mentioned, and no plans to initiate any positions within the next 72 hours. I wrote this article myself, and it expresses my own opinions. I am not receiving compensation for it (other than from Seeking Alpha). I have no business relationship with any company whose stock is mentioned in this article.