The market continued its two day slide Thursday as investors are giving President Obama's re-election a hardy Bronx Cheer. The sell-off Wednesday was the worst day after a presidential election since 1948. Thursday saw another one percent decline across the major indexes. Sentiment continues to deteriorate rapidly in many key areas. In this article I am going to do a quick recap of the major headwinds to the market and what I am looking at for my own portfolio. I will end the piece with some unsolicited advice to President Obama that could significantly help the markets, job growth and his own approval rating for little political cost.
Readers: I welcome your input, both pro and con, on my four point plan. I think if something like this was implemented it would be very beneficial to the underemployed construction sector. It also would generate a tailwind to heavy construction stocks like Chicago Bridge & Iron (NYSE:CBI). My favorite stock pick in this space is Tutor Perini (NYSE:TPC) which I gave a shout out to on Wednesday.
Obviously, the number one concern on every investors mind right now is the "Fiscal Cliff". When this term is trending higher on Twitter than the latest moronic twist in the lives of the Kardashian sisters, you know this impending catastrophe is sinking in with the American public and depressing investor sentiment. My personal feeling is some way will be found to push the date back three to six months while the political sides work out a longer term deal. However, the one thing that does not look like it will be continued at the end of the year is the 2% payroll tax holiday. This is one of the reasons the retail sector has sold off over the past two days (See chart) and why I am under allocated to this area right now.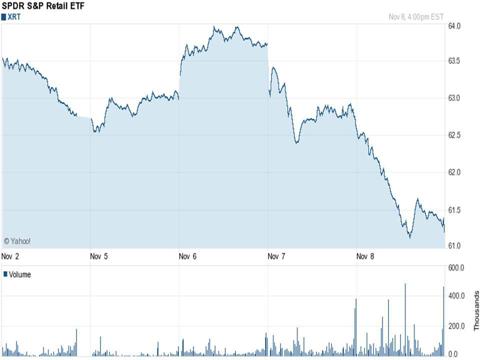 The market also went under its 200 day moving average yesterday for the first time since the swoon in the second quarter (See chart). Technicians watch this support level closely. If the market does not bounce back quickly like it did at the nadir of the second quarter, this could spell trouble for the market on a technical level.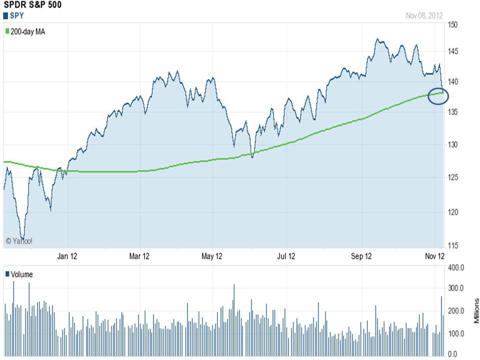 I hate to keep harping on Apple (NASDAQ:AAPL), but investor sentiment is going to be hard to repair when the world's most valuable company and retail investor favorite keeps falling 10 to 20 points a day. The stock is down some 50 points in the last five trading sessions (See chart). Every media outlet and tech blogger seems to have a "Has Apple lost its mojo?" story going right now. This is not helping at all with retail investor psychology and if Apple does not hold its next technical support of $525 to $528 a share, this could continue to be a major headwind to the market.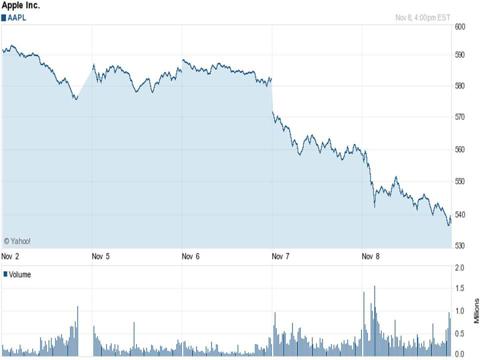 High PE stocks are taking significant hits. Whole Foods (WFM) and Concur Technologies (NASDAQ:CNQR) both got whacked yesterday on the back of disappointing earnings reports, which seems to be a theme during the third quarter (Here is why I am still short WFM and CNQR). I would look for this to continue through the end of the year as revenue growth is hard to come by especially to justify the valuations of these high PE stocks. In addition, investors are going to take profits on stocks that have run up this year to avoid what they believe will be higher capital gains taxes in 2013.
Finally, Europe continues to be in the news and in a negative way. The European Indexes are heading to more than two percent loss this week as continental GDP growth was revised down this week by the ECB. In addition, there is plenty of concern on how Greece gets its next tranche of bailout money ahead of a big finance meeting on Monday.
Until we see some improvement or resolution to the issues outlined above, the market is likely to remain highly volatile. Investors with cash on hand should feel free to take small positions in good companies on dips but I would not commit a major portion of your remaining funds until more clarity on these important issues is achieved.
Be careful out there.
Unsolicited advice to President Obama: First of all, congratulations on your re-election, sir. Although I did not vote for you, I do wish you success in your second term as the country simply cannot go through another four years like the last six. I know some of your handlers and allies in the mainstream media are telling you that you have won a mandate and have political capital. You didn't and you don't. After one of the most negative, divisive and by far the most expensive campaigns in history; you won by less than two percent of the popular vote. If the election were held two weeks before or two weeks after when it occurred, the results might have been different.
That being said, it is time to move to the middle and get the country back on track. Here is an initial four prong plan to help to move in that direction. It has the benefit of costing little political capital and can be done with minimal congressional approval. It also would give you some bipartisan bona fides and ignite some good high paying job growth.
Step 1: Approve the long delayed Keystone pipeline. Yes, this will involve throwing some of your environmental allies under the bus. However, you no longer need them for re-election and you will have to do this anyway to achieve the rest of this four part plan. In addition, this will reward your more important union supporters who stood strong with you in the massive get out the vote efforts that ensured your re-election. You can use the re-route of the pipeline from the original plan as political cover. This act would create thousands of high paying jobs and is a great olive branch to your congressional opponents who are huge supporters of this infrastructure project.
Step 2: Fire the head of the E.P.A. Ask Lisa Jackson to leave for "personal reasons" or give her an ambassadorship to Bolivia, Argentina or Venezuela where she can consort with like-minded souls for a few years. There are few more hated or feared individuals in the corner offices of manufacturing, energy or basic material companies. Literally hundreds of billions of new projects have not received permits resulting in over a million jobs not being created over the last four years. This action alone is probably good for .25% to .50% of extra GDP in 2013 and should significantly improve job growth as well.
Step 3: I know you are hankering to get back to your golf game after months of non-stop campaigning and fundraising. However, you need to get on Air Force One and head to the northeast for more than a one day pre-election photo-op. People there are still without power in some cases and they are hurting. Governor Christie and Mayor Bloomberg have already shown themselves more than capable of groveling for federal aid. Use this, tour the areas with them and meet with the people who are trying to recover from this devastating storm. Don't let this become your Katrina and use this opportunity to continue to polish your bipartisan credentials.
Step 4: Okay sir, you have done the hard part, now comes the payoff. Go to congress and get an infrastructure bill passed to rebuild the northeast. This could be a true "shovel ready" achievement and should create hundreds of thousands of jobs throughout the region. It also could help put the taint of the 2009 $800B stimulus package behind you. Since you have already run over the environmentalists, the projects should also be easier to streamline and get started.
Anyway, that is my two cents. Good Luck.
Disclosure: I am short WFM, CNQR. I wrote this article myself, and it expresses my own opinions. I am not receiving compensation for it (other than from Seeking Alpha). I have no business relationship with any company whose stock is mentioned in this article.
Additional disclosure: also long AAPL and TPC