Annaly Capital Management (NYSE:NLY) is the first mREIT that the author of this research report had ever heard of. That's not surprising since it happens to be the largest mREIT in the industry. We're amazed that even though Annaly has 39% more assets than American Capital Agency (NASDAQ:AGNC), American Capital Agency's Comprehensive Income in 2012 exceeded Annaly's by 50% in Q3 and 14% in the YTD period of 2012. We think AGNC's stakeholders are telling Annaly's stake holders "it isn't the size of the mREIT that counts; it is how you manage it that counts." Although we like Annaly enough to give it coverage, we've been waiting for Annaly to show how its "conservative risk-management oriented model" will result in it generating returns that are comparable to Gary Kain and AGNC.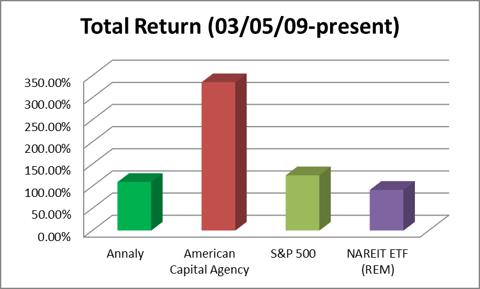 Source: Morningstar Direct
As Annaly is the biggest mREIT in the business, it is the bellwether and we're surprised that it is not one of the first mREITs that reports its results. Oh well, maybe Annaly waits to report in the middle of the pack because it generates middle of the pack results. Annaly's Net Interest Income per Share declined by 31% year-over-year in Q3 2012 versus Q3 2011 and by 18% in the linked quarter. Those results are comparable to what AGNC had reported in its most recent quarterly results. Despite being the biggest mREIT in the industry, Annaly was not able to find a way to deal with the declining yields on its MBS securities. Net Interest Spreads have declined to 1.24% as of the end of the most recent quarter. The good news is that even with the bond buying, we not expecting it to get much worse and we expect Annaly to generate at least an 8-10% annualized yield.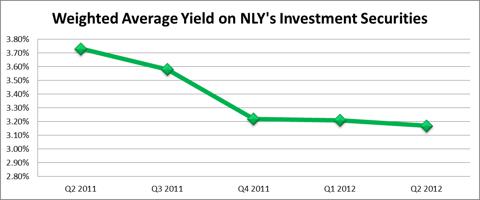 Source: Annaly's Last Five Earnings Releases
We noticed that Wells Fargo cut its rating from Market Perform to Underperform on Monday July 30th. We agree with Wells Fargo that Annaly is still the bellwether of the mREIT sector due to its long track record and experience in a wide range of market sectors. Wells cut Annaly's rating because of concerns over the flattening yield curve and Annaly's 19% CPR rate. Wunderlich Securities also cut its rating on Annaly to Hold from buy. We noticed that Annaly includes its interest expense for swaps in its realized gains and losses for interest rate swaps account for purposes of financial accounting and reporting. We found this to be unexpected as we would have expected it to be included in interest expense. Even if the company reported swap interest expense as part of its consolidated interest expenses and even if all the realized losses on interest rate swaps was really swap interest expenses, the company would still have generated $.51 in net interest spread income. At least we can see that it has leveled off after dropping considerably in Q4 2011. The good news is that Annaly's most recent quarterly dividend of $.50/share is within 10% of the net interest spread income of $.45 that Annaly posted recently. The bad news is that Annaly has a higher cost of funds than AGNC and that enabled AGNC to generate a net interest spread that was 26bp higher than Annaly's even though AGNC's gross interest yield was 18bp lower than Annaly's in the most recent quarter. We were surprised that Annaly would have a higher cost of funds than AGNC since Annaly has its own broker-dealer operations (RCap Securities).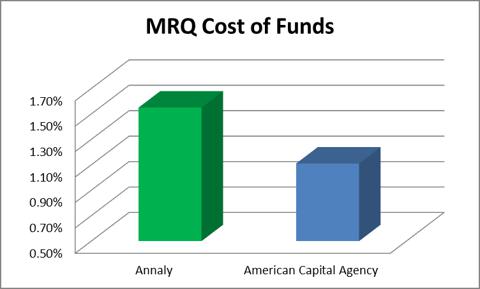 Source: MRQ Reports for Annaly and AGNC
We had expressed concerns that Annaly would cut the per share dividend distribution because it had done so for three straight quarters and four out of the last five quarters. At Annaly's most recent conference call, the management team paid tribute to previous CEO Mike Farrell, who recently passed away from cancer. While Mike Farrell was always ready with a colorful commentary about economic matters, unfortunately that witty style did not translate into top-tier results. We like that Annaly tries to be the conservative, risk-management-oriented senior statesman of the business however the new CEO Wellington Denahan-Norris needs to make sure that Annaly doesn't become the crazy old crank of the mREIT business. Before the Fed announced its QE Infinity Program, we were expecting Annaly to shave no more than 3-10% of its dividend yield. Now that the Fed has decided to make money printing its official monetary policy, we expect yields to continue to edge downward. At the same time, we believe the worst case scenario for Annaly and other mREITs is a 30% dividend cut and even if Annaly did that, it would still yield nearly 9% and that is much better than what straight bonds are paying.
Annaly generated net comprehensive income for common shareholders of $881M in Q3 2012 ($.884 per share). We believe that is a more important figure for investors to dwell on than the company's GAAP-basis EPS per share of $.22. The reason why there is a wide disparity between the GAAP-basis loss per share and the positive comprehensive income per share is because the comprehensive income per share saw changes in the value of its mortgage backed securities reflected in other comprehensive income, which sometimes does not impact the income statement until the securities are sold. NLY harvested $142M of realized gains during the period and incurred $104M of unrealized derivative losses. NLY generated $552M in unrealized gains collectively for gains on mortgage backed securities held and derivative instruments. NLY's $656M in unrealized gains on its securities flowed into the company's unrealized comprehensive income account, which is a subaccount of stockholders' equity. AGNC saw a similar result as NLY in that it reported GAAP of $.25 per share but had $1.24B in unrealized gains.
One of the reasons why we have held off with regards to Annaly for our portfolio book is because of the Constant Prepayment rates on Annaly's portfolio. While Annaly's portfolio's CPR rate is below the 21% in the Fannie Mae MBS Universe, it is still pretty high at 20% and it ticked up by 2% on a year-over-year basis and 1% on a linked-quarter basis. Annaly seeks to be seen as the most risk-averse mREIT. Considering that Annaly's FIDAC subsidiary is the sub-advisor of Chimera (NYSE:CIM), we think that is a somewhat appropriate outlook for Annaly Capital Management, especially because Chimera hasn't filed its quarterly performance results since Q3 2011. FIDAC also provides sub-advisory services for CreXus (NYSE:CXS), which specializes in commercial real estate loans. While CreXus's Q3 2012 EPS of $.30 were less than its dividend of $.32 per share, we also note that CreXus's only outstanding interest bearing debt is a $19M mortgage payable. Considering that CreXus has $105M in cash on hand, we believe that the company will be able to cover it and its quarterly dividend payments. Annaly's CEO Mike Farrell mentioned at the Q2 2012 conference call that Annaly extended its average days-to-maturity for its liabilities to 216 days, which is 156 days more than the next highest mREIT and Annaly increased it by 4 days on a linked quarter basis.
In conclusion, Annaly remains the bellwether of the mREIT sector, due to its size. That does not necessarily make it the best in the breed. In our opinion, we believe that the best in breed mREITs are American Capital Agency and American Capital Mortgage (NASDAQ:MTGE). Still, we note that Annaly is the biggest mREIT in the industry, has the most diverse experience with regards to economic environments operated in and operates with relatively low leverage. Annaly also offers a market price per share discount relative to its per share book value of 11% while AGNC and MTGE have smaller discounts. We believe that Annaly and its affiliate CreXus are acceptable choices for conservative, first-time investors in the mREIT industry who keep in mind a prudent, rational expectation for mREITs.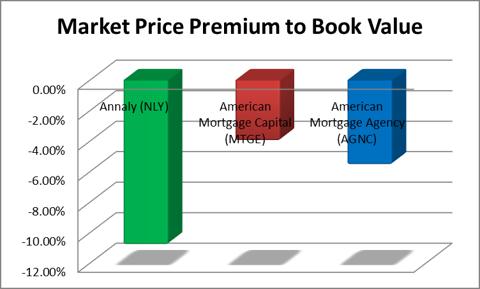 Source: MRQ Reports for Annaly, MTGE and AGNC
Disclosure: I am long MTGE. I wrote this article myself, and it expresses my own opinions. I am not receiving compensation for it (other than from Seeking Alpha). I have no business relationship with any company whose stock is mentioned in this article.
Additional disclosure: This article was written by an analyst at Saibus Research. Saibus Research has not received compensation directly or indirectly for expressing the recommendation in this article. We have no business relationship with any company whose stock is mentioned in this article. Under no circumstances must this report be considered an offer to buy, sell, subscribe for or trade securities or other instruments.