Despite its light sales for the month of October, Target (NYSE:TGT) reported an increase of 2.4% relative to competing stores and were capable of satisfying management's expectations. In light of Target's performance and taking into account the most recent survey results reported by BDO USA, many analysts were quick to revise projections after reevaluating Target's future value of operations. This article captures the seasonal growth opportunity Target presents to investors and provides an overview of Target's strong fundamentals including several catalysts that are essential to accelerated growth in FY 2013. Also, I will discuss how the strategic nature of Target's capital structure eliminates any risks surrounding capital requirements. Then I will outline the risk metrics involved in Target's holding period returns and last conclude with showing how Target's future value of operations yields an intrinsic share price that makes Target an extremely nice value play.
"Seasonal" Growth Option
The survey I am referring to is the most recent BDO USA Retail Compass Survey of Chief Marketing Officers (linked to above), which examines the opinions from a sample of 100 chief marketing officers at leading retailers spread across the U.S. The findings concluded with a favorable outlook for the expected sales growth across the retail industry this holiday season with pessimism surrounding this expected growth to be the highest the U.S. has experienced since 2007. extracted from BDO's website:
Retailers are confident headed into this holiday season. Chief marketing officers at leading U.S. retailers expect a 3.7% increase in holiday comparable store sales. This marks the surrey's most optimistic forecast since 2007 when CMOs projected a 5% increase in comparable store sales.
Figure 1: Holiday Season Sales Forecast

These favorable projections have caused many analysts to revise estimates and give the retail industry a second look this holiday season. According to MarketWatch, JPMorgan Chase (NYSE:JPM) was quick to jump at these exciting statistics. Following the release of this data, JPM upgrading Target to overweight from neutral.
Sound Fundamentals Equate to Long-Term Growth
While this short-term growth play has established confidence for many analyst as well as short-term driven investors, it is also evident Target's management has heavily oriented operations towards achieving long-term success. Taking into account Target's current operations and a couple of ongoing catalysts long-term success is highly probable. According to Target's 10-K, operations are currently divided into three segments including:
U.S. Retail
U.S. Credit
Canadian Retail
Target's U.S. retail segment includes all of Target's merchandising operations, which consists of every physical retail store as well as Target's online website. Target provides both day-to-day necessities as well as fashionable goods that differentiate from moderate to discounted in terms of price. As of January 28, 2012 Target had a total of 1,763 stores across 49 different states as well as the District of Columbia. Below is a figure outlining Target's progressive increase in revenue from the U.S. Retail segment.
Figure 2: Target's U.S. Retail Segment Growth

It is evident Target's sales growth in the U.S. retail segment have been allowing them to gain significant market share in the retail industry. Target's sales increased by 3.7% from FY 2009 to FY 2010 and by 4.1% from FY 2010 to FY 2011. One catalyst I feel will play a major role in providing a high upside in Target's market value per share is the expected growth of the housing market in 2013. As shown below in figure 3, approximately 18% of Target's retail sales from 2011 were derived from home furnishing and decor goods. By the end of August 2013, Target is expected to have finished executing a series of entirely new product lines that are specifically geared towards new home buyers. For example, one of Target's product lines that was just released is the Nate Berkus collection.
Figure 3: Target's Sales by Product Category

Looking forward into 2013, Target's Canadian segment will be expanding its current market share. Target just initiated the Canadian segment of operations in the first quarter of 2011 with the primary purpose of purchasing leasehold interests in Canada from Zellers, Inc. On FY 2011 financial statements, the Canadian segment contained costs incurred in the U.S. and Canada that are associated with Targets expansion into the Canadian retail market in FY 2013. The upside potential for the successful expansion of Target's operations into Canada is enormous. However, as noted in Target's 10-K, there are several risks it is only fair investors are aware of:
Our ability to successfully open the expected number of Canadian Target stores on schedule depends, in large measure, upon our ability to remodel existing assets, build our supply chain capabilities and technology systems and recruit, hire and retain qualified team members. In addition, access to local suppliers of certain types of goods may limit our ability to offer the expected assortment of merchandise in certain markets. The effective execution of our strategy is also contingent on our ability to design new marketing programs that positively differentiate us from other retailers in Canada. If we do not effectively execute our expansion plan in Canada, our financial performance could be adversely affected.
Capital Structure
Given Target's high sales growth expectations, investors need to evaluate whether or not the proper short-term funding is available to fulfill minimum capital requirements. Target indicates this to be a potential concern, however through the commercial paper program I feel they have eliminated this risk in Q4.
Because of the seasonal nature of our business, our working capital needs are greater in the months leading up to our peak sales period from Thanksgiving to the end of December. The increase in working capital during this time is typically financed with cash flow provided by operations and short-term borrowings.
In order to generate sufficient short-term funding to meet demands for peak sales season, Target engages in a commercial paper program to ensure they maintain above minimum working capital requirements. In 2010, Target was still capable of using internal funding and long-term debt issuance for funding working capital needs, however the next year in 2011 Target created the program to serve as an additional source of liquidity. Below is a table extracted from Target's 10-K, which outlines in dollar figures the amount of capital this program provided in 2011.
Figure 4: Commercial Paper Issuance

The Duo: Appealing Valuation and Insignificant Risk
Rarely do fundamentally sound companies with high growth prospects, yield such little volatility in holding period returns that investors are faced with an insignificant level of risk. Target is a prime example one of these rare occurrences. The sample statistics below were computed from Target's holding period returns including distributions. I used the same computation methods and data source for SPDR S&P 500 Trust (NYSEARCA:SPY), which served as a benchmark for comparison.
Figure 5: Risk Metrics

Over the course of a three year period, Target yielded an average return of 1.52%, which is relatively high in comparison to SPY's yield of 0.04% in the same period. Target reveals very little variation with a computed variance of only 0.006, 0.6%. SPY revealed a variance of 0.0009, 0.09% over the same period (which is not displayed due to rounding). To provide investors with an idea of what to expect over the next three months I forecasted an expected return taking into account valuation criteria as well. I computed an expected return of approximately 23.5%. Taking into account current market value per share this implies a price target of $77.80, which is relatively comparable to the intrinsic share price I computed below in figure 6. One method for analyzing the degree to which expected sales growth of the retail industry will impact Target's market value this holiday season is approximating the future value of operations. Figure 6 below shows this computation and concludes with an intrinsic share price of Target's fair value for the end of January 2013.
Figure 6: Corporate Valuation Model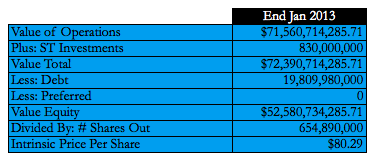 To calculate the future value of operations, I used a modified version of the Gordon Growth Model. The model was based on the underlying assumptions that pertain specifically to Target including a free cash flow estimate of $4,007,400,000 for January ended 2013, weighted average cost of capital of 5.6%, and a firm specific growth rate of 3%. To arrive at the future value of operations, the model projects the free cash flow estimate forward using the firm specific growth rate to arrive at a new value and then discounts this new value back by dividing by the growth rate subtracted from the weighted average cost of capital. Now to compute the intrinsic price per share, I used the corporate valuation model as you will see above I accounted for additions in operating working capital by adding short-term investments, and then subtracted total debt to arrive at the value of equity. Last, I divided the total value of equity by the current number of shares outstanding and arrived at an intrinsic share price of $80.29. This estimate imply a 27% upside from current levels, which is very favorable. Note this model does not account for any potential buy backs and the value I used for debt takes into account the current debt outstanding on their balance sheet and the progressive growth of Target's debt relative to increase in sales.
Conclusion
Target is an excellent value play that is well positioned to outperform the market as we approach FY 2013. Accelerated profit growth over the past year and high expectations for the retail industry this holiday season are close to making an upside in Target's market value a reality. In conclusion, whether you decide to initiate a long position on the basis of value or feel the urge to take advantage of this intriguing growth opportunity, Target is an investment opportunity that you do not want miss out on this holiday season.
Sources: TD Ameritrade, YCharts, MarketWatch, BDO USA, The Wall Street Journal, and SEC.gov.
Disclosure: I have no positions in any stocks mentioned, and no plans to initiate any positions within the next 72 hours. I wrote this article myself, and it expresses my own opinions. I am not receiving compensation for it (other than from Seeking Alpha). I have no business relationship with any company whose stock is mentioned in this article.