I must begin this post by saying I am posing this more as a form of questioning than a statement of certainty. I genuinely hope that the incredible turn of events today were a magnanimous shift in investor sentiment and going forward we will finally see buyers return to the market.
Take a look at the DOW chart: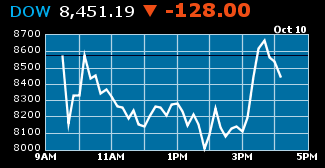 Bloomberg.com
In this market, the drunken stumbler could be just as easily right as he or she is wrong. But the charts don't lie. Ask yourself, who could have driven that insane incline in such a short period of time - mind you, in the midst of literally (as evidenced by a VIX of over 70!) the most fear based trading environment of all time? Then, consider what many (including myself) consider to be the reason behind the huge declines in the market last week: hedge fund selling to raise cash in anticipation of Lehman's bond auction - and that the auction came in below expectations.
Under the assumption that this is right, how could this incite a huge uptick? There were new reports at 2 PM of the G7 meeting, but would that have spurred a straight line upward, especially when other previous unified government actions did not get such an overwhelming response? Also consider that one other medium through which hedge funds could gain the cash they may need to meet the Lehman settlements, the bond market, had closed at 2:00 PM ET Friday, with very little positive information.
While Treasuries lost value, I also consider this to be more of a response to the supply increase in the past three days than a move to more risk averse investments. I say this because they had been losing value for days while the stock market had been getting crushed. I also am aware of the shift in the gold market:

Kitco.com
This downturn in gold had nothing to do with the timing of the upturn in the stock market. While those two do not need to go hand in hand, it still does not answer the elusive question of what caused such a linear uptick across all types of stocks?
Look at the movement of numerous stocks, financial and non-financial, right around 2 PM:
WMT:
ADM:
GOOG:
NCC:
ANF:
FITB:
K:
I admit that I am searching for answers and I do not hold this as set in stone, and I also want to incite discussion on the subject, but to me, the idea of hedge funds attempting to find another way of making money through shorting a market that has had more downward pressure than any other week in history and then redeeming those gains before they are the last ones out the door (and possibly making simultaneous long positions), makes more sense than an immediate shift in investor sentiment based on an announcement of a meeting that had yet to produce any real actions.
Honestly, have you ever seen charts of completely unrelated companies that look so strikingly similar at the exact same time? Could it just be that electronic trading has taken over? Is that electronic trading a birthchild of these hedge funds which confirm my suspicions? Please, let me know what you all think.
Stock position: None.