We all know that mortgage real estate investment trusts (mREITs), such as Hatteras Financial (NYSE:HTS), can make a lot of money, but are they really a value investment? After all, mREITs' ability to generate profit is based upon sale of a product, mortgage backed securities, that is highly vulnerable to the political situation.
The low interest rates that are driving the recent spike in the mortgage market are the result of the Federal Reserve's quantitative easing plan to buy $40 billion worth of mortgage paper a month. This plan, and the man behind it, Ben Bernanke, have been attacked by Republican politicians, including Paul Ryan. Observers have also predicted that President Obama will step up mortgage refinancing if he wins. That might increase the amount of refinancing and generate more business for mREITs.
But the question we need to ask is: Do mREITs have the kind of resources necessary to survive political change? From a glance at the numbers, the answer appears to be a resounding no.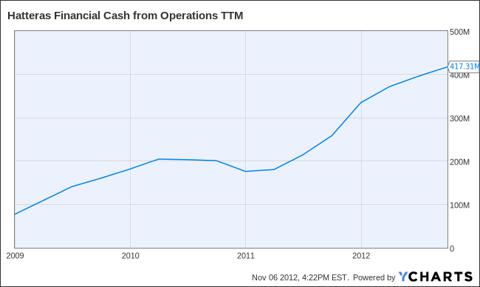 Hatteras Financial earned just $417.31 million in cash flow from operations in 2012. This number seems to be increasing, but is nothing compared to the company's $24.06 billion worth of liabilities. However, Hatteras Financial did make $8.24 billion in cash from financing, which is understandable because financing is its business. That means the company may generate enough from financing to weather a political storm, but what about other mREITs?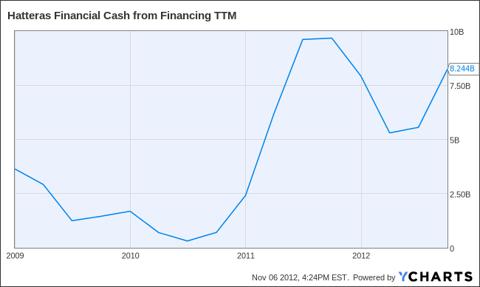 At least one mREIT, CYS Investments (NYSE:CYS), seems to be in a lot of trouble here. CYS Investments lost $7.46 billion from operations as of September 30th. That figure almost equaled the $7.47 billion CYS made from financing. CYS Investments is on very shaky ground. Hatteras is definitely in good shape when you compare to it CYS.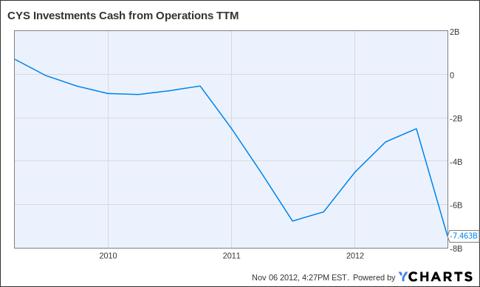 Which mREIT is typical of the industry? American Capital Agency (NASDAQ:AGNC), which is often regarded as an industry leader, made $39.4 billion in cash from financing and $1.739 billion in cash from operations as of June 30th. That will give it the cash cushion it will need to survive political changes. Annaly Capital Management (NYSE:NLY), also regarded as an industry leader, made a lot less cash from financing, nearly $17.09 billion, but more from operations-$3.72 billion.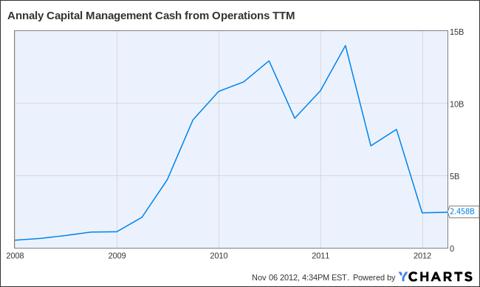 It is possible for mREITs to generate a lot of cash, which is a classic value stock attribute. The numbers indicate that several mREITs are sitting on more cash than you might think. But do these mREITs have enough cash to survive changing political policies that might pull the rug out from under the mortgage market?
Some of the larger players like American Capital and Annaly might. Some of the smaller players, though, seem to be on shakier ground. PennyMac Mortgage Investment Trust (NYSE:PMT) made $668.93 million from financing but lost $501.38 million from operations. That makes it vulnerable to any sort of change in the mortgage market.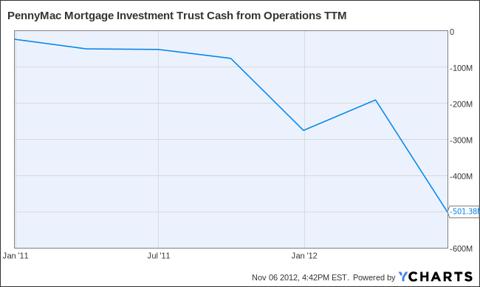 Based on the criteria of cash, mREITs don't look like much of a value. Instead, they look even riskier, because many of them may not have the money to survive any upheaval in the mortgage business. Larger players like American Capital might survive a short-term mortgage market collapse, but they may not have enough cash to survive another mortgage crisis.
These companies are highly vulnerable to outside forces, including politics and the economy in general. Mortgage creation and refinancing are driven by factors such as interest rates, employment, and overall confidence in the economy. Even a slightly weak economy can lower the number of new mortgages being generated. Because the mREIT business model is based on mortgage generation, that means less income.
The truth is that mREITs may simply be too volatile and too low in cash to be value investments. Many of them simply don't have the kind of cash needed to survive any sort of change in the mortgage sector. Smaller mREITs, such as Hatteras and PennyMac, will have a tough time surviving any sort of change in the mortgage market or the economy.
Disclosure: I have no positions in any stocks mentioned, and no plans to initiate any positions within the next 72 hours. I wrote this article myself, and it expresses my own opinions. I am not receiving compensation for it (other than from Seeking Alpha). I have no business relationship with any company whose stock is mentioned in this article.