When I look at Apple's (NASDAQ:AAPL) fundamentals -- 12.18 P/E, massive cash pile, no debt, 1.97% yield, and a strong product lineup -- I would expect a fairly strong uptrending stock. The company has the potential to unlock serious value for its shareholders, even as its growth begins to wane and it becomes more of a beta stock than an alpha one.
However, the price action has left a number of people completely and utterly puzzled. Why has the company lost over $120 billion of its market cap in a mere month? Sure, the fundamentals have changed slightly -- margin compression is kicking in as competitors start offering solid quality smartphones, tablets, and notebooks at a discount to Apple's. But Apple has not actually been priced for growth over the last year, has it? A quick look at a chart of the price-to-earnings ratios of the company over the last five years reveals that it is actually trading near five-year lows:
Click to enlarge images.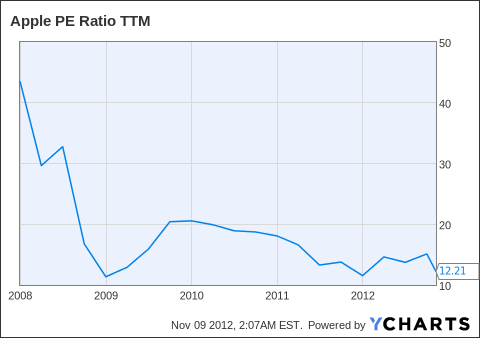 The P/E has compressed to sub-market levels (not even accounting for the obscene $120 billion-plus cash pile the company has -- backing this out makes the company's valuation look even more absurd), the company's products are still best in class (and selling like hotcakes), and the firm is still a cash flow machine.
So, why in the world does the stock of this amazing, profit-generating machine with a cult-like customer base keep selling off?
The Enthusiasm Became Bubble-Like
A quick glance at the five-year chart reveals that Apple had been in a strong, healthy uptrend over the period. This makes sense and tallies completely with the fundamentals: sales kept growing, earnings kept growing, and margins improved. The company was making all of the right moves and its competitors were essentially caught sleeping at the wheel:

However, in late 2011 Apple's co-founder, visionary, and "soul" of the company passed away after an unfortunate medical struggle. Note that Apple's success is absolutely and positively attributable to Steve Jobs. In fact, after Apple kicked Jobs out in the 1980s, the company found itself absolutely helpless. Apple ended up buying NeXT in 1996, hiring Jobs as a consultant in 1997, and giving him the CEO position in 2000. Within 10 years, under his leadership, the company became what it is today.
Unfortunately, with the death of Jobs, the seeds of doubt were beginning to be sown -- could Tim Cook really lead Apple to the "next big thing"? Well, under the new leadership, the company managed to post very strong quarters with double-digit revenue and profit growth. This allayed fears that the new management team would be unable to take the reigns in the near term. And that's when things started to go wrong.
The Bubble Proper Begins
After the record quarter posted under Cook, shares of the company started to accelerate greatly from its standard, consistent uptrend and turned into an almost parabolic movement up. At the time, people were absolutely convinced that the stock was going to be the first $1 trillion company and that shares had easy upside to $1,000. Analysts came in with a flurry of upgrades, positive articles across the web sprung up, and sentiment on various message boards and financial TV shows became excessive.
See, when it comes to a traditional "bubble" there is usually a fairly small group of people trading the stock -- professional traders, some savvy individual investors, and then a few naive, new individual investors. Generally speaking, there is a strong "story" behind the company that, coupled with momentum, is able to drive a stock to generally unreasonable valuations. Such stocks can remain highly overvalued for a long time until a negative catalyst finally comes in to "burst" the bubble.
A prime example of this is what happened to Research In Motion (RIM), the developer of the BlackBerry smartphone line. In short, the BlackBerry was the hottest phone available at the time. It carried very high gross margins, ran essentially unopposed in the smartphone world, and had the market and mind share to drive the stock up to a very high P/E ratio. Of course, the iPhone showed up and ate its lunch, causing the RIM bubble to collapse: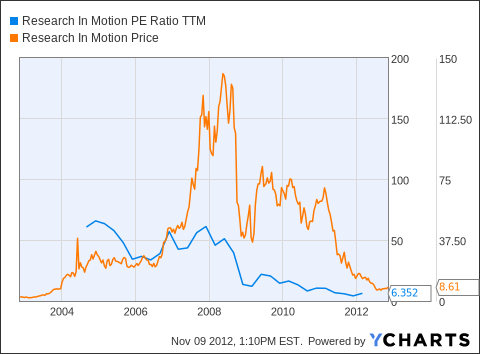 With Apple, a similar thing happened but with a few very unique and tricky twists.
Everybody Was In On It: In a traditional bubble, a good number of people can be in on it, but with Apple the story just became amplified by several orders of magnitude. Nearly every sell-side analyst was championing the stock, setting huge price targets, and generally recommending as much Apple as possible. The average layperson knew all about Apple's high stock price and, heck, probably owned a few shares himself or herself.
Too Much Hype Over Catalysts: In a typical bubble, there is always a catalyst that shareholders are waiting for and/or expecting. With Apple in the past, the catalysts had been brand new products/form factors that were initially received in a lukewarm fashion until they became massively popular. The key here was that these products were unexpected successes. Many people laughed at the idea of the iPhone and people further balked at the notion of the iPad. But when these became financial successes, the upside surprise was realized and people who went against the grain made a lot of money.
But over the last year, the catalysts have all been things that people were expecting anyway. Who honestly didn't expect yet another iPhone or iPad? The problem is that the stock would actually rise fairly sharply in anticipation of these "catalysts" as if the outcome would be a surprise to anybody.
The Stock Is Still Cheap: The really crazy thing is that Apple is actually still cheap. This isn't a bubble in the sense that the valuation got out of whack -- Apple is still priced very cheaply. As noted above, it trades at under 13 times earnings, has a lot of cash in the bank, and has a much larger moat with its very far-reaching software ecosystem. However, valuation does not seem to matter to traders and investors who are overlevered and are getting margin calls; when the sentiment turns, multiples can contract (or expand) fast.
Of course, these items alone cannot explain such a large loss of capital. There needs to be a fairly solid bear concern/thesis in order to help drive the continued panic.
Margin Pressure Hitting Hard
While I firmly believe that management is doing absolutely everything it can to improve gross margins and make its products continue to dominate the high-end market, the problem Apple faces is that the inevitable competition in all of its end markets is tough and finally understands what it needs to do in order to take share.
Android phones now have 75% of the smartphone pie and span the gamut of price points and feature sets. While most of these phone vendors aren't particularly profitable (Apple and Samsung take the lion's share of the mobile device profit pie), the market is being flooded by many competitors who are willing to settle for much less profit (or even losses) in order to gain share.
On top of this, phones are very rapidly becoming "good enough." An iPhone 5 with LTE connectivity and its snappy CPU and graphics processor is an incredibly fast handheld device. It can surf the web, check emails, run Skype, and play a few simple games here and there. At this point, there isn't too big of a need for "more" of the existing ingredients. Hence, the smartphone industry will suffer the same fate as the consumer PC space -- longer upgrade cycles caused by the "good enough" syndrome. Furthermore, sales of high-end smartphones will likely be thrashed by the flood of cheap, "good enough" phones that come from the Android camp.
Then on the tablets, we have the same thing happening: Companies like Google (NASDAQ:GOOG) are willing to sell products like the Nexus 7 at dirt cheap prices and forgo profits. Furthermore, the Microsoft (NASDAQ:MSFT) Windows 8/RT ecosystem becomes a lot more formidable as these devices can wear both the hats of a productivity device and a content consumption device.
Despite all this, Apple is still well run and has proven that it will, if need be, cannibalize its own products with cheaper, lower margin ones (like the iPad Mini) in order to prevent the competition from coming in and doing the same.
Margin Pressure? How About a Margin Call
With a fundamental "fear catalyst" in place, the people who will most likely be selling are those on margin. As I noted earlier, the sentiment was extremely high earlier this year and there is no doubt that some people simply became overlevered to own more shares of the stock. As these people begin to stop out of their positions and/or receive margin calls (in which case, forced selling is likely to occur), this will continue to compound the pain.
Furthermore, with all of the trapped longs above the most recent close, most rallies will likely be sold into -- especially by those using significant leverage. There's a lot of overhead supply on the shares here.
Conclusion
Apple's still a great company with a lot of cash, no debt, and a reasonably low valuation. Will margins compress? Sure. Will competition take share? Yes. Will Apple continue to sell to many customers that are now firmly entrenched in its ecosystem? Absolutely.
Apple has now become a beta stock. It will likely need to continue to grow its dividends and initiate aggressive buybacks in order to attract the new type of crowd that will be buying its stock. But the company will continue to thrive and generate plenty of cash, even if it doesn't grow like a small-cap startup anymore.
When the dust settles, consider buying Apple as a long-term dividend-growth play. While the price action may be bubbly, the fundamentals are still perfectly intact. But fundamentals don't help highly overleveraged traders and investors satisfy margin calls.
Disclosure: I have no positions in any stocks mentioned, and no plans to initiate any positions within the next 72 hours. I wrote this article myself, and it expresses my own opinions. I am not receiving compensation for it (other than from Seeking Alpha). I have no business relationship with any company whose stock is mentioned in this article.