Walt Disney Co. (NYSE:DIS) recently reported its earnings for the fourth quarter, and for the fiscal year 2012. Both quarterly and full year earnings per share increased, by 17% and 24%, respectively, over the respective prior periods, in line with consensus estimates. However, the stock is down 6% in early trading, largely due to the revenue miss. Even though growth was seen in revenue on both a quarterly and a yearly basis, the 3% improvement in quarterly revenue was below expectations, causing the dip in shares. The weak commentary for the next quarter's ad revenues was also a reason for the drop in share price. We think this dip is an ideal opportunity to grab the shares. Currently, the company has a very low dividend payout ratio (20%) and as cash flows grow in the future, its distributions to shareholders will improve too. Disney has done a lot of investments in the past and now is the time to reap the benefits of these investments. Sell side is of the opinion that the company is transforming from an investment phase into a growth phase. If anything, this transformation will give the company excess cash to return to its shareholders. We are expecting DIS's dividend yield to increase in coming quarters.
Segmental Analysis
The company's media network division, which accounts for roughly half of Disney's total revenue, showed a modest 2% quarterly growth in revenue, which also reflected positively on its operating income. Operating income increased by 7% from the same quarter a year ago. Despite advertising revenue falling in the quarter, the company was able to obtain higher rates from cable operators for its sports channel, ESPN, and other Disney channels. The increase at ESPN was largely due to an increase in affiliate revenues, caused by a contractual rate boost. Other Disney channels also raked in more revenues due to growth in subscribers, both domestically and internationally.
Disney's other major revenue contributor, Amusement parks and resorts, showed impressive growth in the last quarter of the year, raking in quarterly revenue of $3.4 billion, which was an improvement of almost 10% from the same quarter over a year ago. This segment, which had accounted for roughly 32% of the company's total revenue for the quarter, posted a staggering 18% growth in operating income. This impressive growth was largely due to an increase in visitors to its theme parks in Hong Kong, California and Tokyo as well as tourists spending more time on the cruise ships. Increased guest spending, higher ticket prices and increased spending on food and beverages all led to the hike in revenue for the company. The company's recent Aulani project is now complete and also contributing to the growth in operating income.
The worst performing segment for the company in the quarter was its Studio Entertainment segment that reported an 8% yearly and a 4% quarterly decline in revenue. Operating income also fell a substantial 32% because of the relatively poor performance of the movie "'Brave" compared to "Cars 2" released in 2011. However, "Avengers," which was a blockbuster, continues to do well for the entertainment company, as is reflected in improved home entertainment results. The company recently announced a deal to buy Lucasfilm, the producer of "Star Wars." The investment can be expected to fuel future growth. Going forward, the company could face some challenges that might put pressure on the results for its first quarter. These pressures include the expected decline in home video sales due to the release of "Cars 2" last year.
Other highlights of the earnings release are as follows:
Cash flows from operations of $7.97 billion in FY2012, up 14% year over year.
Free cash flows of $4.2 billion in FY2012, up 22% year over year.
Modest gross margin expansion of 1% in FY2012.
The stock performed well on a YTD basis, gaining almost 25% in value. The chart below shows DIS's outperformance, relative to its peers and the broad market benchmark.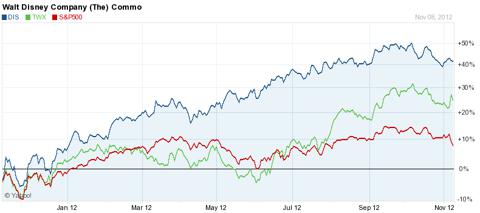 DIS pays an annual dividend of $0.60 per share, which translates into a current dividend yield of 1.2%. This is slightly lower than its peers Viacom Inc. (NASDAQ:VIAB) and Time Warner (NYSE:TWX), which boast a yield of 2.2% and 2.3%, respectively. DIS is a story of growth in dividends. Its dividends have grown at a 5 year CAGR of over 14%. Currently, the company has a modest payout ratio of 20%, which indicates that the company is withholding the majority of its earnings to pursue growth opportunities. It also implies that further growth in dividends can be expected going forward, which is confirmed by analyzing its dividend history over the years.

DIS is trading at 12 times its forward earnings, at par with Time Warner Inc.'s forward multiple of 12x and at a slight discount to News Corp's (NASDAQ:NWSA) at 12.3x. The stock is down 12% from its 52-week high of $53.40, largely due to the recent downward move after the earnings release. However, we believe that despite the slight revenue miss, the company had a good year in terms of revenue and bottom line growth. Its media and park segments will continue to bring growth, as the company has made investments in resort projects and cruise ships that are beginning to payoff. Moreover, the recent acquisition of Lucasfilm can be identified as another key catalyst. With a 1.2% yield, the stock remains attractive from a dividend standpoint.
Disclosure: I have no positions in any stocks mentioned, and no plans to initiate any positions within the next 72 hours.
Business relationship disclosure: The article has been written by Qineqt's Media and Telecom Analyst. Qineqt is not receiving compensation for it (other than from Seeking Alpha). Qineqt has no business relationship with any company whose stock is mentioned in this article.