Today we will talk about two copper stocks we have a bullish stance on. We believe Freeport-McMoRan Copper & Gold Inc (NYSE:FCX) has a strong balance sheet, increasing cash flows, good dividend yield, and due to its cheap valuations, it is the best copper stock to play an economic rebound. Southern Copper Corporation (NYSE:SCCO) has great value in its expansion projects, which we believe are not priced in the stock. Moreover, the stock has a very attractive dividend yield for dividend seeking investors.
Copper prices have continued their downward spiral after rising a little in the wake of the announcement of QE3. Currently, three months copper (futures) is trading at $7660 a ton on the London Metal Exchange (LME). China is the top consumer of copper and weak demand from Beijing coupled with US fiscal concerns are weighing down heavily on copper prices.
According to David Wilson, an analyst at Citi, "There was a brief euphoria after Obama's re-election, but now we have a gloom over the US fiscal cliff and uncertainty over the leadership change in China, which is also impacting sentiment."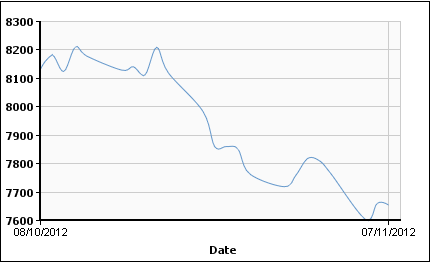 Copper Prices In Last Month (Source: LME)
Outlook for copper prices remains poor as the demand in China remains weak. The U.S. is facing a fiscal cliff, and uncertainty around the Europe debt crisis remains.
If they keep growing at the present rate, there could be a big surplus in global refined copper inventories, according to sell side analysts.
"The third quarter jump in Chilean copper concentrates exports and the continued rise in China's copper concentrates production would eventually push refined global copper output up," research firm Minmetals Futures said in a note.
The market is looking closely at the outcome of the once in a decade leadership change in China, and it is hoping that some positive policy announcements would increase metal demand, if not an immediate stimulus announcement.
According to 2011 production figures, Asia is the largest producer of the red metal while electronics is its biggest market, followed by construction.
World copper production 2011:
Source: WBMS world-bureau.com
Industrial consumption 2011:
Source: WBMS world-bureau.com
Although copper prices have declined recently, and inventory levels remain elevated due to low demand especially in China, in the long term we remain bullish on copper prices because we believe that supply remains constrained and dependent on a few major expansion projects. On the other hand, higher costs and lower prices have forced some big producers to reduce capital expenditures; the deferral of BHP Billiton's (NYSE:BHP) Olympic dam expansion project is a case in point.
Freeport-McMoRan Copper & Gold Inc:
FCX is one of the largest international mining companies and the largest publicly traded copper and molybdenum producer in the world. The company has operations in North America, South America, Indonesia, and the Democratic Republic of Congo (NYSE:DRC). Other than copper and molybdenum, the company engages in gold and cobalt production as well. Copper accounted for almost 75 per cent of the company's revenue in 2011.
FCX is highly levered to copper prices. According to a UBS analyst, "Freeport: for every $0.10 change in the price of copper, EBITDA changes by approximately $405M (~4 per cent of company's 2011 EBITDA)."
We are bullish on FCX. We believe that the company has a strong balance sheet, robust cash flows, and an attractive dividend yield of 3.10 per cent. FCX is well positioned to benefit from a rebound in demand and prices due to its substantial leverage to copper price and lucrative pipeline projects.
We are particularly bullish on the long term growth of FCX. By 2016, FCX will be all set to add approximately one billion pounds of copper production. Approximately 100 million pounds of capacity will come from the Chino ramp up and another potential 975 million pounds from expansions at Tenke, Cerro Verde, and Morenci. The company will incur a total capex of $6.7 billion for these projects. Annual copper production could be over 5 billion, once these projects are over. Moreover, FCX's stock has shown resilience amidst the recent decline in copper prices.
FCX is trading at a forward P/E of 8.3x, and, as we said in the introduction, it is the cheapest copper stock to play an economic rebound.
FCX reported 3Q'12 adjusted earnings of $0.68 per share, missing consensus estimates of $0.72 per share by 4 cents. This is FCX's first consensus miss in 4 quarters. EPS were adjusted for several onetime items, including net credits related to deferred income tax adjustments at Cerro Verde as well as environmental obligations and related litigation reserves of $168M, or ~$0.18 per share
| | | | | |
| --- | --- | --- | --- | --- |
| Earnings History | 4Q11 | 1Q12 | 2Q12 | 3Q12 |
| Consensus EPS | 0.6 | 0.86 | 0.75 | 0.73 |
| Actual EPS | 0.67 | 0.96 | 0.8 | 0.68 |
| Surprise % | 11.70% | 11.60% | 6.70% | -6.80% |
Source: Yahoo Finance
Copper sales, which accounted for almost 75 per cent of FCX's revenue in 2011, were down 5 million pounds to 922 million lbs; however, average realized prices improved sequentially by 3 per cent to $3.64/lb. Copper cash costs also increased sequentially by 8 per cent to $1.62/lb
Gold sales volume was down 24 per cent q/q; however, this was offset slightly by higher average realized prices, which increased 9 per cent sequentially
Both sales volume and prices were down for the Molybdenum segment. Sales volume was down 1 million lbs, and average realized prices by 12 per cent sequentially.
Guidance:
FCX expects a sales volume of 930 million pounds for the next quarter, an increase of 8 million pounds from the 3Q. The company is expecting a sequential increase of 26 per cent in gold sales volume. Molybdenum's sales volume is expected to remain almost flat sequentially.
Southern Copper Corporation:
SCCO, an integrated copper producer, is involved in the mining, exploration, production, smelting, and refining of copper and other minerals. The company has three operating segments, namely, Peruvian operations, Mexican underground mining operations and Mexican open-pit operations.
SCCO reported adjusted EPS of $0.63 for the third quarter, missing consensus estimates of 57 cent by 10.5 per cent. This is SCCO's fourth consecutive quarterly miss. SCCO's recurring EBITDA of $849 million was 6 per cent below consensus estimates due to lower realized copper prices.
| | | | | |
| --- | --- | --- | --- | --- |
| Earnings History | 4Q11 | 1Q12 | 2Q12 | 3Q12 |
| Consensus EPS | 0.62 | 0.61 | 0.62 | 0.57 |
| Actual EPS | 0.63 | 0.73 | 0.66 | 0.63 |
| Surprise % | 1.60% | 19.70% | 6.50% | 10.50% |
Source: Yahoo Finance
Copper production was flat sequentially, but increased 3 per cent y/y; however, revenue for the same quarter dipped 11 per cent to $1.55 billion.
Net income for the company decreased 67 per cent y/y to $217.9 due to lower global copper prices and a charge for legal fees of $316 million.
Just like FCX, we also have a bullish stance on SCCO in the long term. SCCO has a considerable number of high value expansion projects, and we believe the value of projected expansions is not priced in SCCO's stock. We see good value in the company's expansion plans. SCCO also has the largest reserves among its peers and the company's dividend yield also remains attractive for investors.
SCCO announced a substantial dividend of $2.75 per share on October 18. This translates into an annual dividend yield of near 28%. The move came as a surprise to the market because it implies a high payout ratio, especially after SCCO slashed its dividend payments for the last two quarters. Although we believe investors would prefer the company paying cash to them in the form of dividends, especially in the present macro environment, they should not expect this high dividend yield to continue. In 2010, the company paid total dividends in north of $1.5 per share and in 2011 the total dividends weree near $2.5 per share. In 2012, the total dividends paid increased to more than $3.7 (trailing twelve months yield near is near 10%). Keep in mind that the company's cash flow from operations has been on a constant rise and one can expect the stock to maintain a dividend yield of at least 10%. We also believe this high dividend will not impact the company's expansion plans for 2013 and beyond.
Financials:
FCX is trading at a forward P/E of 8.36, while SCCO is trading at 13.84. SCCO and FCX have PEG ratios of 1.39 and 3.35, respectively. SCCO has a sustainable dividend yield of around 10% per cent and a very attractive long term growth rate of 10 per cent as well.
| | | |
| --- | --- | --- |
| Comp Sheet | FCX | SCCO |
| Forward P/E (1 year) | 8.36 | 13.84 |
| PEG ratio (5 year expected) | 3.35 | 1.39 |
| EV/EBITDA (NYSE:TTM) | 5.85 | 8.13 |
| Dividend yield | 3.10% | 28.60% |
| Long-term earnings growth rate | 3.71% | 10.05% |
| Share price Performance (YTD) | -0.50% | 11.00% |
| Profit Margin : | 16.60% | 29.00% |
| Operating Margin : | 32.60% | 52.50% |
| Total Cash | 3.73B | 1.54B |
| Total Debt | 3.52B | 2.74B |
Source: Yahoo Finance
In conclusion, as we said earlier, although copper prices are on a decline and inventory levels are high in China, we expect demand to improve in the near term. We believe that through a global accommodative policy environment by central banks, copper will outperform other LME metals.
Disclosure: I have no positions in any stocks mentioned, and no plans to initiate any positions within the next 72 hours.
Business relationship disclosure: The article has been written by Qineqt's Basic Material Analyst. Qineqt is not receiving compensation for it (other than from Seeking Alpha). Qineqt has no business relationship with any company whose stock is mentioned in this article.