Apple Inc's (NASDAQ:AAPL) recent descent has left most investors scratching their heads. The stock hit an intraday low this morning around $533.00, which is almost 25% off its recent hit of just a few months ago. The stock has since reversed this afternoon and we believe that Apple is bottoming out.
Past Apple Corrections
Since the recession, the major indices have had two other meaningful corrections (15%-plus), yet Apple shares held up relatively well. As shown in the table below, Apple's average correction has only been about 80% of the broader market correction.

This time has clearly been different, as Apple shares have now corrected almost as much as they did in the past two corrections combined! Why is that?
While we have always felt that Apple was strong fundamentally, we had previously cautioned that the stock had gotten ahead of itself technically. In addition, analyst expectations for future earnings growth had been set way too high and we felt that there was some downside risk if the company failed to meet those lofty expectations.
Needless to say, we feel that both of those risks have been somewhat mitigated now as the stock has experienced a healthy pullback and the company finally fell short of its lofty earnings expectations last week.
We feel that Apple bears have made their final push over the past three days and that the intraday turnaround today could be signaling a bottom (see chart below).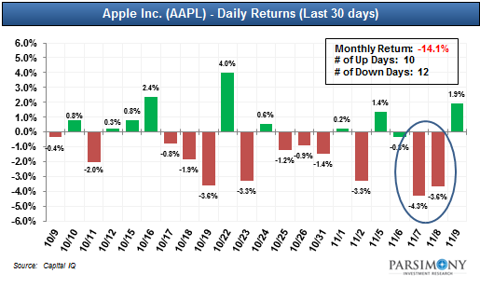 Fundamentally Speaking...
Apple's current valuation is getting downright absurd! The stock is trading around 12.5x trailing LTM earnings and less than 11.0x 2013E earnings.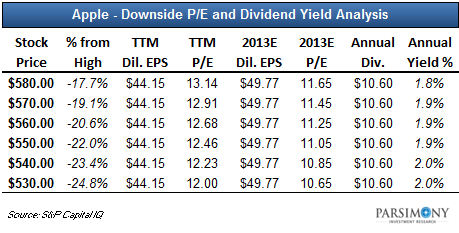 We are talking about a company that is still projected to grow earnings 20% per year for the next 5 years!
Conclusion
Picking a bottom is one of the hardest things to do in investing, but we think that Apple ready to turn the corner now. What do you think?
Disclosure: I am long AAPL. I wrote this article myself, and it expresses my own opinions. I am not receiving compensation for it (other than from Seeking Alpha). I have no business relationship with any company whose stock is mentioned in this article.