VIX - Market Sentiment:
S&P futures continued to drift lower heading into Friday's bell. Although not a lot of world news was released overnight many markets around the world were down in sympathy of the U.S. sell-off. Futures again were active trading almost 20 handles top to bottom going into the opening bell. The NYMO Oscillator closed with a reading of -49.95 a -20.67 decrease from the day before. This reading tells us we are still nowhere near oversold or due for a dead cat bounce.
The SPX closed under the 200dma for the first time since June 1, when the SPX closed near the 1280 mark. Now with the 200dma sits at 1382.83 so if we close 2 to 3 days in a row below this further downside could be in the very near future. Last time we had two days before a 40 point rally took us above the 200 dma and ignited the summer rally. The part which concerns me about this is last time the bond market sold off, which lead to inflows into equities. Today the Bond ETF (NYSEARCA:TLT) was down but not as much as I would have liked to show commitment. Even cracks in the wonderful stock darling Apple (NASDAQ:AAPL) has shown as weakness, closing down for the seventh straight weekly close in the red. Retracements would have taken the stock down to the 535ish level, which is where some pretty serious support came in. If you follow me and my trades on Twitter you saw I added AAPL twice today buying the January 600 calls for a trade.
The spot CBOE Volatility Index (VIX) again opened at the high before moving lower as people again went right back to selling front month volatility. This again hurt volatility ETF (NYSEARCA:VXX), 2x ETF (NASDAQ:TVIX), and alternative 2x ETF (NYSEARCA:UVXY) as futures traded lower as puts were bought and calls were sold. As I pointed out in yesterday's sonar report (here) the only support holding up the futures was a large buyer of the Jan 23-39 call spread. Today was interesting as November futures were down where December and January futures were both up. VIX futures are below.
Yesterday
November VIX futures 18.65
December VIX futures 19.30
January VIX futures 20.33
Today
November VIX futures 18.40
December VIX futures 19.35
January VIX futures 20.73
Options Paper
Those who read my articles regularly know energy options paper has been on fire. Unfortunately one energy name, Hess Corporation (NYSE:HES), has been lagging, and it appears one big bear has stepped in ready to slap it down another notch. Today 2 large blocks of December 50 puts were bought 13.8K times and 14.3K times racking up more than 1.6M in net premium in puts. As HES continues to diverge from the rest of the energy sector sitting just under the 50dma. Options in this name have been bearish of late but today they went crazy bearish and I followed buying the December 50 puts for 1.80. On average HES trades 11.2K options a day and had already traded more than 41K before 11:30 today. Puts outnumbered calls more than 24.1 at the time of this writing.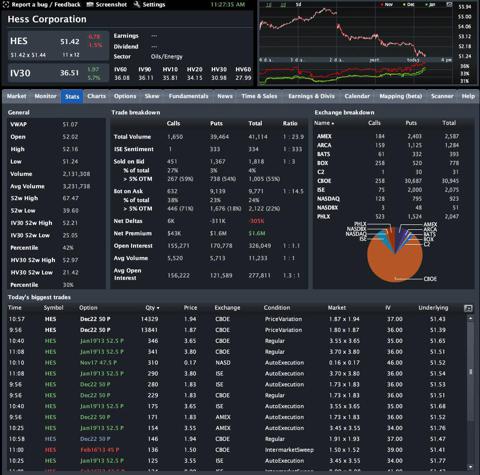 Statistics Provided By LiveVol
Although HES was seeing bearish paper one name began to rise after a large bullish bet came in. Cognizant (NASDAQ:CTSH) saw more than 2M worth of call options bought today on the ask. The January 2013 and 2014 call options were bought several times today in large blocks. More than 13K calls traded just before noon with calls outpacing puts more than 8:1. This is very bullish for this name because of the 13K calls more than 60% were bought on the ask. Volatility is currently sitting around 26%, which is near the 52-week low of 20.65 so anyone willing to make an outright bullish bet can do so without the use of a spread. Options in CTSH typically only trade around 3.7K a day so volume was almost 5x average daily volume in this name.
A large bearish bet today also showed up in defense name Lockheed Martin (NYSE:LMT). A large put butterfly went off buying the January 85-80-75 put butterfly paying .57 for the fly 10K times. For those of you who are new to the sonar a "put fly" is a trade where you buy one vertical spread and sell another vertical spread against it to reduce the cost. In the case of the LMT spread the trader bought the 85-80 put spread 10K times and then sold the 80-75 put spread 10K times to reduce cost. The net net of this trade cost the trader 570K to put on the trade and the trader can profit up to 4.43M if LMT pins to 80.00 at January expiration. Volatility has exploded to the upside in this name and today more than 58K contracts traded versus just an average of 2.8K. Puts outnumbered calls more than 52:1 in this name and it was trading down 0.1% when the put fly went off. See the profit and loss diagram below.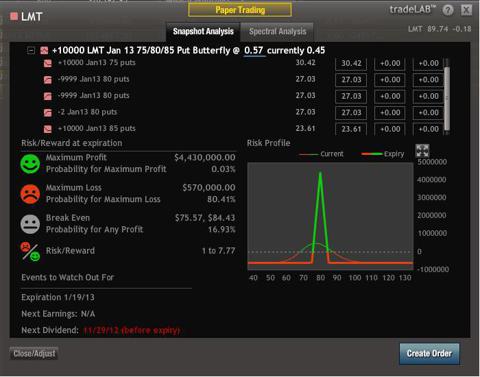 Image provided by Trademonster.com
Popular ETFs and equity names with bullish / bearish paper:
Bullish Option Flows - % OTM calls bought on offer
Teva Pharma (NYSE:TEVA) 78%
Goodrich Petroleum (NYSEMKT:GDP) %
Sirius Satellite (NASDAQ:SIRI) 69% large blocks bought just OTM
Advance Auto Parts (NYSE:AAP) 55% - 4th strait day on big volume
Weatherford (NYSE:WFT) 54% - More than 16K OTM calls bought
ACI Worldwide (NASDAQ:ACIW) 97% puts on the ask 5K block at the open closing short put position
Bearish Option Flows - % OTM puts bought on offer
Loral Space @ Comm (NASDAQ:LORL) 97% Dec 50 calls sold to buy Dec 50 puts 2.5K times. (Delta Neural at best)
Zynga (NASDAQ:ZNGA) 65% bought on offer
Homebuilder ETF (NYSEARCA:XHB) 48%
US Airways (LCC) 11.3K bought OTM puts
Questcor (QCOR) 47%
As always happy trading and stay hedged.
Remember equity insurance always looks expensive until you need it!
Disclosure:
I am long: AAPL, AGNC, APC KERX, WLL
I am short: FE, FXE, FXY, HES,
Trades today:
Bought AAPL calls, HES puts,
Sold remaining SPY puts and SDS hedges (As always I will look to put back on)
Follow me and my trades on twitter @Keddie
Disclaimer: The opinions in this document are for informational and educational purposes only and should not be construed as a recommendation to buy or sell the stocks mentioned or to solicit transactions or clients. Past performance of the companies discussed may not continue and the companies may not achieve the earnings growth as predicted. The information in this document is believed to be accurate, but under no circumstances should a person act upon the information contained within. I do not recommend that anyone act upon any investment information without first consulting an investment professional as to the suitability of such investments for his or her specific situation.