Business networking leader LinkedIn (LNKD) reported relatively strong third quarter results last Thursday afternoon. Revenue growth continued its robust path, surging 81% year-over-year to a consensus-beating $252 million. Excluding several items, earnings accelerated 267% year-over-year to $0.22 per share -- more than double the consensus estimate.
Unlike most firms' non-GAAP items, which exclude "one-time" expenses, LinkedIn's earnings exclude very real costs like stock-based compensation and amortization of intangible asset acquisitions-perhaps non-cash, but still material, in our view. Regardless, the company's third quarter results reflected relatively strong performance.
Talent (Hiring) Solutions revenue increased 95% year-over-year to $138.4 million. The segment continues to steal market share away the old line of online hiring solutions, including Monster Worldwide (NYSE:MWW) and Career Builder (NYSE:GCI). Though Facebook (NASDAQ:FB) applications such as Glassdoor showed initial promise, LinkedIn is quickly cementing itself as the best place for hiring and job seeking. We think the social network perfectly fits the needs of both user types, making it the logical winner and beneficiary of traffic consolidation.
Marketing Solutions revenue increased 60% year-over-year to $64 million, lagging the rest of the company. LinkedIn's professional audience remains relatively attractive to advertisers, in our view, but we think the company will have a tremendously difficult time adjusting to the new mobile landscape. We can already see page view traffic stalling, as the metric declined 4% sequentially. Further, the company's member growth continues to slow due to saturation. Membership grew 43% year-over-year, but only 7% sequentially. Going forward, we think domestic membership growth will remain relatively subdued, though the company has a strong opportunity internationally.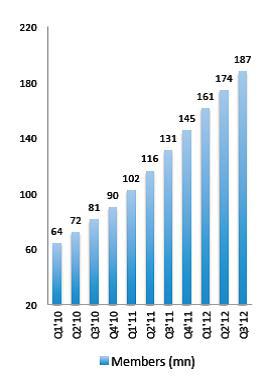 Image Source: LinkedIn Q3 2012 Slide Deck
Premium Subscriptions revenue accelerated 74% year-over-year to nearly $50 million. The product remains a small portion of the firm's overall revenue mix, and we don't expect this to change. Excluding job seekers, we question whether the value-add of a premium subscription is valuable to the ordinary member. In fact, we are highly skeptical of this product's long-term potential.
LinkedIn's free cash flow really took off during the third quarter, increasing nearly six-fold sequentially and tripling year-over-year to $54 million. Cash, cash equivalents, and short-term investments now total approximately $677 million, leaving the firm incredibly well capitalized. Revenue growth across all regions was fairly strong, with all international regions exceeding the 72% growth rate in the U.S. Costs also remained fairly well-contained, though we think reinvestment remains critical during the early stages of the company's growth trajectory.
Looking ahead, the company raised its full-year revenue guidance to $939 million to $944 million, in excess of its previous range of $915 million to $925 million. Adjusted EBITDA guidance was also revised upward to $202 million to $204 million, compared to its previous guidance of $185 million to $190 million. Though we thought the results were mostly positive, we see limited advertising growth going forward, and we think we could see some pushback with respect to premium memberships for those not immediately seeking a job.
Still, Talent Solutions remains one of the strongest products in its category, and it continues to drive the lion's share of LinkedIn's revenue. We continue to believe the company's valuation is sky-high, so we aren't at all interested in adding shares to the portfolio of our Best Ideas Newsletter at this time.
Disclosure: I have no positions in any stocks mentioned, and no plans to initiate any positions within the next 72 hours. I wrote this article myself, and it expresses my own opinions. I am not receiving compensation for it (other than from Seeking Alpha). I have no business relationship with any company whose stock is mentioned in this article.