With a debt load greater than all 17 member Euro nations combined, the news of Japan reporting a quarterly current account deficit for the first time in 30 years for the month of September is frightening. The current account contracted 69% from the same period a year earlier and should (at the very least) focus attention on a country whose debt levels are so perilous that they cannot afford to have the yields on their 10 year notes rise too much past 2%. This last part is the piece de resistance as they are so incredibly tightly wound that they have no margin of safety (T-bill holdings will only buy them a little time). It is the equivalent of walking on a tight rope with powerful gusts, no balancing bar, and no safety net.
Things just keep getting worse and worse and show no signs of recovering.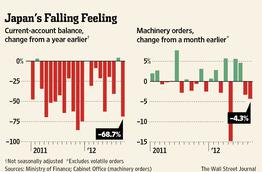 Source: WSJ
Then again, after two decades of deflation and the same ineffective monetary stimulus dealing with it, nobody should be surprised. The old Einstein quote about insanity applies in spades. The only thing that might keep them in the black for the year end figure is their income earned from the nation's large holdings of T-bills. What happens when Treasuries drop?
Given how unsustainable the economy is with their impossible debt loads, terrible demographics, savings rates expected to go negative by 2015, continual pursuit of ineffective monetary stimulus, and revolving door political leaders, the country is setting itself to make the European soap opera look like a little league baseball game.
Throwing in the towel
While none of this is new to anybody who follows Japan's perilous economic state, an announcement last week could be the beginning of a downward trajectory in the Yen (finally), as the government is far past shooting across the bow of the BOJ.
It is no secret that Tokyo has wanted to crush the value of the Yen for some time, but that the same ineffective methods have continually fallen short. BOJ governor Masaaki Shirakawa has made somewhat of a gallant effort in his time at the helm to keep the bank independent, but he will likely get the boot when his time is up in April.
Another seemingly standard press release from the BOJ last week was anything but the BOJ and the government issued a joint press release (for the first time ever). This relatively quiet announcement is perhaps every bit as important as any hard piece of trade data released. It is also possible that this action could open the door for hyperinflation to take root in the deflation ravaged nation in the future.
While Japan is different from Zimbabwe, and Zimbabwe is different from Greece, and Greece is different from Germany etc., there remain powerful parallels that we can connect between episodes of hyperinflation throughout history.
In an article from May of 2011, Japan watcher Dylan Grice noted a very interesting historical tidbit:
Past episodes of hyperinflation share a number of characteristics and a pronounced fiscal deficit is the most prominent. The second is a lack of an independent central bank, which allows the decision to monetize debt and print currency to be politicized. You put those two things together and you find them in every single hyperinflation episode.
As we are beginning to see, Japan will likely see its current account fall in the red more frequently, which spells disaster for an export reliant nation. If we combine this with Tokyo exerting more and more influence on the BOJ, soon to be negative savings rates, terrible demographics, and a debt load that all but ensures disaster, Japan could find themselves in a terrible feedback loop or worse in time.
Dinosaur industries, Old people, and the Insanity of inflation targeting
While every country is unique, of course, it appears that Japan is really opening the door to hyperinflation at some point. The country's economic strength has eroded heavily given the rise of the rest of Asia making the once feared economic powerhouse an afterthought. All one has to do is look at any article regarding their electronic and automotive industries. While the Yen strength has certainly played a large role in creating great difficulties for these once staid powerhouses, their difficulties cannot simply be blamed on the strength of the currency. Sharp (OTCPK:SHCAY), Sony (NYSE:SNE), Panasonic (PC), etc. are nowhere near as competitive as they once were and represent Japan as a whole: Old and shrinking.
It is not surprising that 2012 has been a year of firsts for Japan and it is no coincidence that these recent measures have come while the country is really losing its economic footing. While the nation's electronic and automotive industries have been losing ground for years, they haven't ever been in such dire shape as they now find themselves in (post WWII).
Just this year, we have seen the following firsts for the nation:
Adopted a 1% inflation target
Joint press release by the government and BOJ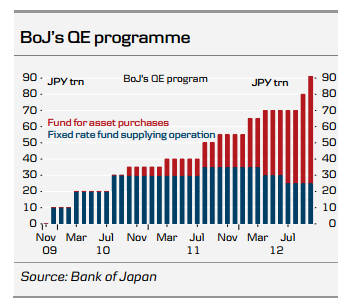 Most recently, possible future (and ex) Prime Minister Shinzo Abe announced that the government's current 1% inflation target is not enough and that the BOJ should "ease" until 3% is hit. This is insanity. What would happen to 10 year JGB yielding 0.75 basis points if some figure close to this were reached? Though it will likely never be realized through more monetary stimulus alone, it highlights Shinzo Abe's thinking with respect to really having his hands around the neck of the BOJ. He is also quoted as saying that if his party returned to power, he would consider revising a law guaranteeing the BOJ's independence to allow the government more say in shaping central bank policy.
Ways to play a falling Yen
If you believe the timing is right, there are a couple ways to do it. One of those is to go long gold versus Yen in the FX market. I think for most people gold is now something they seriously consider owning if they don't own some already. I continue to believe it will bode very well over the long-term. Another way is to use the short Yen ETF (NYSEARCA:YCS) (though this comes with a few drawbacks) or simply buy FXY puts. I know, I know, neither of these are ideal, but unless you have the ability to bankroll a billion dollar trade, the individual investor has limited options.
In the immediate term, the risk is that when Europe finally blows apart, it could cause the Dollar and Yen to get even stronger. There is also the likelihood of repatriation of Yen via selling T-bills at some point too. The other possibility is that the meltdown in Europe gradually shifts the spotlight to Japan beginning the next stop on the world debt tour.
Who knows which will play out over the next few months, but looking farther out into the future, I'm quite confident the Yen is headed towards a long, downward trajectory.
Disclosure: I have no positions in any stocks mentioned, and no plans to initiate any positions within the next 72 hours. I wrote this article myself, and it expresses my own opinions. I am not receiving compensation for it. I have no business relationship with any company whose stock is mentioned in this article.
Additional disclosure: I am not directly short Yen at this point but am short JGBs.