There has been much talk about the impact of Obamacare on employment dynamics in the USA. Much of the recent discussion centers on the Obamacare definition of full-time employment:
The law defines a full-time worker as an employee who works at least 30 hours per week with respect to any month.
My interpretation is that any business must provide health insurance if it employs 50 or more full-time employees - but only to full-time employees. Businesses are exempt from providing health insurance to part-time employees. But Obamacare's definition of full-time employment is 5 hours per week lower than the BLS definition of a full-time worker (note that the establishment survey's definition of employment comes from the Current Population Survey):
Full-time workers (Current Population Survey and American Time Use Survey) - Persons who work 35 hours or more per week.
Logic dictates that all things being equal:
the average hours worked per temporary worker will decline to

be

well below 30 hours to avoid any potential costs of Obamacare;
the number of temporary workers will increase because the same total number of manhours worked per employer is necessary.
The reason is that Obamacare will increase the cost to employers (large and small) - and even to employees. According to Newsweek, a study of employers:
…… that have 10 to more than 500 employees, the 2012 National Survey of Employer-Sponsored Health Plans, predicts that the average per-employee cost of health coverage will rise about 6.5 percent in 2013 and that 58 percent of employers surveyed plan to shift costs to their employees to reduce the increase, says George Lane, principal at Mercer, the human resource consulting company that conducts the annual survey.
As an economic observer, I tend to gravitate towards the principle of unintended consequences (good and bad) when a major shift of methodology occurs. Both business and employees will alter to optimize their return - and if the above statement from Newsweek is absolutely true, then one would expect even permanent positions be downgraded to temporary (working under 30 hours per week).
The predicted result of the effects of Obamacare would be a change in the ratio between temporary and full-time employment. The ratio is currently high for the 21st century, but about average for the period since 1960. Part-time employment is in a long-term uptrend since 2000.
Ratio Between Part-Time Employment and Full-Time Employment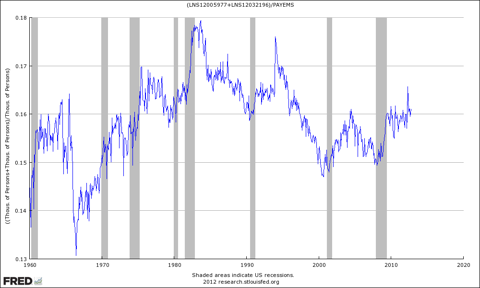 Another way to view the effects of Obamacare is to watch the total hours worked which has been growing at a slower and slower rate since the middle of 2010.
Percent Change Year-over-Year Non-Farm Private Weekly Hours Worked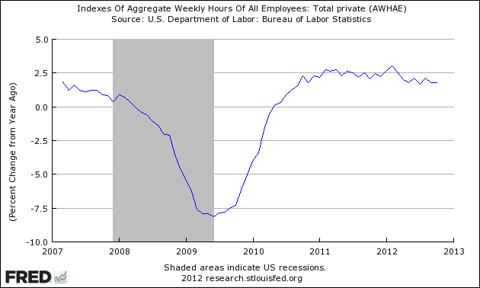 Bookmark this post. The graphs above auto-update on our website with each new BLS jobs report. My belief is that part-time employment will continue to grow for many more reasons than Obamacare - the most obvious is a demographic shift where those retiring want a part-time (versus full-time) job to add some spending money and to keep busy.
My weekly economic summary is in my instablog.
Disclosure: I have no positions in any stocks mentioned, and no plans to initiate any positions within the next 72 hours. I wrote this article myself, and it expresses my own opinions. I am not receiving compensation for it. I have no business relationship with any company whose stock is mentioned in this article.