On Friday, November 9, before markets opened, Canadian oil and gas producer Enerplus Corp (NYSE:ERF) reported a third-quarter loss due to asset impairments and noted it expects growth to slow down in 2013. Net loss in Q3 was $63.5 million Canadian (about $63.6 million U.S., with a roughly even exchange rate) or $0.32 per share, compared with a net income of $111.3 million or $0.62 Canadian cents per share in Q3 of 2011. Shares of ERF closed by 14.46 percent lower of Friday, largely in response to the report.
The primary difference, year over year, is the significant decline in natural gas prices, though the company also recorded exploration and evaluation impairments of about $114 million, and had total capital expenditures of $167 million. Enerplus' daily production during Q3 averaged 81,573 barrels of oil equivalent per day, an 11 percent increase from a year ago, but down slightly from Q2 of 2012. During Q2, Enerplus reported an average production rate of 82,108 BOE/day. The company noted that its oil and liquids volumes grew by 24 percent year-over-year, and now represent just under 50% of total production. By percent, oil and liquids increased by one percent quarter over quarter, compared to a seven percent increase last quarter.
Enerplus also cut its average production forecast for full-year 2012 by two percent to 82,000 BOE/day. At least part of this cut may be due to the sale of its Manitoba assets, which produced 1,600 BOE/day, as well as its interest in Laricina Energy. The company also noted that a slowing level of activity in the Marcellus shale in Pennsylvania will further postpone natural gas production from the asset. The company also noted that it will reduce its capital spending by 20 percent next year.
Enerplus has been forced to sell some assets in order to fund its capital expenditure costs and continue fueling its long-term growth objectives, including shale assets it owns in the United States. Declining natural gas prices have pressured the company to sell assets and delay natural gas production growth. At the same time, Enerplus has been forced to sell some assets in a buyer's market for them due to necessary asset sales by larger entities such as Chesapeake (NYSE:CHK). Also, production costs have generally increased in 2012, with ERF increasing its expectations for 2012 average operating cost to $10.70 per BOE from $10.40.
Enerplus shares spent much of the first half of 2012 in decline, following natural gas down the charts, and a spike down for oil prices that occurred in May. On June 12, Enerplus cut its monthly dividend in half, from $0.18 cents to $0.09. After ERF cut its dividend, oil and gas prices stabilized and subsequently increased, and by the end of the third quarter, Enerplus had appreciated by about 40 percent from its bottoming out in late June.
Over the last month, though, and including a sell-off that followed this Q3 report, shares of ERF have fallen by about 20 percent and are again nearing their 2012 lows. See a recent performance chart: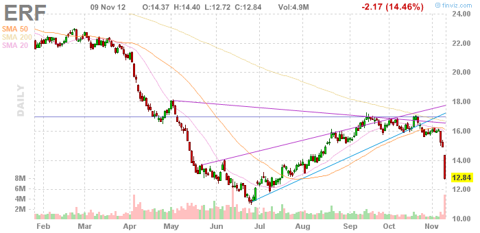 Some of this recent selling appears to be an overreaction to ERF's quarterly results, but continuing losses and/or further energy commodity declines could certainly exacerbate ERF's present condition. Given ERF's current condition, another asset sale announcement is likely forthcoming.
Enerplus may also announce changes to its dividend reinvestment plan, though such is no certainty. Enerplus' current Stock Dividend Program allows shareholders to receive dividends in the form of shares of Enerplus at a 5% discount to the current market price instead of a cash dividend. When Enerplus cut its dividend in Q2, the move was soon followed by Pengrowth (NYSE:PGH), which recently suspended its Premium Dividend Program. Perhaps, this time, Enerplus will follow Pengrowth.
Another issue that could be weighing on ERF shares is Canada has been mulling over the sale of some companies to foreign national corporations. Last month, Canada denied a bid by Malaysia's state-owned oil company, Petronas, for Progress Energy Resources Corp, arguing that the deal did not provide a net benefit to Canada. Also, a larger deal by China's state-owned oil company, CNOOC, for Nexen Energy (NXY) is still being considered. It appears Canada is not against the idea of such sales, but instead interested in increasing the price of Petronas' offer. Either way, the uncertainty makes the sale of other Canadian oil and gas companies less probable, and that is also weighing down those other Canadian energy equities. The consummation of either such deal would likely reduce this uncertainty and provide a boost to the entire Canadian energy sector.
Disclosure: I am long CHK, ERF, NXY, PGH. I wrote this article myself, and it expresses my own opinions. I am not receiving compensation for it (other than from Seeking Alpha). I have no business relationship with any company whose stock is mentioned in this article.