Friday, November 9th, was a flat market, but the direction over the course of the week was down and that is reflected in many of the indexes and sectors. Our most important index changed direction and handed the ball over to the defense. Other BPI values moved out of the overbought zone. Check the details below.
Index BPIs: The NYSE and Dow Jones Transportation were the last holdouts. Both turned negative this week, so the defense has the ball in all cases. After a great run, taking a breather was not unexpected. There are all types of reasons, from Europe to our election. The market was bound to cool off regardless of world events. It has been in the making for some time.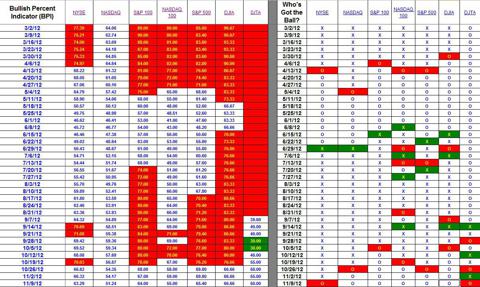 Sector BPIs: All but Staples have O's in the right-hand column. Frankly, I was surprised this single sector turned positive. Overall, the defensive teams are in control and will likely remain this way for the next several weeks. We need to get past the fiscal crisis before we see another bull market.
Guidance: Remain on guard and be prepared to sell shares if the price drops below its 195-Day EMA. This is not the time to lose profits.