Navistar (NYSE:NAV), a leading manufacturer of commercial vehicles, has been on a rocky road as of late. After spending over $700 million developing an engine which failed to meet federal emission requirements, the company recently signed a deal with Cummins (NYSE:CMI) to use the competitor's engines. This huge mistake led to the ousting of the CEO and Carl Icahn, a major shareholder in the company, to write a scathing letter to the board including the following statement:
I am writing this letter to express my grave concern about the future of Navistar, a company that, in my opinion, has become a poster child for abysmal business decisions and poor corporate governance.
During this upheaval, Navistar stock has tumbled, falling from a high of nearly $70 per share in early 2011 to just $19.70.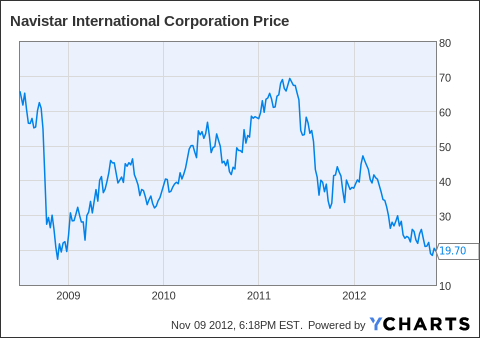 At this point, given the difficult road which lies ahead for the company, the stock is extremely speculative. However, there are some outstanding Navistar bonds which offer attractive returns.
The Sooner, The Better
Given the problems facing Navistar, it is best to focus on bonds which mature within a few years. In October 2009, Navistar sold two different offerings: a convertible note due in 2014 with a coupon of 3% paid semi-annually and senior debt due in 2021 with a coupon of 8.25% paid semi-annually. The convertible property of the 2014 notes is essentially worthless, since the conversion price is $50.27, well above the current market price.
Although the longer-term bond has a much higher coupon, maturity is far enough away to give me real pause. The 2014 notes are much safer, since they mature in less than two years, and, as we'll see, it looks like the balance sheet is strong enough to handle it. Because of this, I'll focus on the 2014 notes.
Much like the stock, the price of this bond has fallen precipitously over the past year.
Navistar 2014 Note Price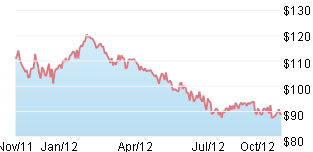 * Bond data from FINRA
The last transaction recorded for this bond was on November 9th for $91.50. While the current yield is only 3.279%, the yield to maturity is a much better measure of the overall return, especially since maturity is so soon. I'll use the Bargain Bin Yield To Maturity Calculator to analyze this bond.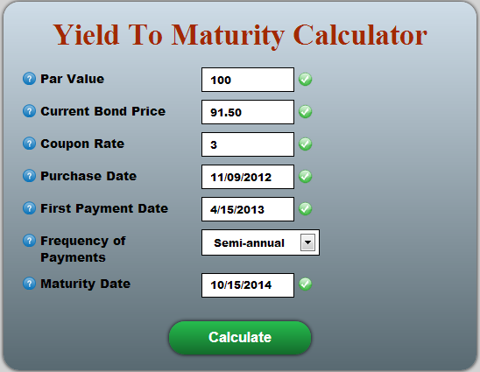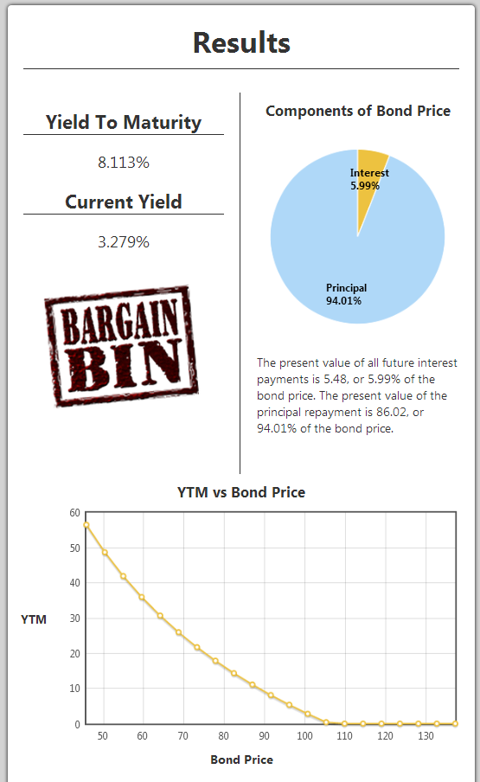 This bond has a yield of maturity of 8.113%, much higher than the current yield. This is because the current price is below par, so you're paying $91.50 today for $100 in a little less than two years, plus a few small coupon payments. The yield to maturity is very sensitive to the bond price since maturity is so soon. Since the price has dropped so much over the past year, from $120 in February to $91.50 now, the yield to maturity has grown significantly. If you bought this bond at its peak for $120 in February, using the YTM calculator, the yield to maturity was actually negative. At that point, the stock was trading at around $45 per share so the convertible option wasn't completely irrelevant, but that's still a ridiculous price to pay for this bond. However, after the price decline, a yield to maturity of over 8% on a bond which matures in less than two years looks like a good deal.
Bond Safety
Of course, none of this matters if the company defaults on its debt. A quick look at the balance sheet as of July 2012 shows $706 million in cash and $4.4 billion in debt. However, in October, Navistar sold 10.7 million new shares of stock, raising about $200 million. The total size of the 2014 note offering is $550 million. Navistar spent $247 million in interest payments in 2011, about half of what it spent in 2007. The company has been aggressively shedding debt over the last five years, reducing the debt load from $6.9 billion in 2077 to $4.4 billion today, a 36% decrease. So far in 2012, free cash flow has been positive but small, just $33 million through July. So there is certainly some default risk for this bond, but given the short maturity, I'm not too concerned.
Conclusion
Navistar is in the middle of a turnaround after a disastrous decision nearly led to the company's demise. The notes due in 2014 offer a yield to maturity of 8.113%, rare in this era of ultra-low interest rates. There is some risk that Navistar will fail, but given that the maturity is less than two years away and the company has roughly $900 million in cash after the sale of new stock, this bond looks to be a good investment.
Disclosure: I have no positions in any stocks mentioned, and no plans to initiate any positions within the next 72 hours. I wrote this article myself, and it expresses my own opinions. I am not receiving compensation for it (other than from Seeking Alpha). I have no business relationship with any company whose stock is mentioned in this article.