Global automaker Toyota (NYSE:TM) reported strong second quarter results Monday morning. Revenues surged 18% year-over-year to ¥5.4 trillion, relatively strong given the considerable weakness in sales to China during September and October. Operating income increased over three-fold to a better-than-expected ¥257.9 billion.
The company lapped smaller numbers in the second quarter due to weakness in the supply chain during the first half of fiscal year 2012. Still, Toyota continues to sell more products and outpace competitors, particularly in North America. Operating income in the region jumped 350% year-over-year. Europe remains a smaller portion of the overall business mix than Japan and North America, but we think the company is well positioned to gain market share as big European players such as Ford (NYSE:F) and GM (NYSE:GM) restructure European operations to stay afloat. Toyota's full efficient line-up and reputation for quality could resonate during challenging macroeconomic conditions.
Looking ahead, Toyota lowered its full-year vehicle sales forecast by 50,000 units (see image below), primarily the function of a weak European auto market and a Chinese backlash against purchasing Japanese goods, stemming from a dispute over certain island territories. However, we think the firm could be underestimating its 20,000 unit increase in North America. Ford and GM are focusing on profitability rather than market share, so we think Toyota has a chance to expand market share during the second half of its fiscal year. The Camry reclaimed its spot atop the best-sellers list in the US, and the brand's reputation remains superb.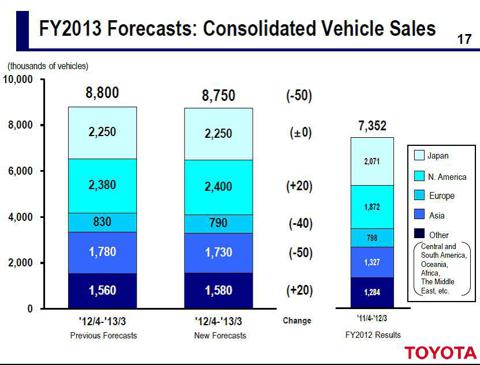 Image Source: Toyota
The firm reduced its overall revenue forecast by ¥700 billion to ¥21.3 trillion, though it increased its operating income forecast by ¥50 billion to ¥1.05 trillion. In dollars, this translates to approximately $13.2 billion in operating income on $269 billion in sales-a pretty solid figure. The strong yen remains a sizeable headwind, but we think increased production in the US will help offset some of the headwinds.
Overall, we thought Toyota's second quarter was strong, though we fear the possibility that sales deceleration in China will continue. Ford remains our favorite automaker, but we like shares of Toyota at current levels, too. However, the company's poor score on the Valuentum Buying Index (our stock-selection methodology) is keeping us on the sidelines at this point. We continue to monitor the company and wait for an attractive entry point.
Disclosure: I have no positions in any stocks mentioned, and no plans to initiate any positions within the next 72 hours. I wrote this article myself, and it expresses my own opinions. I am not receiving compensation for it (other than from Seeking Alpha). I have no business relationship with any company whose stock is mentioned in this article.
Additional disclosure: F is included in the portfolio of our Best Ideas Newsletter.