The stock market has endured a sound drubbing since Election Day. Despite casting aside the uncertainty of who will be the President of the United States for the next four years, stocks suffered their worst two-day point decline of the year last week, plunging by -51 points on the S&P 500 Index (NYSEARCA:SPY) on Wednesday and Thursday. And they showed no signs of rebounding on Friday, gaining only +2 points on the S&P 500 to end the week. At the end of it all, the stock market shed -3% in the three days following the election.
Despite this recently poor post election performance, stocks still hold a number of factors in their favor at least in the near-term. The following are five reasons the stock market may be poised to rally over the next few weeks.
images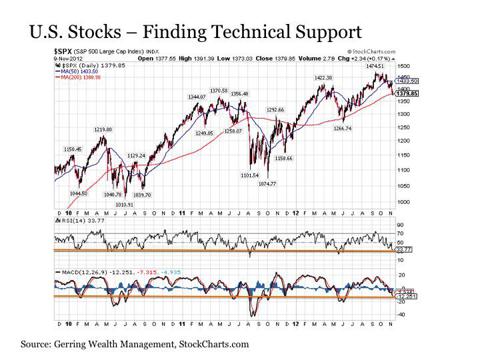 First, stocks have arrived at technically oversold levels that have previously signaled a reversal to the upside. Not only are stocks currently leaning on support at their critical 200-day moving average (red line on chart above), but they have also arrived at technical readings based on relative strength and momentum that have occurred on nine past occasions over the last three years. In seven of the past nine instances, stocks went on to rally by +18% on average over periods ranging from one to five months. And in the two instances where stocks continued to break lower, both occurred during periods immediately following the end of QE1 and QE2 when the Fed had just stopped flooding the financial system with liquidity.
Second, November and December have seasonally been the best two months of the year for stocks. On a stand-alone basis, December is the best month for stocks over the past sixty years with an average +1.62% on the S&P 500 Index followed by November in second at +1.52%. And over this same sixty-year time period, stocks have ended this two-month stretch higher 77% of the time for an average return of +3.21%. The fact that stocks are currently down -2.29% thus far in November implies the potential for considerable upside if stocks were to regress toward their historical mean during this time period.
Third, the high yield bond market has not followed the stock market lower in any meaningful way thus far. This is significant because high yield bonds (NYSEARCA:HYG) have been a reliable leading to coincident indicator to any sustained stock market decline since the beginning of the financial crisis. Other than creeping below support at its 50-day moving average, high yield bonds are indicating few signs of immediate stress to this point.
Fourth, the dismal third quarter earnings season is effectively over with more than 91% of companies in the S&P 500 having reported through Friday. This suggests that bad news from the corporate front is likely to subside at least for now. And the fact that we still hear the trumpeting of headlines like 70% of companies have reported earnings that have exceeded mean analyst expectations thus far for 2012 Q3 suggests the market public relations facade that is corporate earnings season remains very much in tact.
Last but certainly not least, money printing is back in full effect from the U.S. Federal Reserve with $40 billion in open-ended QE stimulus scheduled to flow into the financial system every month until Chairman Bernanke or whomever is running the Fed after January 2014 is finally satisfied. If anything, the outcome from Tuesday's election will help ensure that investors continue to receive their monetary fix for the foreseeable future. And the intoxicating influence of this stimulus has repeatedly shown the ability to induce the market to completely ignore any and all fundamentals in floating endlessly higher. While its potency is clearly diminishing with each successive dose, this monetary stimulus is likely still sufficiently strong to incite a few more solid rallies out of stocks.
These are just some of the factors that support steady to higher stock prices at least over the next few weeks barring a full blown crisis outbreak in Europe or a collapse in U.S. fiscal cliff negotiations along the way between now and the end of the year. To this point about event risk, any allocations to stocks should be viewed with a short-term perspective, as meaningful risks continue to build over the medium-term to long-term that must be evaluated carefully at each step along the way. And any deterioration in any of the five conditions listed above should be closely monitored for a potential change in portfolio course if necessary.
In terms of establishing broadly diversified short-term exposures to stocks, other vehicles may be preferable to the S&P 500. One of the key drawbacks to the S&P 500 is the heavy concentration to a select group of large cap names. For example, owning this index through the iShares Core S&P 500 (NYSEARCA:IVV) or the SPDR S&P 500 comes with a +4% allocation to Apple and another +3% slug in ExxonMobil, which introduces a degree of single stock risk. As a result, alternative exchange traded products may offer greater appeal. One possibility is the higher growth SPDR S&P Mid-Cap 400 (NYSEARCA:MDY), which has already begun to bounce off of its own 200-day moving average support. Another is the lower risk S&P 500 Low Volatility (NYSEARCA:SPLV), which is far more evenly balanced from an allocation perspective and is focused on exposures that have shown greater price consistency over time. Also, the Guggenheim S&P Equal Weight (NYSEARCA:RSP) effectively neutralizes single security risk while still providing exposure to the large cap area of the market with a mid cap bent. Lastly, targeting specific higher beta stock exposures that are expected to benefit most from the current environment defined by continued competitive currency debasement and potential asset price inflation such as BHP Billiton (NYSE:BHP), Occidental Petroleum (NYSE:OXY) and Potash Corporation (POT) is yet another way to try and capture potential stock upside in the current market.
The final seven weeks of the year promise to be eventful. And despite the recent price action since the election last Tuesday, the potential for a solid upside advance in stocks along the way remains in tact even in the face of ongoing risks.
Disclosure: I am long BHP, OXY, POT, MDY, SPLV, HYG. I wrote this article myself, and it expresses my own opinions. I am not receiving compensation for it (other than from Seeking Alpha). I have no business relationship with any company whose stock is mentioned in this article.
This post is for information purposes only. There are risks involved with investing including loss of principal. Gerring Wealth Management (GWM) makes no explicit or implicit guarantee with respect to performance or the outcome of any investment or projections made by GWM. There is no guarantee that the goals of the strategies discussed by GWM will be met.