Ah, it's earnings time for Nvidia (NASDAQ:NVDA) for once again. Unsurprisingly, the company didn't negatively pre-announce as many had feared, nor did it come in below its guided range. The firm had a record quarter in which it did $1.2B in sales with gross margins of 52.9% yielding a very beefy $209.1M in net income. This was slightly ahead of the sell-side analyst expectations.
On the guidance side, Nvidia seemed to disappoint, guiding for $1.025B - $1.175B in sales on flat gross margins and slightly up operating expenses ($400M from $384.4M). This was against the Street consensus of $1.21B, so this is likely the reason for the sell-off in the face of the very clear beat in the quarter.
However, as the stock continues to plunge towards new 52-week lows, I believe that the sell-off is massively overdone and that a company that exhibits the characteristics that Nvidia does has absolutely no rational explanation for trading at these levels.
Cash Is Power
One thing that I have always loved about Nvidia (and love in general whenever I am analyzing a stock) is that it has a whopping $3.43B - or 45.5% of its market capitalization - in cash and cash equivalents and negligible debt.
While this is a fairly sizeable position, it is key that the company - especially as it tries to transition itself from a GPU design house into a general processor/system-on-chip firm - has a lot of cash on hand to allow it to make the right acquisitions and take non-trivial business risks to help the firm position itself for future market trends.
An example of this was the acquisition of Icera, a developer of 3G and 4G baseband processors. In order to be a competitive supplier in the mobile device markets, a semiconductor company needs to have the following fundamental capabilities:
Baseband/Modem technology - connectivity speed, quality, and integration is arguably the most noticeable part of a smartphone
CPU technology - a smartphones and tablets take on more computational responsibilities, there needs to be competence in this area. Luckily ARM's (NASDAQ:ARMH) licensable processor designs put the major companies on more-or-less the same playing field here. Interestingly enough, though, Nvidia is designing its own custom, ARM compatible cores going forward to further differentiate itself (in areas beyond smartphones, too).
Graphics technology - while straight CPU power is useful, the point of diminishing returns (especially in client content consumption devices) comes quite quickly. However, many people want to play games and do multimedia rich work on their mobile devices, too. Fast, power efficient graphics processor technology is a key asset here and Nvidia's history as the world's foremost graphics chip designer is certainly going to be critical going forward.
In 2011 Nvidia was able to complete the final piece of the mobile puzzle by buying Icera, thereby establishing it as a complete competitor to the likes of Qualcomm (NASDAQ:QCOM) and Intel (NASDAQ:INTC). The cash on hand will allow it to add more puzzle pieces as it sees fit.
This leads me to my next point: Nvidia's strengthening position in the smartphone and tablet markets.
Smartphones And Tablets
Nvidia's consumer products division - which is mostly its "Tegra" products for smartphones and tablets - did quite well in the most recent quarter. The division posted a 27.6% year-over-year increase, hitting a record $243M in the quarter. This was driven by Tegra 3 scoring several very high profile design wins in the Google (NASDAQ:GOOG) Android and Microsoft (NASDAQ:MSFT) Windows RT spaces with the Nexus 7 and the Surface, respectively.
But keep in mind that this is really only the beginning. It is interesting to note that Nvidia's tablet business is doing quite a bit better than its smartphone business. A quick look at the company's website reveals that the firm's latest Tegra 3 system-on-chip has only found its way into only two smartphones - the HTC One X and its updated cousin, the HTC One X+ (so it's really only one design win):
click to enlarge)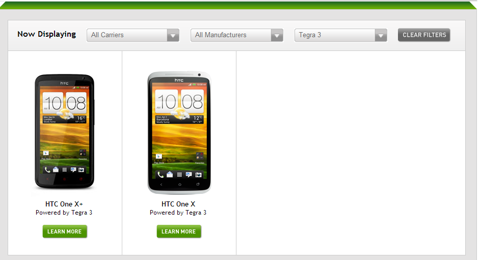 The picture starts to look a little rosier when we include the last-generation Tegra 2 processors, which modestly increases the design win count to 7 models - but these are phones that have mostly been replaced. So, clearly, Nvidia's position in smartphones isn't all that great yet. Even Intel , the whipping boy of Wall Street, has managed to achieve more design wins in the smartphone space.
However, the problem is not insurmountable and it is likely due to the lack of an integrated application processor + baseband solution. In fact, on the call, CEO Jen-Hsun Huang noted the following with regard to its smartphone position (in response to a question about the firm's raised expectations for operating expenses):
And so out -- we have a next-generation application processor integrated with a next-generation LTE. And this quarter, we hope to tape out and race it to market. And so our OpEx has increased so that we can invest in that initiative. It's obviously a very, very large market opportunity for us, and so we're very quite bullish about it.
So first off, it's important to understand just what "tape out" means. Simply put, when a chip "tapes out", this means that the chip's design is finished and the design can be sent to the fab for manufacturing. Generally speaking, there is about a 6-9 month lag between initial tape-out and availability of the product on the market. For example, Nvidia's "GK110" GPU (which would later be the chip that powers the firm's K20 solution) taped out this past February and is just now coming to market in the October/November time-frame.
This means that should the upcoming integrated part (codenamed "Grey") tape out by between November and January, it should be available in products by 2H 2013 or, if things go badly, 1H 2014. The increase in OpEx for next quarter to expedite these efforts is encouraging as the sooner the product is finished, the better. While Nvidia will probably see some wins in higher powered phones with its discrete modem/applications processor pair, the efforts on integration should pay off big in a year's time when it can address higher volume oriented segments of the market.
On the tablet side, Nvidia's products are doing fine - Tegra 3 scored a high number of design wins despite having fairly weak graphics and CPU cores. With the upcoming "Tegra 4", rumored to likely include the brand new Cortex A15 and next-generation "Kepler" graphics cores (the current Tegra is using 2004-level GPU cores), Nvidia's competitive position in tablets will only strengthen. Coupled with the secular growth of the tablet segment, the segment should see plenty of growth in 2013.
PC Graphics - Who Said PC Gaming Was Dying?
While Intel and Advanced Micro Devices (NASDAQ:AMD) reported tough quarters, each showing year-over-year sales declines (albeit Intel managed to weather the storm far better than AMD did), Nvidia managed to post a 14.7% year-over-year increase in its discrete graphics card business. I believe that a number of tailwinds helped Nvidia sail here:
Market Share Gains - in the laptop and desktop discrete segments, Nvidia gained share against AMD. This is likely due to a combination of strong marketing efforts, a very competitive product lineup, and superior developer relations (this leads to Nvidia-exclusive features like PhysX and 3D Vision that sway buyers).
TAM Growth - while Nvidia's graphics division grew 15% year over year from $644M to $739.6M year-over-year, competitor AMD's saw its graphics division sales shrink from $403M to $342M in the current quarter, year-over-year. Nvidia gained $95.6M year-over-year while AMD lost $61M. This implies a modest growth in the discrete GPU TAM during the quarter despite the weak macro and PC demand environment.
Yields Improving - a major overhang for Nvidia in the past couple of quarters was that its sales had been hamstrung by supply constraints. According to management, supply has "significantly" improved on 28nm. This should allow a mix shift towards higher margin 28nm parts (and the even nicer thing is that the company has had all this time to offload its 40nm parts).
In short, the discrete GPU business isn't following the general PC trend - it's still growing.
Tesla And Quadro
The final segment of Nvidia's business, Professional Solutions, actually saw a 4% year-over-year decline in sales. The division itself is composed of two parts: the professional workstation graphics division (Quadro products) and the high performance compute (Tesla products).
The workstation demand environment was generally weaker, so the Quadro business suffered year-over-year. However as Intel's long-delayed "Romley" workstation platform has begun to ramp, so have Nvidia's sales of its workstation products as evidenced by the 12.4% q/q growth in this segment.
The real star of the show, however, was the high performance compute sales. According to management, this was a "record quarter" for Tesla sales, no doubt fueled by the major design win in the Jaguar supercomputer. While Tesla sales are necessarily lumpy (a new supercomputer isn't built every day), management was optimistic on the call that further design wins would fuel the growth of its Tesla sales.
That Dividend...*yawn*
The most peculiar part of the earnings report was the announcement that the company would be paying an annual dividend of $0.30 or roughly 2.4% yield at the time of the announcement. I'm not sure why management would commit to paying out 36% of its profits as a dividend that will likely be taxed at a 35% rate.
The company also announced that it would extend its $2.7B stock repurchase program through 2014. I believe that Nvidia will not be particularly aggressive in buying back shares simply because it has not done so historically. And now with the quarterly dividend in place, it seems even less likely that funds will be allocated to a buyback.
The dividend funds should have gone to share buy-backs, especially in light of the alarming rate that the share count seems to be increasing: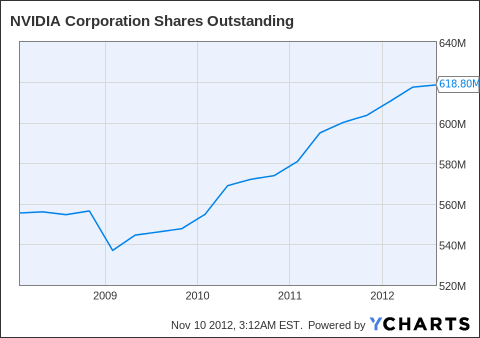 NVDA Shares Outstanding data by YCharts
Conclusion
In short, great quarter for Nvidia, and finally a validation of its plans to position the company around its "Tegra" strategy. The mobile business accounted for 30% of sales this quarter and I expect that the company expects this to become an even larger percentage of the business in the medium- to long-term.
With a lot of cash on hand, strong products, aggressive R&D for the future, a management team that knows what it needs to do to succeed, and the resources to win, Nvidia is a clear buy near 52-week lows.
Remember, the 52-week low penalty box is for companies that do not grow and are not viable. Even the timid guidance of $1.025B and $1.175B, the midpoint of the guide calls for $1.1B or a 15% year-over-year increase in sales. I'd say that's not bad in light of the year-over-year declines nearly every other PC-levered semiconductor seems to be facing (and keep in mind, this guidance is timid).
Consider buying an initial position of Nvidia at these levels (start small). Add in stages on the way down. This is a growth company whose best days as a mobile processor leader are just getting started. Think of it this way - you're buying a high growth stock (the mobile division) that just happens to have its efforts bankrolled by the highly profitable discrete GPU business as well as its massive cash pile in the bank.
Does that sound like a good deal to you? It sure does to me.
Disclosure: I am long NVDA, INTC, AMD. I wrote this article myself, and it expresses my own opinions. I am not receiving compensation for it (other than from Seeking Alpha). I have no business relationship with any company whose stock is mentioned in this article.