Introduction
The recent re-election of President Obama has made investors in coal mining companies very nervous, with shares of Alpha Natural Resources (ANR), Arch Coal (ACI), James River Coal (JRCC), Peabody Energy (NYSE:BTU), and Walter Energy (NYSE:WLT) all greatly underperforming the broader S&P 500 since November 7. JRCC has performed especially poorly, with its shares down 43% in the last 3 days of trading.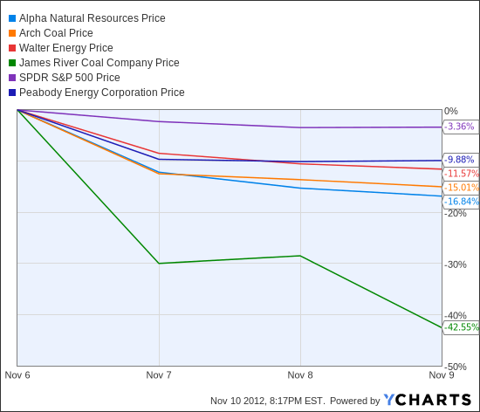 ANR data by YCharts
The popular explanation is that these investors assumed that coal-friendly Governor Romney would win his bid for the presidency, and Wednesday's selloff was the result of the "realization" that President Obama will now use EPA regulations to wage a "War on Coal." I made the case in two recent articles that the threat of these EPA regulations has been greatly exaggerated, and the coal mining industry will be able to offset the effects of even the strictest EPA regulatory scenarios by exporting coal to satisfy Asia's booming demand for it. The U.S. nearly doubled its coal exports between 2009 and 2011 in response to stagnate domestic consumption and is currently on track to increase this amount still further in 2012 to 118 million tons.
(click to enlarge)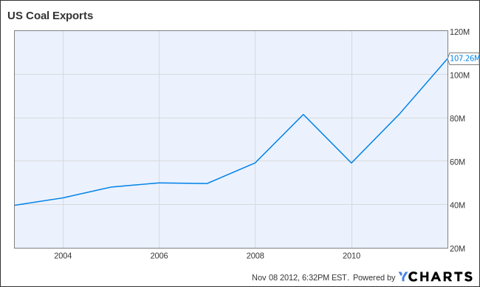 Annual US Coal Exports data by YCharts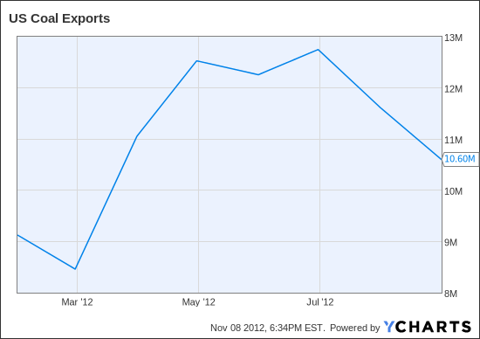 Monthly US Coal Exports data by YCharts
One commenter to my November 7 article got my attention, however, by stating that "Fed and state governments are working to prevent coal from being exported (see Seattle & Oregon)-- they don't want the CO2 emissions here, in China or anywhere." This is a very important point, given that my lack of concern regarding the coal mining industry's prospects rests on the premise that exports will serve as a backstop for the industry, regardless of what the EPA does. Such a stance by the Obama administration and its local allies also makes sense from the strict perspective of environmental economics, making it worth investigating further.
EPA regulations and carbon leakage
Strictly speaking, regulatory "carbon leakage" is defined as an increase in greenhouse gas [GHG] emissions in Country B due to restrictions on GHG emissions in Country A. For example, one concern regarding the American Clean Energy and Security Act (i.e., the cap-and-trade plan that died in the Senate in 2010 after being passed by the House of Representatives) was that by making cement production more expensive in the U.S., the cap-and-trade plan would incentivize the cement industry to move its production to China. Not only would the emissions that would have occurred in the U.S. (but for the legislation) now occur in China, but there would likely be a net increase in emissions due to China's higher carbon intensity. Given the global nature of GHG emissions (1 pound of CO2 emitted in the U.S. has the same effect on atmospheric CO2 as 1 pound emitted in China), carbon leakage eliminates any benefit from restricting GHG emissions while still imposing the cost of lost economic activity on the country with the restriction.
While countries intending to restrict their GHG emissions therefore have a major incentive to prevent carbon leakage, it is very difficult to combat in developed countries due to the presence of the World Trade Organization's General Agreement on Tariffs and Trade. WTO members have little recourse to conventional unilateral trade restrictions, such as export restrictions and tariffs, as a means of combating carbon leakage. Given that both China and the U.S. are WTO members, the latter cannot impose a blanket ban on coal exports to the former without provoking a legal battle at best, and a legitimized trade war at worst. The Obama administration therefore has little ability to directly prevent carbon leakage resulting from restrictions it imposes on the combustion of coal in the U.S.; the coal will simply be shipped to China and combusted there, completely negating the positive environmental effect of a regulation such as its Carbon Pollution Standard - in which case, why even impose the regulation to begin with?
While the Obama administration doesn't have the ability to place direct restrictions on coal exports without creating an international and legal firestorm, the same is not true of indirect restrictions. By a quirk of geography, only 1.4% of U.S. estimated recoverable coal reserves are in Pacific seaboard states [pdf] (see table). The overwhelming majority of U.S. coal sold to Asia must therefore cross state borders on its way to Pacific ports. Due to the Dormant Commerce Clause of the U.S. Constitution, the Pacific seaboard states cannot prevent coal shipments from crossing into their territory. What the seaboard states can do, however, is try to ensure that the coal has nowhere to go once it reaches the Pacific coast.
State

Estimated recoverable reserves

(Million tons)

Alaska

2825
California
0
Oregon
9
Washington
681
U.S. total
259519
Source: National Mining Association (2011)
Multiple coal export terminals have been proposed for construction in Oregon and Washington. These terminals will ship coal from the Power River Basin mines in Wyoming to Asian ports if approved, significantly increasing U.S. export capacity of coal. All have run into bitter opposition from environmental groups and locals with NIMBY (Not In My BackYard) concerns regarding train traffic, coastal sea lane and urban traffic congestion, and tribal land infringement. The U.S. Army Corps of Engineers, which is required by federal law to analyze the environmental effects of major changes to U.S. coastal areas as part of the permitting process, determines both the scope and length of its analyses (and thus the time until construction can begin). Environmental Assessments are relatively short (several months) analyses that focus more on localized environmental impacts. Environmental Impact Statements are longer, taking several years, with an increased scope that can include global environmental affects. The Corps is currently assessing the following proposed coal export terminals:
Gateway Pacific Terminal - To be located in Bellingham, WA, this proposed terminal will be capable of exporting 54 million tons of coal annually from Wyoming mines. It is being opposed by both the Sierra Club, which is opposed to coal export terminals due to carbon leakage concerns, and Seattle residents who are concerned that the resulting increase in train traffic through the city will cause road congestion. The Army Corps of Engineers has launched a multi-year Environmental Impact Statement on the proposed terminal, with an expected completion date of 2014 or 2015.
Millennium Bulk Terminal - This proposed terminal, which is to be located in Longview, WA, will be capable of exporting 44 million tons of coal from the Powder River Basin annually. It is also the subject of a multi-year Environmental Impact Statement by the Army Corps of Engineers, which can be expected to significantly delay its construction.
Morrow Pacific Terminal - The smallest of the bunch with a capacity of 9 million tons per year, this proposed terminal is to be located in Boardman, OR. Unlike the two aforementioned proposed terminals, which have a larger scale and are located near wetlands, the Morrow Pacific Terminal is the subject of an Environmental Assessment by the Corps, which is expected to be completed within several months. The Corps has reserved the right to expand this to the longer Environmental Impact Statement if its initial assessment gives it reason to do so, however.
Three other proposed terminals have either been shelved, delayed, or forced to relocate, including a proposed Kinder Morgan (NYSE:KMI) project in Oregon.
Global Nimbyism?
The opposition to the proposed coal export terminals in Washington and Oregon is comprised of a unique mix of environmental groups concerned with global GHG emissions and local activists expressing the traditional "Not in my backyard" concerns of traffic congestion, resource rights, and noise pollution. Reuters recently compared the controversy over the coal export terminals to that embroiling the Keystone XL pipeline due to similarities in the opposition to both. While the federal government would have a difficult time rejecting both projects on the basis of local concerns alone (the unlikely prospect of groundwater contamination should an earthquake strike sparsely-populated Nebraska in the case of Keystone XL; increased traffic congestion in the case of the export terminals), the inclusion of global environmental concerns in the broader scope of the Environmental Impact Statements increases the likelihood of a negative finding.
Opponents of the export terminals are also pushing the Army Corps of Engineers to examine the cumulative global environmental impacts of all the proposed export terminals, rather than their individual impacts. This is a two-pronged effort to both increase the likelihood of a negative finding by increasing the GHG emissions implicitly attributed to a single terminal by multiple times (i.e., accounting for the emissions from the combustion of 100-150 million tons of coal, rather than just 9-54 million tons), as well as further delaying the permitting process by substantially increasing the scope of the Environmental Impact Statements. Ultimately the terminals' opponents just need to make the permitting process so difficult that the developers decide that a non-coal export terminal is a more rapidly completed (and therefore more attractive) investment, much as recently happened with the proposed coal export terminal at Grays Harbor, Washington.
The Canadian wild card
Last week's falling coal mining share values likely reflect concerns among investors that the Obama administration will launch a two-pronged assault on the coal industry, with the EPA restricting its domestic combustion and the U.S. Army Corps of Engineers indirectly limiting its export. From a strictly practical perspective, this is a sensible approach by the administration, as no environmental benefit is gained by capping GHG emissions from domestic coal combustion if it is subsequently exported to and combusted in China instead. Reuters points out that environmental groups are already arguing that the Environmental Impact Statements of the Army Corps of Engineers are legally obligated to consider emissions resulting from carbon leakage under the National Environmental Policy Act. This brings the threat of time-consuming lawsuits even if the Corps issues findings that favor the coal export terminals.
One factor that the media has largely ignored, however, is exports to countries other than China, such as Canada. Canada consumed 64 million tons of coal in 2006 (mostly for electricity generation) and exported 34 million tons in 2007, 90% of which exited via Vancouver's Pacific port. The U.S. is already on track to export more than 6 million tons of coal to Canada in 2012, a 26% increase since 2011. If the Obama administration does manage to restrict both domestic combustion and Pacific Northwest exports of coal, why can't U.S. coal miners simply ship it to Vancouver for export, which is a mere 50 miles by interstate from Bellingham, WA? Or, alternatively, ship the coal to Canada in general and thereby free up Canadian production for export to China? Canada is already exploring an increase in fossil fuel shipments to China. While the increased transportation costs would cut into coal miner profits, this would still be more favorable than ceasing business altogether.
Furthermore, if directly restricting coal exports to China would be difficult for the Obama administration, then directly restricting exports to Canada, which is America's largest trade partner and a fellow member of NAFTA, would be nigh impossible. Efforts to indirectly restrict coal exports to Canada would be hampered by the numerous road and rail links between the two countries.
Conclusion
Restricting coal consumption via unilateral government intervention in today's increasingly globalized and interconnected world is akin to a game of whack-a-mole. The Obama administration has made a point of capping domestic GHG emissions from coal-fired power plants as a means of reducing total U.S. emissions. GHG emissions are global in nature, however, and will have the same impact on the global environment whether they are combusted in the U.S. or China.
The first response of any natural resource industry to a decrease in domestic consumption is to increase exports, particularly when global consumption of the commodity is increasing. These exports must also be restricted if carbon leakage is to be avoided. Treaty obligations and international relations prevent the Obama administration from directly restricting U.S. coal exports, leaving it the alternative of indirectly restricting exports by imposing restrictions on trade infrastructure bottlenecks. The U.S. is not an island nation, however, and is obliged by treaty not to restrict trade with the country that it also happens to share one of the longer land borders in the world with: Canada. Barring a complete rejection of globalization and the closure America's borders, the Obama administration will find that indirectly imposing restrictions on the export of coal via one route just causes it to follow another route. Global demand for the commodity is growing too rapidly to prevent it from being utilized.
U.S. policymakers are gradually realizing that the country's decades-long "War on Drugs" is unwinnable due to high demand for illicit drugs and porous international borders. Global demand for coal is even greater and, whereas trade in the former is banned by multinational treaties, trade in coal is protected by the same. The U.S. cannot expect to ban the consumption of its coal reserves so long as it endeavors to do so unilaterally; its largest trade partners will need to be party to any such restrictions if they are to have any hope of succeeding, both legally and practically. Given Canada's eagerness to exploit its own fossil fuels, and the dependence of China's Communist leadership on continued rapid economic growth as a means of mitigating social unrest, such an agreement is unlikely to occur anytime soon.
The Obama administration lost the "War on Coal" with Scott Brown's election to the U.S. Senate in 2010, which deprived the Democrats of the legislative majority needed to impose comprehensive restrictions on the coal industry. A Republican majority in the House of Representatives and a continued lack of a supermajority the Senate leave the Obama administration with the vastly inferior weapons of regulation and permitting. The most it can do now is fiddle at the margins.
Disclosure: I am long BTU. I wrote this article myself, and it expresses my own opinions. I am not receiving compensation for it (other than from Seeking Alpha). I have no business relationship with any company whose stock is mentioned in this article.
Additional disclosure: I am long BTU calls.