By Kimberly Chan
Walt Disney Co. (NYSE:DIS) has been gaining momentum in the past two weeks, creating hype that coincides with the holiday season.
The fourth quarter earnings were released on November 8th, and the company had a 14% increase in profit and a 3% increase in revenue. Helping to boost earnings were the 2% increase in revenues from media networks and the 9% increase in revenues from parks and resorts from the year-earlier period. DIS seems to have been on a steady rise over the past months, and recent news might increase positive public opinion.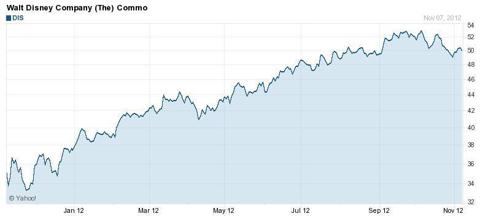 Boosting Winter Tourism
Theme park revenue was a key player in the fourth quarter earnings, as the parks and resorts operating income rose 18%. Due to park investments over the past few years, Disney has already been experiencing higher attendance in Hong Kong, Paris, and Anaheim. In addition, Disney continues with the production of more cruise ships and the construction of a park in Shanghai.
Currently, there is much anticipation over the new renovations at Disney World amusement park in Orlando, Florida. One area of the park, Fantasyland, is undergoing expansion and improvements. A main highlight is the "Be Our Guest" Beauty and the Beast themed French restaurant. Opening on November 16th, it will be the first venue to serve alcohol in the park.
This among other improvements will entice even more tourists during the high-traffic holiday season. The entire Fantasyland area opens over the next few weeks, giving new Disney World tourists a reason to go and giving veterans a reason to return.
A Giving Mentality
In addition to fulfilling the expectations of amusement park visitors, Disney, known to be a philanthropic company, lived up to its reputation once again. On November 5th, the national "Day of Giving", the Disney/ABC Television Group helped to raise more than $16.8 billion for the American Red Cross.
While these funds will help many affected by Hurricane Sandy, this philanthropy garnered much publicity that will help Disney as well. The "Day of Giving" message was shown on multiple channels, TV shows, and talk shows. Perhaps during the holiday shopping season the repeated words of "Disney" and "giving" will stay in the back of the minds of parents and children.
Holiday Wish List
Toy stores are filled to the brim with Disney merchandise. While the recent speculation that Disney intends to buy Hasbro (NASDAQ:HAS) seems to have little backing, there is still plenty of revenue to be made off of the Mattel (NASDAQ:MAT) toys in Disney Stores.

Earlier in October, the Disney Store revamped its mobile and PC websites to facilitate the holiday shopping experience. An iPad app allows customers to purchase on the go, and the website's new social media buttons facilitate sharing.
A Future with Star Wars
In addition, while Disney's Lucasfilm purchase in late October does not include the Hasbro-owned merchandise, it opens an even bigger opportunity. Lucasfilm is currently estimated to produce about $800 million in revenues each year. In addition, Disney will use the global franchise to release another movie in 2015. The "Star Wars" theme will also be further integrated into Disney amusement parks worldwide.
It seems hard to believe that the related merchandise in the new amusement park areas would not add to Disney's revenue. Perhaps by then Disney will have found a way to acquire Hasbro, adding to its happiness-inducing empire.
Disclosure: I have no positions in any stocks mentioned, and no plans to initiate any positions within the next 72 hours. I wrote this article myself, and it expresses my own opinions. I am not receiving compensation for it (other than from Seeking Alpha). I have no business relationship with any company whose stock is mentioned in this article.