On Friday, J.C. Penney (NYSE:JCP) released its third quarter earnings, which sent the stock down nearly 10%. This was not an overreaction on behalf of investors, but rather a response to a quarter that illustrates the apparent failure within JCP's go-forward strategy. CEO Ron Johnson has been putting forth plans to turn around the ailing retailer since his appointment over a year ago, but both revenue and earnings have declined in lockstep in the wake of the drastic change in JCP's strategy. The company's revenue and earnings are as follows: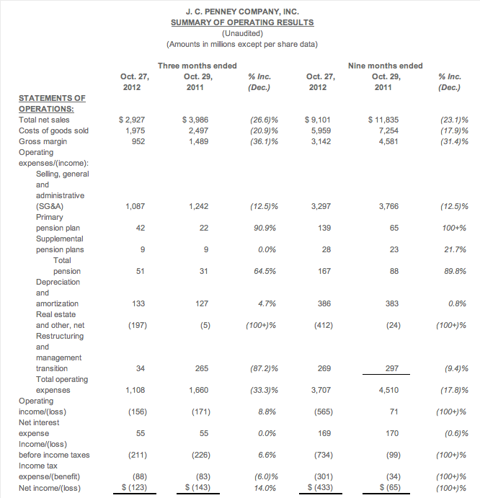 (JCP Earnings Release)
These results do not illustrate mild declines in sales, but rather point to a drastic number of past customers going elsewhere in the wake of major changes in both store layout and promotional structuring. Ron Johnson offered alongside the recent earnings release:
Today, JCP is really a tale of two companies. By far the largest part of our store is the old J.C. Penney, which continues to struggle and experience significant challenges as evidenced by our third quarter results. However, the new JCP, centered around the shop concept, is gaining traction with customers every day and is surpassing our own expectations in terms of sales productivity which continues to give us confidence in our long term business model.
For investors, JCP's valuation should match the "start-up" description that Johnson puts forth in his vision for the company. The issue is that JCP is still valued high by nearly every financial metric. The story remains the same as it did when I last commented on the stock in July: wait for results and a full roll out of the new strategy before buying into a "start-up" that could easily shut down.
Fundamentally Flawed:
The fundamental problem with Johnson's plan to reinvent the way America's see the department store is that with each quarter of diminishing sales it becomes more and more difficult to secure the brands that will reside under the JCP roof. His vision of "100 shops" within the store is one that in theory could reinvent the department store, but in actuality he will need the sales and trust of his partners to solidify the deals necessary to make this vision come to life. Investors should see a link between the brands that sign onto Johnson's strategy and the future prosperity of the company. If there is a slow down in the pursuit of 100 shops that should be a sign to investors that further trouble is on the horizon.
Very Expensive:
From a valuation perspective, JCP is trading at multiples far above that of its peer group Macy's (NYSE:M) and Norstrom (NYSE:JWN):
Forward Price/Earnings: 15.52
PEG Ratio: 4.54
EV/EBIDA: 20.38
Profit Margin: -3.56%
Levered Free Cash Flow: -$105.75 Million
M: $1.58 Billion
JWN: $598.25 Million
These financial metrics give even more reason for investors to shy away from JCP. Though trading at multiples above its peer group, JCP is performing far worse and is bound to drop substantially unless Johnson is able to drive sales through an evolution of the stores themselves.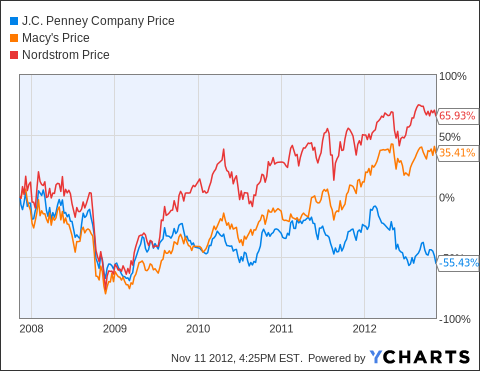 Conclusion:
In order for JCP's trend to reverse and for this to be an investment non-speculative investors should consider, Johnson must first prove that his plans for the company are actionable and can commence in an environment where continued sales declines will occur. In the meantime, Johnson must listen to the numbers and subsequently what customers are telling him: the current strategy isn't working.
(All financial metrics referenced above are obtained from Yahoo Finance, CNBC Analytics, S&P Capital IQ and Thomas Reuters.)
Disclosure: I have no positions in any stocks mentioned, and no plans to initiate any positions within the next 72 hours. I wrote this article myself, and it expresses my own opinions. I am not receiving compensation for it (other than from Seeking Alpha). I have no business relationship with any company whose stock is mentioned in this article.