Let me start off by saying that in my 20 years of investing, I have only seen a handful of opportunities as good as YRC Worldwide (NASDAQ:YRCW). The valuation of this company's stock is so far out of whack with what is going on with the company from an operational standpoint that it is almost silly.
YRCW currently trades at a 0.01 Price to sales ratio whereas competitors like Con-way (NYSE:CNW), Old Dominion Freight (NASDAQ:ODFL) and SAIA (NASDAQ:SAIA) trade at p/s ratios of 0.30 to 0.50. The company trades at a 0.20 Price to EBITDA (assuming run rate of $300 million using Q3's EBITDA of $78.8 Million). Typical valuations are around 5 to 15 times EBITDA for trucking companies.
The reason for the excessive pessimism clearly has to do with numerous missteps by the company over the past 6 years and with a high debt load. On the brink of bankruptcy several times, YRCW was forced to raise capital through convertible notes and the company was forced to negotiate terms with lenders and Teamsters which resulted in a huge management shakeup.
However, the company is clearly on the mend, having reported their second consecutive quarter of operating income on November 2, 2012 and continuing a trend of ramping EBITDA. Pro forma adjusted EBITDA has exploded over the past 7 quarters:
Q1 2011: $-22.3 Million
Q2 2011: $50.5 Million
Q3 2011: $54.6 Million
Q4 2011: $41.3 Million
Q1 2012: $15.3 Million
Q2 2012: $70.1 Million
Q3 2012: $78.8 Million
Operating Income of $27.3 in Q3 was nearly double Q2 2012's operating income of $15.6 Million, and Net Loss has narrowed to almost break even at $6 Million. Look at the trend in operating income over the past 4 years:
2009 - $(882.0) Million
2010 - $(227.8) Million
2011 - $(138.2) Million
9 Months of 2012 - $(5.8) Million - this amount should be positive after Q4
Relative Valuation:
Below is a simple chart showing the relative valuation of YRCW to some of its peers. I typically prefer using Price to Sales because Sales are unable to be manipulated like earnings are:

As I mentioned in my previous article about the YRCW turnaround, management has laid out a clear strategy on how they are reducing costs, streamlining the business, and focusing on improving customer service, and it seems to be paying off in spades. CEO James Welch has targeted being profitable by the end of 2013 but it now looks like they might do that even sooner. Costs have come down dramatically while On Standard service, which is the percentage of on time deliveries, has increased from 63% to over 80% in the short amount of time Welch has been CEO. Q4 and Q1 are typically the slowest quarters; however, with the continued improvement in operating income, it would not be surprising to see another quarter of positive operating income in q4 and a quarter of positive net income in q2 2013.
Insiders are backing up their turnaround efforts by buying stock as well with a flurry of insider buys in August 2012. Additionally, S&P acknowledged the improving trends in operating performance when it revised its outlook on YRC last month.
All signs point to what might be one of the better turnaround opportunities for investors over the past decade. Having invested in turnarounds at PIR, SIRI, CHTR, BONT, amongst others, I find a lot of similarities with YRCW. Despite a slowing economy, YRCW has managed to completely turn around it's business and yet the stock is still only trading at a market cap of $60 Million. The market is grossly undervaluing the stock at a time when operating income and EBITDA is ramping higher and higher.
To top it off, insiders are buying the stock and from a technical standpoint the stock broke above its 10 Week Moving Average (10 wma) in September and came back and tested that line in late October. The 10 wma is a line that many investors pay attention to when determining if a stock has made a significant trend change. See below for a picture of this on the chart: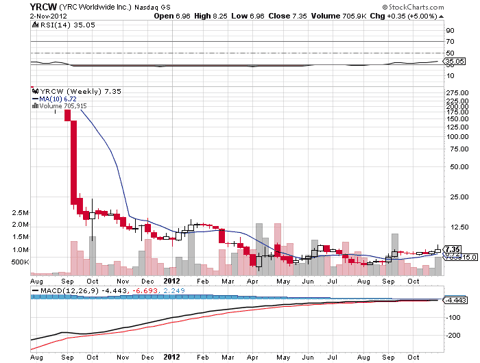 CONCLUSION:
I continue to believe that YRCW is one of the best investments in the market right now. Technicals and fundamentals are aligning perfectly for this company at a time when pessimism is at its peak. At some point very soon the market will collectively come to the realization that YRCW is at levels so far below where it should be that it wouldn't be shocking to see a 50% move higher in a week, followed by a steady move higher. It very well could be currently held back while bigger players get into the stock. As such, retail investors should practice patience while not forgetting just how grossly undervalued the stock is.
Even after assuming fully diluted shares of 14 Million, the price of the stock should be at least in the $30 to $40 range assuming a price to sales ratio of 0.10 and a price to EBITDA of 1.5, both of which are significantly below what competitors trade for. Should the economy improve at any point over the next several years, it is not unreasonable to expect YRCW to return to a valuation of 0.30 Price to Sales...or somewhere in the $90 to $100 level based on fully diluted shares. By comparison, the stock is currently trading in the low to mid $7's.
YRCW management has shown an ability to improve operations drastically in a period of a slowing/weakening economy. Should the economy continue to weaken further, I don't see much of an impact on YRCW simply because its valuation is so far out of touch with reality.
Disclosure: I am long YRCW. I wrote this article myself, and it expresses my own opinions. I am not receiving compensation for it (other than from Seeking Alpha). I have no business relationship with any company whose stock is mentioned in this article.