STEC (NASDAQ:STEC), an independent developer of enterprise-level flash memory solutions, tumbled hard on its 3Q results as well as its disastrous 4Q guidance. To give the reader of just how bad of shape STEC is in, let us quickly analyze the most recent earnings call.
The Earnings Results - Terrible, But What's New?
STEC reported a net loss of -$0.24/share and revenues of $42.1M (down 41.9% Y/Y). Interestingly, this was a beat of $0.04 and $1.3M on the bottom and top lines, respectively - this indicates just how low the expectations were.
While the Street seemed to be okay with the current quarter's results (shares were initially up 3.7% in the after-hours), it was the guidance that sent shares dropping over 20% in the trading session following the report. The firm projected revenue of $36M - $40M and net loss of $0.31 to $0.35 per share, below street consensus of $44.1M and -$0.22 , respectively.
STEC has been underperforming for quite a while, with 2012 being the year of negative year-over-year growth in each quarter:
STEC Revenue Quarterly YoY Growth data by YCharts
Coupled with the sales shrinkage, gross margins have also seen fairly sizable declines over the last couple of quarters: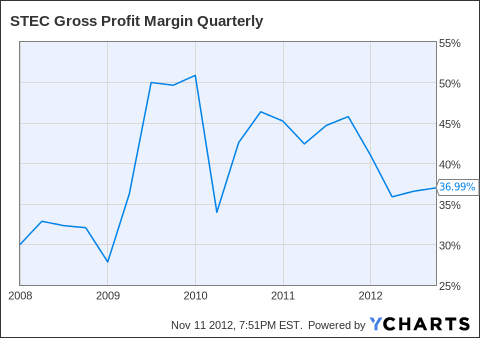 STEC Gross Profit Margin Quarterly data by YCharts
Of course, lower sales and lowered gross margins means much lower operating profit - or in STEC's case, a string of operating losses.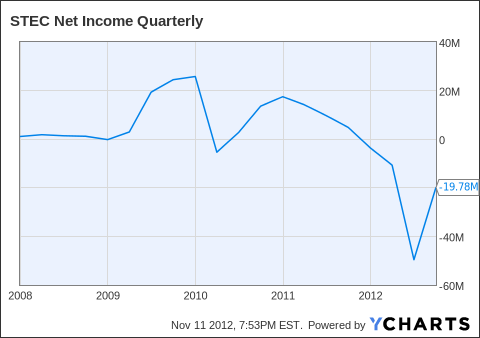 STEC Net Income Quarterly data by YCharts
It seems that the business model is completely non-viable. However, there's a silver lining here that leads me to believe that the firm is ripe for a takeover.
Market Cap Pretty Much Equals Net Cash On Hand
STEC's market capitalization after the post-earnings slaughter is now $207.00M. STEC's cash-on-hand is $186M and it has no long-term debt, so the company is now worth at least $3.99/share. More importantly, this means that the Street values the actual STEC business at $20.8M. While the string of net losses and the shrinking quarterly earnings is certainly a reason to assign a low enterprise value to the stock, I believe that there is much more embedded value here than meets the eye.
Patents, Technology, and The Flash Future
It is no secret that NAND flash solutions will be a large part of the computing landscape in the future. Compared to traditional hard-disk drives, NAND flash is much faster and with the right technology, much more reliable (thanks to a lack of moving parts). With the huge energy efficiency push in the data center, it also helps that flash solutions do not consume anywhere near as much power as traditional disk drives.
It is clear that the traditional hard disk drive makers, who currently bill themselves under the broader umbrella of "storage companies", would be smart to position themselves to lead in providing enterprise NAND flash solutions. In fact, Seagate (NASDAQ:STX) CFO Pat O'Malley remarked in a July interview with Reuters that Seagate would be interested in buying an SSD maker that has a "significant" share of the enterprise market.
Unfortunately, STEC is neither a market share leader nor profitable, but it does come with a significant amount of useful technology and a fairly large patent portfolio that a larger company could use, most notably its "CellCare" technology which helps extend the life of NAND flash cells.
That being said, SSD technology is seeing quite feverish development by many players, so it is unclear as to how valuable such a patent portfolio is in this high growth market that has a number of very strong, well-capitalized players.
Cash Will Burn Quickly
The concern - that I believe is absolutely valid - is that the company will continue to burn up its cash hoard. According to the most recent conference call, the break-even level is $70M in revenues on the assumption of 40% gross margin. Right now, the company is nowhere close to break-even so that cash pile will continue to evaporate and shareholder value will continue to be destroyed.
Further, a legal settlement pertaining to a class action lawsuit against the company is forcing the firm to essentially pay up $35.8M "in exchange for a full and complete release of all claims that were and could have been asserted in the federal class action".
Conclusion
The company really to sell itself now if it is to help salvage any remaining shareholder value. Its patents are likely still relevant and its cash reserves and no debt make an acquisition fairly cheap, especially to a larger flash player like SanDisk or to a hard-disk player such as Western Digital (NYSE:WDC) or Seagate .
Time and money is running out for STEC and its shareholders - can it sell itself for a premium before it's too late? One can only hope.
Disclosure: I have no positions in any stocks mentioned, and no plans to initiate any positions within the next 72 hours. I wrote this article myself, and it expresses my own opinions. I am not receiving compensation for it (other than from Seeking Alpha). I have no business relationship with any company whose stock is mentioned in this article.