What is not to like about 3D printing and additive manufacturing? Prototypes can go from CAD to print in less time than it takes to drive my kids to school. Once in production, manufacturers can change product specifications literally on the fly. Retooling or setup costs? Forget 'em. Mass customization is truly at hand. The flexibility and nimbleness that this technology offers producers is truly profound. The Economist calls it "transformative." It represents a new paradigm in manufacturing.
I agree with this assessment of 3D printing's potential. My bullish opinion has only gotten stronger since I wrote an article on the subject back in March, 2011. It is truly a game changer.
The advantages are so great that rapid market adoption is as certain as higher taxes in Obama's second term. Wohlers Associates, a leading consulting firm in the industry, states that the annual growth rate is approaching 30%. Every article I read says the same thing. The 3D printing tsunami is going to overwhelm all alternative methods for low-to-medium production volumes. I suspect that printer makers will have to work overtime to keep up with demand.
Anyone who has at least a cursory knowledge of 3D printing knows that Stratasys (SSYS) and 3D Systems (DDD) are leaders in the field. The latter firm's performance over the past several years has been extraordinary.
Sales are growing at ~50%, earnings ~75%, common shares have skyrocketed from a low of $1.88 in March, 2009, to a high of $46.92 on November 9. Mutual fund ownership has increased from 162 to 238 over the last four quarters. Per Investors Business Daily, consensus FY12 earnings growth is projected to be 68% and FY13's 29%. On October 25, DDD announced record results and increased its FY12 guidance.
In the IBD database, DDD sports a stellar EPS rating of 98, a composite rating of 99 (highest possible), an "A" timeliness rating, an "A" institutional sponsorship rating and a "B" accumulation/distribution rating (net buying). DDD's industry group is also a leader, sporting a 98 rating. Its group, Machinery - Materials Handling/Automation currently ranks 4th out of 197 groups. My heart is racing as I type this.
You can imagine how dismayed I was when, on October 23, I read Gray Wolf Research's article asserting that DDD's extraordinary growth rate is not extraordinary at all. Wolf claims that management overstates its numbers by employing dodgy accounting vis-à-vis its numerous acquisitions. Sounds serious.
This is Wolf Research's first contribution to SA. It literally dropped a bomb in the middle of a scrum of backslapping and high five's. Who do these guys think they are? They must have cantaloupe-size brass balls to publish a negative article just as the celebration reaches a fever pitch. Since I always pay close attention to negative articles, though, I decided to investigate.
I reviewed DDD's most recent 10-Q. I noticed that the company purchased Z Corp and Vidar Corporation in January of this year. Z Corp, based in Burlington, MA, manufactures 3D printers that print in various colors. Vidar, based in Herndon, VA, manufactures analog-to-digital film scanners for the healthcare industry. They are entirely separate businesses. DDD, however, combines the two companies in its reporting. It does not disclose much and what little is there has to be massaged a bit to clarify a couple of scant revenue numbers. Why is this?
The only reason I can surmise is that management is hiding something. Obfuscation is an irresistible siren song for me so I decided to look closely at what DDD is doing. What did I find?
Gray Wolf Research is right.
Acquisition Analysis
3D Systems' serial acquisition behavior began in 2009. Its financial performance has ramped up in perfect lockstep with its "grow-by-acquisition" behavior. It is a hockey stick. Here are DDD's operating results for the most recent thirteen fiscal years: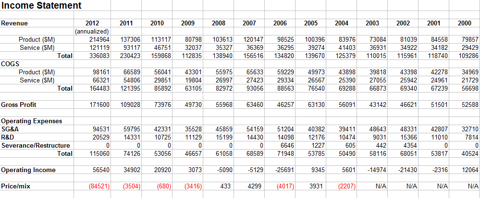 Now here are the growth rates: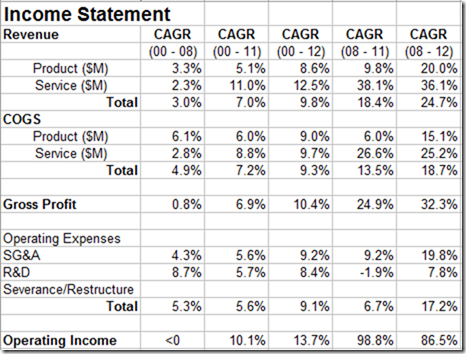 This spreadsheet tells the story is stark detail. DDD's average annual revenue grew only 3% in its pre-acquisition period (FY00 - FY08). Also notable is that COGS and operating expenses grew faster than revenues and gross profit hardly grew at all. If these trends continued, well...
The "stimulating" effect of its acquisitions becomes apparent when the calculation period includes all the completed FY's (00 - 11). Now revenue growth averages 7% (almost in line with GP growth) and operating income growth expands to ~10%. Including FY12 (annualized) further improves the numbers.
When we focus on the acquisition period, however, we see the true steepness of the hockey stick. Using FY08 as the base year (the acquisitions began FY09) and calculating the growth rates through FY11, average annual revenue jumps up to ~18% and operating income to almost 99%. If we include FY12 (annualized) the numbers increase again. Revenue expands to ~25%, GP to ~32% while operating income eases a bit to ~87%.
I have heard of acquisition synergies before, but this is truly extraordinary. Is the 3D printing market growing exponentially? Bullish organic growth rarely explains a turnaround this dramatic. DDD's acquisitions must be jet-fueled. Let's take a closer look. Here is a summary of its acquisitions through Q3'12: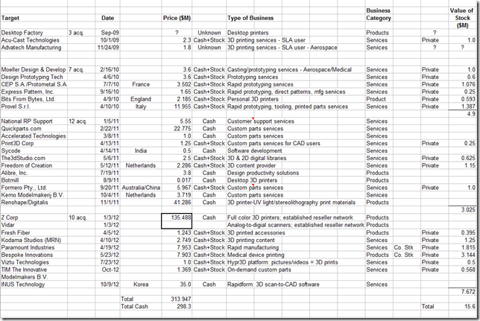 When DDD buys a company, it immediately incorporates the acquisition's revenues into its own. This is how the CFO, Damon Gregoire, explained it in DDD's Q3 earnings call:
"Specifically, we count newly acquired business revenue from the date of acquisition until its 12-month anniversary as acquired revenue. From its 12-month anniversary forward, we add the actual total first year revenue to our total base and count only the incremental revenue growth going forward on our total base as organic revenue."
What he is saying is that DDD excludes the acquired firm's revenues prior to the acquisition date. The acquired revenue "grows" from zero on the date it is bought. The Z Corp/Vidar acquisition exemplifies the impact of this scheme.
DDD purchased both firms in early January of this year. It made this disclosure on p19 of its most recent 10-Q (bold type mine): Revenue for Z Corp and Vidar for the third quarter of 2012 was $13.3 million and, after taking into account the integration and severance costs, the operating loss for Z Corp and Vidar was $2.2 million. On p25, it discloses: For the first nine months of 2012, Z Corp and Vidar contributed $40.2 million of revenue. For the first nine months of 2011, Z Corp and Vidar had revenue of $40.8 million. The business is flat. Growth is zero. DDD, though, added $40.2M to its 2012 revenue number and counted it as "growth".
This overstates DDD's true growth rate. Through Q3, it posted total revenues of $252.1M representing yoy growth of 57%. If the Z Corp/Vidar revenues are backed out, then the total revenues are $211.9M. This reduces the yoy growth rate to 32%. This single acquisition accounts for a whopping 25% of DDD's stated revenue growth (57 - 32). I am not declaring that DDD's reporting is inconsistent with GAAP. I am simply stating the obvious, that DDD is overstating its true growth rate.
Clearly, we need to back out the acquisitions' numbers to ferret out DDD's actual organic growth rate. Sadly, this cannot be done based on the information in the 10-K's. DDD rarely discloses its acquisitions' revenues or much else of value in its annual reports. What minimal information it does disclose is obfuscatory. This is not an issue about GAAP & non-GAAP. It is about transparency and full disclosure. Here's what it stated about Renshape/Digitalis and Quickparts (2011 10-K, pF-19):
On November 1, 2011, the Company acquired the RenShape® stereolithography print materials and Digitalis® rapid manufacturing 3D printer product line from the Advanced Materials Division of Huntsman Corporation ("Huntsman"). Huntsman's print materials operations have been integrated into the Company and future revenue will be included in printers and other products revenue. The 3D printer product line is currently being evaluated by the Company to determine commercialization of the product or integration into the Company's ongoing research and development. The fair value of the consideration paid for this acquisition was $41,286 all of which was paid in cash, and was allocated to the assets purchased based on the estimated fair values at the date of acquisition, and is included in the table below which summarizes 2011 acquisitions.

Quickparts, the only significant acquisition in 2011, has been recorded in the services category of the Company's consolidated financial statements since the date of acquisition. Revenue for Quickparts for 2011 was $24,127 and operating income was $2,799.

If the 2011 acquisition of Quickparts had been included in the Company's results of operations since January 1, 2010, the consolidated revenue for 2011 and 2010 would have been $233,612 and $185,055, respectively. Net income would have been $34,144 and $20,102 for 2011 and 2010.
Why does DDD not disclose the "if" revenue numbers? Why do I have to use arithmetic to find out? Doing my best to decipher the code, I think Quickparts rest-of-2011 revenue is $233,612 - 230,423 = $3,189. Its full year 2011 revenue is, therefore, $27.3. Revenue for 2010 would have been $45.3 (230.4 - 185.1). The business is declining.
Revenue for Renshape/Digitalis, as you can see, was not disclosed at all in the 10-K. 2010's top line of $7M was gleaned from the Huntsman press release announcing the deal (DDD also disclosed it in its press release).
The Provel disclosure is presented the same way as Quickparts. Per the 2011 10-K:
Provel S.r.l., the only significant acquisition in 2010, has been recorded in the Services category of the Company's consolidated financial statements since the date of acquisition. Revenue for Provel for 2010 was $1,117 and operating income was $257. This is the "acquired" growth for the last three quarters of 2010.
If Provel had been included in the Company's results of operations since January 1, 2009, the consolidated revenue for 2010 and 2009 would have been $163,965 and $119,005, respectively. Net income would have been $20,056 and $1,214 for 2010 and 2009.
Again, deciphering the code, 2010's revenue should be $5.2M ((164 - 159.9) + 1.1) while 2009's revenue should be $6.2M (119 - 112.8). The business is declining.
Of the 32 companies that it has bought since 2009 (through Q3'12), DDD only discloses revenue and operating results for three transactions (ZCorp/Vidar, Quickparts, Provel). The company refers to these as "significant" in terms of SEC disclosure rules. The rest are "insignificant". This means that they reside outside of SEC disclosure requirements.
Attempting to consolidate all the acquisitions' revenues for purposes of determining how DDD's base business is performing is futile. There is no way. However, after carefully scrutinizing the past two 10-K's I finally found, in a single sentence in each document, the data I need to complete the analysis. On page 31 of the 2011 10-K, DDD discloses that $32.1M of on-demand parts revenue was acquired. The comparable sentence in the 2010 10-K (p28) discloses $10.3M. Although DDD never discloses revenues for its 2009 acquisitions (if the disclosure exists, I could not find it), I am still able to back out the rest of acquired revenues so a clear picture of DDD's base business growth can be seen.
The revised numbers look like this: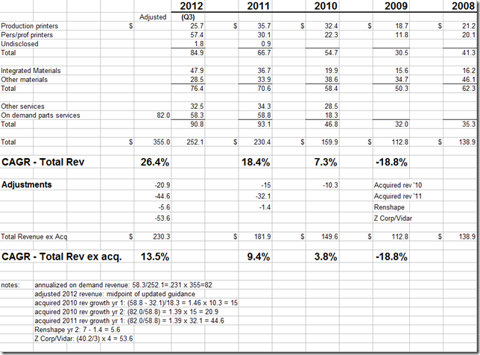 Seventeen of the 30 (57%) transactions are cash and stock deals. Here is how it describes the 3dStudio transaction (2011 10-K, pF-17) (bold type mine):
On May 6, 2011, the Company acquired the assets of The3dStudio.com, Inc ("3dStudio"), a provider of 3D and 2D digital media libraries, offering resources and expert support through a vibrant online marketplace exchange for consumers and professionals. 3dStudio operations have been integrated into the Company and included in services revenue. The fair value of the consideration paid for this acquisition, net of cash acquired, was $2,500 and was allocated to the assets purchased and liabilities assumed based on the estimated fair values at the date of acquisition, and is included in the table below which summarizes 2011 acquisitions. Of the consideration, $1,875 was paid in cash and $625 was paid in shares of the Company's common stock. These shares were issued in a private transaction exempt from registration under the Securities Act of 1933.
All of the disclosures of the seventeen cash and stock deals contain the bold type sentence. What is the nature of the private transactions? I found these disclosures in the 2011 10-K (p43)(bold type mine):
Net cash provided by financing activities increased to $210.0 million in 2011 from $1.0 million in 2010. Net cash provided by financing activities in 2009 was $0.3 million. The increase in 2011 primarily resulted from the previously discussed net proceeds of the common stock issuance and net proceeds of the convertible notes issuance and from $2.8 million of stock-based compensation proceeds.

The cash provided by financing activities in 2010 resulted primarily from higher stock option exercise activity.
This implies that members of the executive team's personal stock holdings were part of the acquisition activity to the tune of $7.7M (2.8 + 4.9). This represents 97% of the stock paid in the ten stock-and-cash transactions in 2010 and 2011. Again, I am sure that the disclosure is consistent with GAAP, but it needs further explaining, especially 2010.
There is more. Here are the acquired assets for the past three FY's:

Intangibles in 2009 appear typical. In 2010 and 2011, though, the line item balloons. Clearly, these are valuable intangibles. Let us take a closer look at the components:

Apparently, this spreadsheet does not necessarily reflect the acquired assets listed above since it is cumulative. Nevertheless, the first noteworthy item is the size of "customer relationships". $31.2M represents 58% of 2011's net intangibles ex goodwill. The goodwill acquired in 2011 was $49,297. This represents an extraordinary percentage of total intangibles. Goodwill is the amount of money above the book value of the acquired assets that the buyer must spend to close the deal. It goes right into the owner's pocket. Goodwill is merely a way to account for the money. "Customer relationships" is a nebulous catchall term not unlike goodwill. In essence, it is a plug because there is no way to quantitate the value of a "relationship". It is a judgment call.
In my opinion, it looks like what DDD is really buying is customers.
Market Forces
The conclusions I present henceforward are purely my opinion based on a synthesis of publicly available information.
The industrial 3D printing market is still, by and large, a rapid prototyping market, in my view. It is nearly saturated. The demand for large ticket printers has been declining for some years. In an effort to maintain its unit growth, DDD has had to expand into the small volume user universe. Here is a statement from its 2003 10-K (bold type mine):
The Company may experience significant quarterly fluctuations in gross margins or net income due to the impact of the mix of products, channels or geographic areas in which it sells its products from period to period. More recently, the Company's mix of products sold has reflected increased sales of its lower-cost and smaller-frame systems, which have reduced gross margins compared to high-end stereolithography systems. If this trend continues over time, the Company may experience lower average gross margins and returns.
The next year, DDD began including a line item called "Price/Mix" in its disclosures on sales by product and sales by region (see income statement spreadsheet, last line). DDD's lawyers state that this is per an SEC mandate. I checked Stratasys' most recent 10-Q and did not see a comparable line item anywhere in the document. I do not see why this matters, though. Prior to 2004, the line item did not exist. That is what matters. It looks like a reconciliation-type entry that management uses to isolate ASP and product mix variances with its business plan. The amount vacillated between positive and negative for several years but then turned negative in 2009. One way to interpret this is that the market demand has permanently shifted to smaller, less expensive printers aided and abetted by intense competition between printer makers.
DDD's growth strategy prior to 2010 was:
*Improving our customers' bottom line
*Developing significant product applications
*Expanding our range of customer services
*Accelerating new product development
*Optimizing cash flow and supply chain
*Creating a performance-based ethical culture
*Developing people and opportunities
The first three bullets are clearly customer development-type initiatives intended to maximize the utilization and ROI per user. The fourth bullet is the only one that can be construed as aimed at market expansion.
In 2010, its growth strategy changed to the following:
*Build our global parts services
*Accelerate 3D printer penetration
*Grow healthcare solutions revenue
*Build 3D consumer content products and services
(3D authoring solutions was added in Q3, 2012)
All the bullets now reinforce the company's focus on market expansion. In other words, find more customers who will at least pay for a printing service and establish mindshare in non-traditional areas (e.g., consumer, healthcare). There is not enough growth potential in its core markets so it has to venture out into new areas. This explains DDD's move into services.
A telling example of the difficulty it faces in selling its higher-priced offerings is how the "Price/mix" line item has ballooned up to $84.5M through Q3, 2012 versus $3.5M in 2011. The increase is most certainly due to Z Corp. Here is how Mr. Reichental responded to a question about printer sales in its Q2 earnings call (bold type mine):
"Yes, absolutely. First, we noted on the call that we reversed the historical decline in these businesses, and we're pleased to report a revenue increase of some 25% during the second quarter year-over-year. We also can tell you that excluding Vidar and Z Corp, we have good growth amongst our core businesses. So for example, if you excluded those, our units still grew by some 198% on a year-to-date basis for the first 6 months that included these 2 acquisitions in the mix. What we can also tell you is that as a result of having Z Corp and Vidar in the channels, it contributed favorably to our own unit growth. Because in many instances, as we predicted, the ability to sell the combined portfolio into the combined channel resulted, basically, in the second quarter, in doubling of the units altogether. And we benefited beyond just jump-starting these 2 product lines growth, our other product lines benefited from the availability of the channel. So all in all, it has been enormously successful"
Z Corp and Vidar were acquired in January. The next quarter, revenue increased 25% yoy. This does not make sense. Revenues for both companies through Q3'12 were $40.2M versus $40.8M for the previous period. Growth was flat. How did DDD do this? Did it ship a Z Corp printer to all non-Z Corp resellers for demonstration purposes like it did with the ProJet 3000 to Z Corp resellers? I do not see a disclosure on this issue. He then states that the ability to sell its products through the combined channel resulted in "doubling the units altogether". There is clearly some double talk in his response. How could DDD turn on the new business so quickly? How could the "Price/mix" line item balloon 24-fold soon after acquiring two companies with flat growth? It assumed only $2.4M in finished goods inventory from the two companies. How did the Price/mix figure skyrocket to $84.5M? This strains credulity. A large number of printers were apparently shipped somewhere. Who bought them?
Cube: The Savior?
Consistent with the fourth bullet of its growth strategy, the company launched Cube in May of this year. This printer, along with the Cubify website, is DDD's flagship offering in its initiative to develop a consumer/professional 3D printing market. This is a market development strategy. The profits are further downstream because the real money is not made until satisfied Cube users upgrade to a more sophisticated and expensive 3D printer. Until then, the objective is to get as many units in the field as possible and try not to lose too much money. This is why the company sells it for a price-leading $1,299.
Cubify's homepage imagery clearly reflects a consumer orientation. Pictures of guitars, rings, toys and trinkets abound. I will be surprised if Cube is not in this year's Neiman Marcus Christmas catalog. DDD is positioning Cube as a toy. It is an expensive one, but a toy nonetheless.
There is only one problem with this positioning strategy: the real customer is not the consumer. It is the entrepreneur. No consumer is going to upgrade to a professional-level printer. But won't consumers spend tons of money on ABS plastic cartridges? I doubt it. Once the initial enthusiasm wanes, many of the units will end up in the garage. Here is an example of the cost:
Let's assume that a buyer purchases seven print cartridges with the Cube, enabling him to realize the maximum discount of $6 ($44/cartridge). The total pre-tax outlay is: $1,607. The maximum number of objects that can be printed per cartridge is ~15, so the total potential printable objects will be ~105. This is enough volume to keep the consumer busy for months. The fully burdened cost is ~$15/object. This is expensive for plastic rings and trinkets. After one year, the garage or attic will be Cube's domicile.
Still not convinced? Let the market decide. If a product is well-positioned, timely and offers real value for its price, then its uptake should be robust. When Mark Zuckerberg launched Facebook at Harvard, 80% of the student body signed up by the end of the first week. That's uptake. When Apple launches a new iPhone, customers line up the night before and the shelves are bare for the first 30 days. That's uptake. So how is Cube doing since its May launch? Here is what Mr. Reichental said in the Q2 earnings call:
"At the end of May, we began commercial shipments of Cube, the first-ever home 3D printer. Since its launch, Cube 3D printer orders topped the upper range of our expectations, and Cube consumables orders exceeded our expectations some threefold. While we don't expect revenue from Cube to be material to our results for the remainder of this year, we're very pleased with the overall marketplace reception and have already increased capacity to stay ahead of growing demands."
This is a superb example of executive spin. In one breath, he states that they are blowing it out. In the next breath, he says that the revenue will be immaterial for the rest of the year. Allow me to translate: "we didn't expect to do diddly squat with Cube this year. Instead, we did the high end of diddly squat in units and triple diddly squat in consumables". Cube may, indeed, be profitable at this snapshot in time. I do not argue this point. I am focused on uptake.
Methinks the uptake is modest.
Entrepreneurs, though, are keen to gain access to a quality 3D printer. I would wager that most or all of the buyers thus far are in this group. Cube, though, is not robust enough to satisfy them and thus not robust enough to serve as an effective entry product that leads to an eventual upgrade. In the forum section of Cubify, for example, users are already complaining about Cube's poor resolution. This is a clear message that users' needs are beyond what Cube delivers.
I spoke with Cube customer service about this issue. The representative told me that the seams between the layers of plastic feel similar to joints of LEGO bricks. This is acceptable for rings and trinkets, but not for more sophisticated applications. The representative also told me that they make a point of telling prospective buyers that they need to have appropriate expectations about Cube's capabilities.
Cube is going to disappoint. It does not offer enough to entice a large number of entrepreneurs to invest and eventually upgrade. The more realistic strategy, in my view, would be to offer a low cost way for entrepreneurs to obtain a ProJet 1500 (or comparable model). Equipment makers in the medical diagnostics field, for example, have offered rental programs for years. Users pay an inflated price for consumables that includes equipment amortization and service. A rental-type scheme would enable DDD to protect its proprietary materials stream and would allow a low volume user to spread the equipment cost over units produced. With rapid uptake, a business is born.
Epilogue
My summary of the situation is this: the industrial market for 3D printers has matured for rapid prototyping and demand has declined. This has forced printer manufacturers to move downstream to lower materials usage and more price sensitive customers. This market is more diffuse so access is a problem. Additive manufacturing, while promising, has yet to gain traction. This is why DDD has expanded its reseller channel and moved into services. Adoption has been slow because of the high upfront cost of a 3D printer. Hence, Cube. 3D printing/additive manufacturing might be the "next big thing" so the stock market has reacted predictably by driving the market value of DDD to an all-time high. The market has over-reached. Take a look at the hype cycle graph below: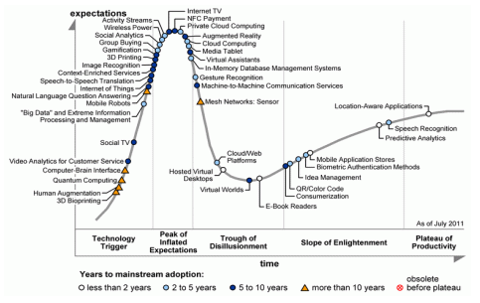 DDD is at or near its peak coinciding with 3D printing being near the peak of the hype cycle. Now is the time to start asking the difficult questions. Now is the time to hedge your long position.
The 3D hype cycle is reaching a crescendo. The red flags are numerous and substantial. Disclosures are confusing, inconsistent and vague. Black clouds are forming.
I suggest that longs pay close attention to DDD's weekly chart. Today, investor sentiment remains strong, but this could change quickly. If you see the stock start to roll over, then the institutions are exiting. What is the downside risk? Who can say? All I know is that I have learned a lot about 3D Systems Corporation. It sure has been illuminating.
Disclosure: I have no positions in any stocks mentioned, and no plans to initiate any positions within the next 72 hours. I wrote this article myself, and it expresses my own opinions. I am not receiving compensation for it (other than from Seeking Alpha). I have no business relationship with any company whose stock is mentioned in this article.