The path most followed in the individual investor account is to simply find a risk-appropriate mix of products (mutual funds, stocks, bonds, etc.) and to buy them now for sale sometime in the future. We would like to believe that in time, our choices will be worth more in the future than they are today. This may often be true, however, history continues to prove that nothing is guaranteed -- ever. Having short or even uncertain timelines will only compound the difficulties in expecting a favorable outcome. The point of today's discussion is to consider the merits and risks of using an options position to artificially take a long position in a stock which you believe will increase in value over time. We have identified a potential such opportunity in Disney (NYSE:DIS) following Friday's plunge.
I have no intention of boring the SA regulars who are pretty well-versed on options trading principles, but I'll put out some basics for the newbies. An options contract gives the holder control over a 100-share block of the underlying stock. A call gives the holder the right to purchase that block at a given price, whereas a put gives the holder the right to sell that block at a given price. You can buy or sell trades on either side, so there are many different combinations of trades you can make. Deeper discussions of options trading can be found here or here. But what we really want to discuss today is how we can use an options contract to essentially control a 100-share block of stock without actually putting up the money to buy it.
The price of each options contract is made up of two components -- intrinsic value and time value. The best possible situation for someone wishing to find a favorable position is to find a stock they believe will appreciate between now and the expiration date with as little time value as possible. Positions like this are not easy to find, and when they do exist there is often an underlying reason, such as a large negative pressure on the stock price or expectations the stock will not do well in the future. So when you do find a stock meeting this criteria, trading in the options is riskier than trading the stock alone due to the leverage of the contract. Essentially, you will not get something for nothing. However, if you are patient and do your homework you can find companies with good long term prospects trading at a discount due to uncertainty.
Scanning today's news for a solid company with a significant drop, we immediately see Disney down over 5% on earnings news that the company expects some softer earnings in the first quarter of fiscal year 2013. The company states that full-year results should not be affected at all, but even so the stock dropped.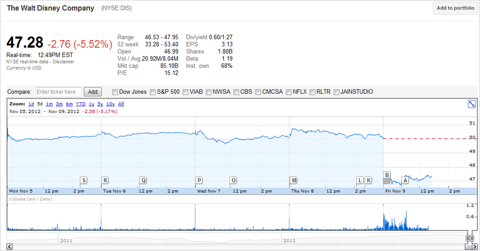 Granted, the company just agreed to acquire Lucasfilm for $4 billion, and nobody is going to call the deal insignificant. However, there is huge potential down the road for Disney as they leverage the addition of Star Wars to their portfolio of theme parks, rides, toys, and movies. The renewed Star Wars deal with Lego this past February is reportedly in effect through 2022, and will provide an additional revenue stream for the foreseeable future.
So, if we believe that Disney has a future ahead of it that generally looks positive, we can establish a long position in the stock. For 100 shares that would cost $4728, and we would see the applicable rise or decline in our value over time. If the stock were to rise to $55.28 by January 2015, we would realize a tidy profit of $800 or 17%. Not bad for 13 months.
However, let's see how a synthetic long would perform under the same conditions.

The first advantage of a synthetic long position is that you do not have to use as much money to control the same 100-share block of stock. In this particular case, the option only costs $1277, or roughly one-fourth as much initially used for the standard long position. As time goes by and the option approaches expiration, the time value will decay and all that will be left is the difference between the strike price and the current price.
Using the same parameters as holding the stock, a rise to $55.28 would make our option worth $2028, and would result in a profit of $751. Wait a minute, $751 is less than the $800 we made with the stock. This is true, but we only invested $1277 so our actual profit was almost 59%.
Now for the other side of the coin.
Let's imagine that things go really badly for Disney. Unemployment hits 25% and nobody can afford trips to Orlando or those cute plush toys at the Disney Store. The next Star Wars movie is absolutely horrible. Legos are found to cause cancer and this triggers a wave of lawsuits. You get the idea. The stock drops to $34.28. Okay, realistically this scenario would probably do much worse to the stock, but bear with the hypothetical scenario.
At $34.28, the person holding the long stock position loses $1300, or 27.5% of their initial investment. Nobody wants to lose over 25% in a year, but it happens sometimes. However, the person holding the synthetic long position lost 100% of their $1277 investment as the stock fell to a point below the strike price, rendering the option worthless.
Is the doomsday scenario likely? No. However, anytime you consider taking up a leveraged position it is vital to remember that a small movement in the price of the underlying stock will cause a significantly larger movement in the option. As nearly 75% of options contracts expire worthless, you have to do a significant amount of research before establishing a position. This stuff is not for rookies.
So the bottom line is this: If you believe that Disney has a future that is brighter than would be indicated by Friday's drop, then a long position could be warranted. If you are uncertain, you should sit tight until you know more. News like this often takes several days to shake out completely.
As always, good luck out there!
Disclosure: I have no positions in any stocks mentioned, and no plans to initiate any positions within the next 72 hours. I wrote this article myself, and it expresses my own opinions. I am not receiving compensation for it (other than from Seeking Alpha). I have no business relationship with any company whose stock is mentioned in this article.