High Dividend Opportunities
---
9-10% overall dividend yield by investing in REITs, BDCs, MLPs and CEFs
High Dividend Opportunities is dedicated to finding high yield opportunities that trade at attractive valuations to support your income and portfolio needs.
The service is led by Rida Morwa, a former investment banker with decades of experience, and is the most popular service on Seeking Alpha's Marketplace.
As a member you will get a managed model portfolio, regular buy and sell alerts, an active chat room, and an early look at all of the best ideas from our team of analysts.
Join The "Leading Dividend Investment Group"
High Dividend Opportunities is the largest community of income investors and retirees with over 1800 members. We provide a comprehensive service, ranked #1 in dividends, income & retirement, and dedicated to high-yield securities trading at attractive valuations - with an overall target yield of 9-10%. If you are looking for the most profitable high dividend ideas, you have come to the right place.
A managed portfolio of stocks currently yields +10%.
A "Dividend Tracker" which lets you know exactly when to expect your next dividend/interest.
A "Portfolio Tracker" whereby you can track your dividend holdings, income, and recommended allocation by sector. For video click HERE.

With your HDO membership, you get
Access to our model Portfolio: Our proprietary portfolio is actively managed and targets maximum total returns with a 9-10% on-going yield. It is composed of 40 high-yield securities including dividend stocks, high-yield ETFs & CEFs, preferred shares, baby bonds, and has a diversified high-yield approach.

Access to our "High-Yield Conservative Portfolio": Our secondary portfolio is designed for conservative income investors and includes high-yield picks that are lower-risk low-volatility, and consists of a selection of the most solid Property REITs, Preferred Stocks, and Baby Bonds.

A free 'Dividend Tracker': We include a "dividend tracker" to let you know exactly when to expect the next dividend for each recommended security. This is particularly important for income investors.
A free 'Portfolio Tracker': You can track your holdings, income, and recommended allocation by sector. For video click HERE.

Regular Market Updates: We publish regular market updates and macro-economic analysis so our members are aware of the overall economic climate and context that drive our investing strategy. A must-have analysis to support your portfolio as we enter more volatile periods.

Timely Buy & Sell Alerts: We send email alerts each time we make a change to our portfolio so members can stay up to date in managing their portfolios. You're never caught behind the news on High Dividend Opportunities.


24/7 Live Chat: Our live chatboard is one of the most passionate, informative, and active on Seeking Alpha. It is supported by a seasoned group of income investors and it is where our community comes together to share market news and investment ideas, and help new members get started.


About the Authors
High Dividend Opportunities is about investing in the right sectors at the right times to take advantage of market trends, balancing risk with return, and knowing what is happening in the bigger economic picture. For this, we have a team who works relentlessly to give you full support in your membership so you get everything on time and get help whenever you need it.
Meet our Team

(click to enlarge)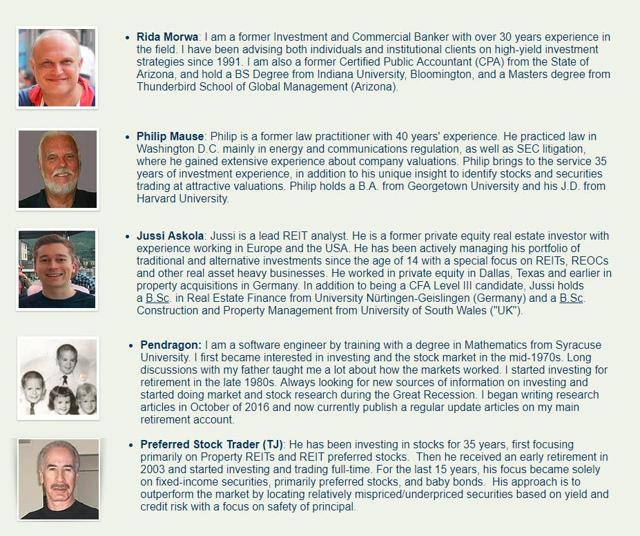 In investing, experience really matters. Between our most senior analysts alone, Philip Mause (age 73, a Harvard Lawyer with significant SEC experience), Rida Morwa (age 52, former CPA and investment banker), Pendragon, and Preferred Stock Trader, we have over 150 years of investing experience to back our service.

We rank in the Top 2% of Bloggers with exceptionally high hit-rate and returns on our +250 past recommendations according to independent rating service TipRanks.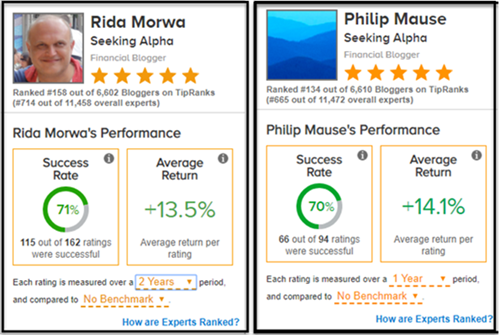 Big Yield, Deep Discount, Significant Upside
Join the largest community of Income Investors and start generating high dividends on your investments TODAY.
Sincerely,
Rida MORWA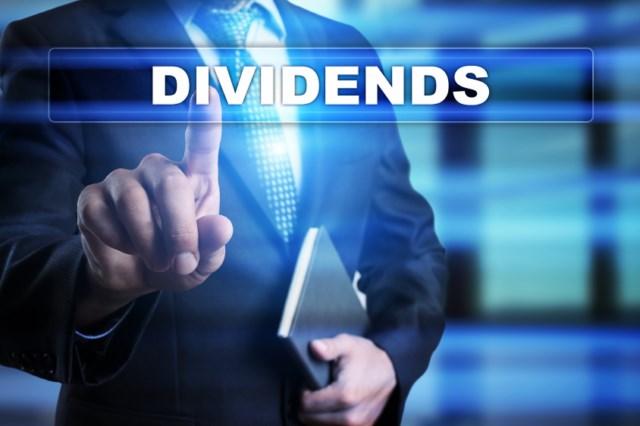 I understand that I am fully protected by Seeking Alpha's unconditional guarantee. My free trial can be cancelled at any time and I will never pay a dime. There are no refunds after the 2-week free trial period.
CHOOSE YOUR BILLING TYPE
*Plus sales tax/VAT, where applicable
Check your email
An email has been sent towith all of your subscription details.
The credit card associated with your account has been successfully updated.
Go to High Dividend Opportunities
This is a secure transaction