Youku Tudou (NYSE:YOKU) has dominated the online video market of China for years. Moving into 2014, the company is focusing on their multi-screen strategy - smart phones, tablets, and even smart TV. The company has already showed their adaptability in China's transition to mobile. According to a press release on its own website, daily unique visitors of Youku Mobile has reached 14 million, nearly double the size of the second player iQiyi at 7.9 million.
As we will present in this article, Youku is ambitious to win the battle in every piece of screen presenting their videos. And based on their current performance in mobile, there is little concern about their growth of revenue in the future. At the same time, their focus on Content Syndication will also help them attract customers and give a boost to revenues. We will illustrate how these two factors will affect the company in the catalyst part of our report.
Behind those glowing catalysts, the real challenge for Youku is whether the company can turn the catalysts from revenue into profitability. In the last five years, the company has never achieved positive operating income, and we do not expect the company to come close until 2015 at least. Their current strategy will certainly cost a big amount of investment in improving technology and expanding markets. This issue is why we cannot see even in the best circumstances that the company would be valued over $30 and in our 2014 price target sits at $22 as we will lay out in our pricing/valuation section.
Business Overview
Youku Tudou is China's leading Internet television company. Its Youku and Tudou Internet television platforms enable users to search, view and share high-quality video content quickly and easily across multiple devices. The Youku brand and Tudou brand are #1 and #2 respectively of the most recognized online video brands in China. The merge of these two companies gives YOKU a dominant position.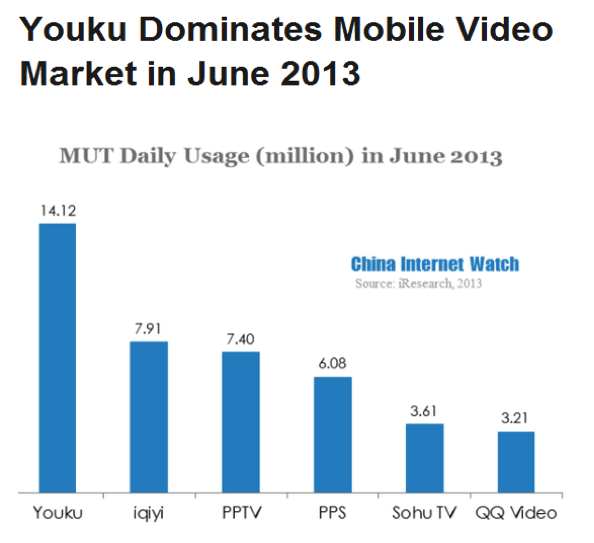 As viewing content from multiple Internet-enabled devices increasingly becomes a social phenomenon in China, the company is focusing on a diverse and comprehensive content mix. Elevating their media value will further expand their leadership in China. The company has already seen a positive momentum with its strategy. In Q4 2013 for the first time, the company achieved profitability on a combined basis.
Industry Trends
The industry of Internet Information Providers continues to benefit from China's rapid development. Sustained and steady growth of mobile device users creates great potential of online television viewers. Faster data transmission as 3 TD-LTE and the upcoming 4G LTE is also a huge boost to the industry. All these trends will generate large number of users for companies like YOKU, which will be the most significant factor to attract more investments in advertisement (thus revenue). And we should notice that, China's mobile/internet penetration is still nowhere near the saturation point.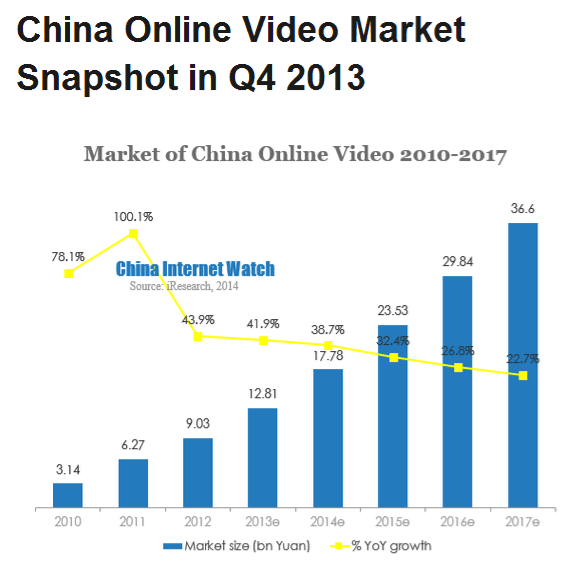 The most exciting thing is Youku's headstart in mobile. Based on the result of research of Flurry, "China holds 24% of the world's connected information and communication devices, with 261,333,271 smartphone and tablet users as of June of 2013. This astounding figure represents a quarter of the entire population of connected and active device users worldwide." It is anticipated that about 450 million new mobile devices will be shipped in China during 2014, a 172.41% growth. So with this speed, at the end of 2014, China probably will have 35% of total connected users.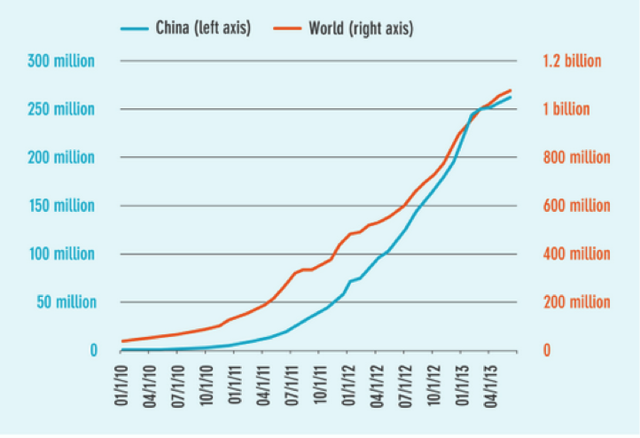 Main Catalyst
YOKU has already showed us its great adaptability in transition from PC to mobile. Its performance in mobile, including smart phones and tablets, is dominant in China without question. But the company is not satisfied with the current accomplishment. In their long-term view, it is just the first step of their Multi-Screen strategy.
Undoubtedly, Youku's "first step" is solid and astounding. It is now one of the top 5 mobile apps in China in terms of user time spent, which is remarkable, because the rest of the top 5 mobile apps are 2 mobile messaging apps and 2 mobile browsers. The daily video views of Youku Tudou content from mobile devices climbed over 370 million in Feb 2014, from 100 million at the beginning of 2013, representing a 270% growth. The speed of mobile revenue growth is even faster. The mobile-related revenue tripled in just one quarter, Q3 to Q4 2013, representing 10% of the total revenue last quarter.
Several factors pushed Youku to the leading position against other competitors. First of all, Youku was one of the earliest companies to provide videos accessible on mobile Internet-enabled devices, when 3G networks became available in 2009. "As technology progresses, we want to make sure we're advancing along with it," said Jian Yao, Youku's Chief Technology Officer, "we want to make sure that our users can view - and now contribute - content regardless of where they are and what device they use." So the next big boost for the company will be the upcoming 4G LTE network in China, which is said to be available by the end of 2014. The second major reason is Youku's persistence in developing new apps and improving the current ones - Yokou, Todou, and others. These mobile apps not only provide convenience for people to watch videos, but also allow people to shoot and share their own videos.
The most important secondary factor that will ensure dominance for YOKU would be their cooperation with smart TV manufacturers, which is also the second big step Youku has taken for multiple screens. In January, Youku reached a smart TV content deal with Haier, allowing Youku to provide video software services to Haier's Smart TVs. This is following its partnership with Shenzhen Coship Electronics, who has the largest production base in STB (Set-Top-Box) field in China formed at the end of 2013. The company is certainly aiming to offer content services to family TV screens via built-in online video services. This move definitely distinguishes YOKU from their competition.
To seize the opportunities in family TV is not just adding another piece of screen to present videos or run advertisement. It is a strategy making "1+1>2" happen. This move enables Youku to offer a multi-screen advertising package, which has been the core product of the sales team. This package is a big temptation for advertisers to present their brands on PC, Smart Phones, Tablets and Smart TVs within a single contract. "Our product team has launched a series of product upgrades and synchronized advertising systems across multiple screens." Youku's CEO said in Earnings Call Q4, 2013, " Successful advertising cases include international clients, such as Samsung, LVMH, Chanel, Microsoft and Intel, domestic advertisers, such as Yulu, Levi, have already started to adopt our multi-screen advertising packages." The company also gets some promising response as multi-screen advertising shows a higher return on investment due to enhanced brand awareness.
Last year, the company added 128 new advertisers in Q3 and 109 in Q4, and now the number of active advertisers is around 500. Better yet, momentum is still increasing. The growth rate of net advertising revenue from quarter to quarter was 8.71% and represented 88% of total revenue. At this speed, advertising revenue will have a CAGR of 39.66%. Here our expectations for ad revenue over the next five years:
| | | | | | |
| --- | --- | --- | --- | --- | --- |
| Years | 2014e | 2015e | 2016e | 2017e | 2018e |
| Ad Revenue | $620.82 | $867.03 | $1210.90 | $1691.14 | $2361.85 |
Secondary Catalyst
Another catalyst to watch for Youku is its ability to maintain current customers and attract new ones from different classes with its own original content. For awhile, the company has been adding content that many different groups want to see. For example, the company covers most of the first run domestic TV series. Youku also covers TV series from the U.S. and U.K., most of which are highly sought-after by adults. Additionally, the company introduced the Wilbur TV series produced in Korea, Hong Kong and Taiwan, as well as Japanese animations and K-POP music, to attract eyeballs of teenager viewers.
Yet, the biggest stunt of all for Youku is its development of original contents. Successful cases, including Old Boys, Morning Call, On The Road, Ms. Puff, and hip-hop content, have developed into core franchise properties. Youku's original web comedy series named "Surprise" has been a heated topic among Chinese teenagers, accumulating over 500 million views last year, which is comparable to the top-rated TV dramas. These original series have brought over billions of views for Youku, some of which are constantly ranked among the top 10 shows in different content categories.
Taking after Netflix (NASDAQ:NFLX), original content is very exciting for YOKU. First off, the costs are lower for producing original content than licensing it as well as the company can reap all the benefits of popular shows and attracts customers to use Yokou as the only way to see a certain series.
When all the other competitors are working hard to provide a better experience for customers as Youku does, original series are becoming a key factor to establish customer loyalty. Competitors can copy the business structure Youku has built, but they will not be able to copy the original series Youku has made, giving YOKU a competitive economic moat. As Dele Liu, President and Director, said in the latest Earnings Call:
As building content from multiple internet-enabled devices increasingly becomes a social phenomenon in China, a diverse and comprehensive content mix is critical to elevating our media value, and further expanding our presence across China. We believe our balanced approach regarding content is important for us to cement our leadership positions and achieve profitable growth.
Again, popularity directly leads to advertiser's preference, and preference directly leads to revenues. Everyone in the market understands that, but at this moment, none of them have done successfully as Youku does.
Pricing/Valuation
In our pricing model, we came up with a $22.63 as our mid-case scenario valuation for Youku, with the Oxen Group's original cash flow analysis for 2014 - 2018. Our best-case scenario looks to be in the mid-30s. In the worst case, however, we could see around $10, hinging on profitability. We were surprised to see such a low number, since we were definitely interested in the company's growth. Yet, great growth and exciting developments do not always lead to great investments. Let's take a look at our inputs.
Revenue - Based on the analysis in main catalyst, we apply a 35.68% CAGR to the next five years to the mid-case scenario, which is also in the interval of the company's expectation, 32% - 40% year on year increase. And we also come up with the best and worst cases from that interval. Any way you cut it, YOKU's revenue growth looks very attractive and will remain strong for some time to come.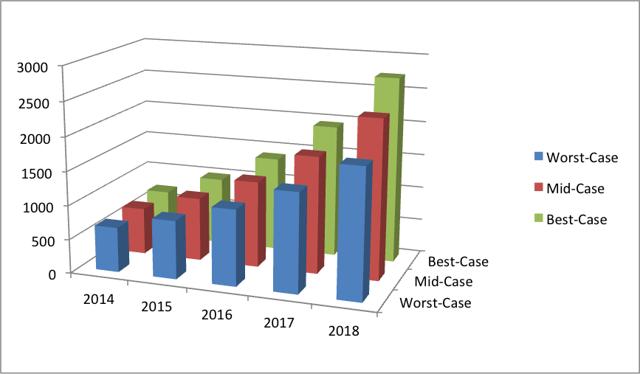 Gross/Operating Margins - Youku is working hard to decrease the bandwidth costs. They cut it to 20% of net revenue, compared to 26% in 2012. Overall, though, this company is definitely going to continue to struggle with operating margins as they are investing heavily in SG&A, which was over 30% of revenue in the TTM. That number needs to continue to come down as a percent of revenue. It was at 40% in 2009, so they are on the right track. In our best-case scenario, we saw it reducing to about 22% of revenue and operating margins rising to 6% by 2018. In our worst-case, we forecast negative profitability still in 2018, but we feel confident that the company is on the right track to seeing revenue growth exceed costs.
Taxes - Considering the tax rate of past years and other Chinese companies in the same industry, we use a 22% tax rate in our model.
CapEx - The capital expenditure will grow with the company's expansion. And we see no sign of the company's slowing down. We show the estimation in our mid-case scenario, which will hinder equity value as this is necessary to achieve the growth and catalysts we discussed above.
| | | | | | |
| --- | --- | --- | --- | --- | --- |
| Years | 2014 | 2015 | 2016 | 2017 | 2018 |
| CapEx | 150 | 170 | 180 | 190 | 200 |
Share Outstanding - Without any news, the shares will maintain at the current level, 167.56 million.
After application of these data, we get a target price at $22.63 as our mid-case scenario, 31.32% below the current price $32.95. We should notice that we give a very optimistic estimation of margins in this case, but it turns out that this stock is still overvalued. Even if we make the revenues CAGR to be 40% in best case, the price at $35.84 is just a little bit higher than current prices.
As we look at valuations, we can see that the stock is definitely overcooked at this time. The company is operating at 11.5x sales, a multiple that shows a lot of future revenue growth is baked into the numbers. On the earnings side, the future P/E is around 80, but we question if the company will achieve profits in 2015 as SG&A and COGS are still going to be very high.
Risk/Variance
The major risk is coming from the uncertainty of Youku's attempts in new market. The question is about how soon and how much Youku can really gain profits from their investment in mobile. And the future of their cooperation with smart TV manufacturers is still hazy. The success in these fields will directly affect their market attractiveness to those advertisers and their profitability. The question for investors is really about that bottom-line. The growth is outstanding in this name, but with a lot of competition, the company will have to continue to invest to attract those ad dollars.
Conclusion
In conclusion, Youku's multi-screen strategy gives itself a lot of potential to grow in the future. But we still believe it is not a good time to bet on Youku. It needs more time to see whether this company is worth investing and whether it can turn consistent profits. We will certainly keep our attention on Youku as it is one of the most exciting internet information companies in the largest market on the globe. And if the company can achieve profits in the following quarters consecutively, we will definitely give a reconsideration of its future. But for now, we believe it's best to wait on this name.
Disclosure: I have no positions in any stocks mentioned, and no plans to initiate any positions within the next 72 hours.
Business relationship disclosure: I have no business relationship with any company whose stock is mentioned in this article. The Oxen Group is a team of analysts. This article was written by David Ristau, one of our writers. We did not receive compensation for this article (other than from Seeking Alpha), and we have no business relationship with any company whose stock is mentioned in this article.