High Yielding Preferred From Chicken Soup For The Soul VOD Unit Available
Please Note: Blog posts are not selected, edited or screened by Seeking Alpha editors.
ETF investing, Options, Part-time investor, Long Only
Seeking Alpha Analyst Since 2013
I have both a BS and MBA in Finance. I have been individual investor since the early 1980s and have a seven-figure portfolio.  I was a data analyst for a pension manager for thirty years until I retired July of 2019. My initial articles related to my experience in prepping for and being in retirement. Now I will comment on our holdings in our various accounts. Most holdings are in CEFs, ETFs, some BDCs and a few REITs. I write Put options for income generation. Contributing author for Hoya Capital Income Builder. 
Summary
You might have read one of the Chicken Soup for the Soul books.  This preferred was issued by their Video-On-Demand subsidiary.
The company provides content to various free VOD platforms and has benefited from the stay-at-home edicts caused by COVID19.  When they end, will the growth continue is the question.
This article reviews the company and its Series A 9.75% Cumulative Perpetual Preferred and a brief review of its 2025 baby bond.  I rate both as Bullish.
Introduction 
My generation remembers when broadcast TV made the leap from B/W to Color programing.  Disney's Sunday night show was one of the first!  TV become an internal part of the American culture.  Slowly families took down the rabbit ears and on-roof antennas and signed up for this new fangirled source called cable which was followed closely by those large satellite dishes in the backyard.
How things are changed since the start of the century! The rise of the internet and streaming services, aided by ever increasing cable prices, has lead to what is referred to as "cord cutting".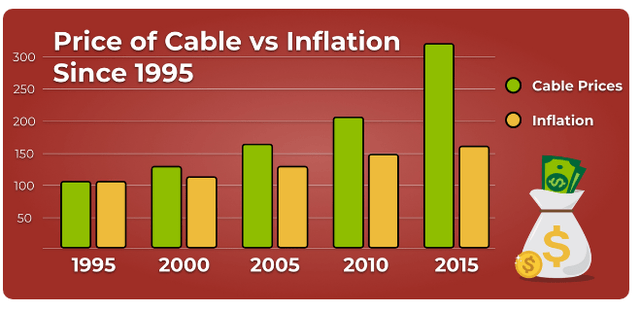 Source: broadbandsearch.net
Cord Cutting is defined as someone who stops using the cable wiring for their entertainment feed but might still pay the cable or phone company for their internet feed.  While some cord cutters go back to over-the-air broadcasts, the more popular option is over-the-top broadcasting.  These are streaming services such a YouTube, Hulu Live or Sling TV, supplied via your internet feed.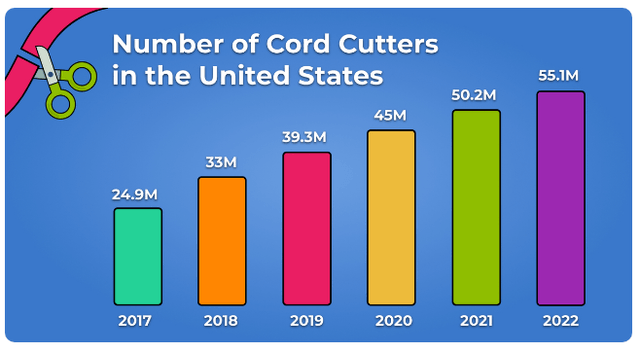 Source: broadbandsearch.net
The above doesn't count some 35 million people who have never signed up for cable.  Boomers are joining the switch too with a third of this generation becoming cord cutters. It is now estimated that 69% of Americans now have at least one streaming service, with Netflix being the largest.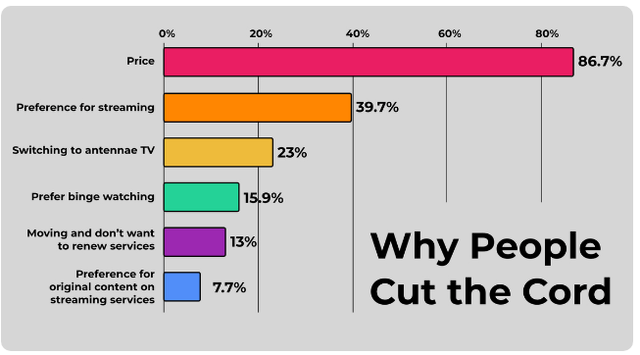 Source: broadbandsearch.net
Despite the cost of streaming is raising with the demand, the preference for streaming is the second most stated reason people said good-bye to cable as the entertainment source.  More Americans now pay for streaming services than cable (Article).  All of that bodes well for a company like Chicken Soup for the Soul Entertainment.
A Company overview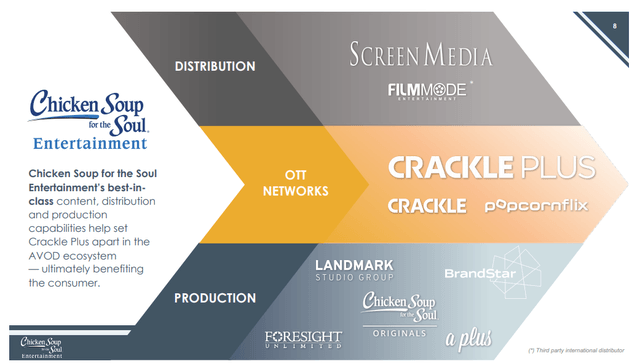 Chicken Soup For The Soul, LLC publishes the famous book series and produces super-premium pet food under the Chicken Soup for the Soul brand name.  Chicken Soup for the Soul Entertainment (CSSE) is a subsidiary of Chicken Soup for the Soul, LLC.  CSSE owns a majority stake in Crackle Plus, a company formed with Sony Pictures Television, which owns and operates a variety of ad-supported and subscription-based VOD networks such as Crackle Plus and Popcornflix. The company also acquires and distributes video content through its Screen Media subsidiary.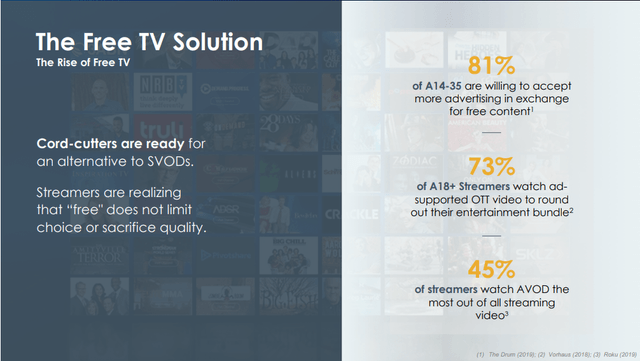 Source: Investor Presentation-Nov'20
CSSE has defined their market as the AVOD customers. These are people willing to watch ads in exchange for free VOD services. 

Source: Investor Presentation-Nov'20 
With the high cost of multiple subscriptions, combined with disruption of ad-supported network model, industry experts predict these raising costs will drive more consumers and advertisers to AVOD platforms, such as those CSSE owns or provides content for.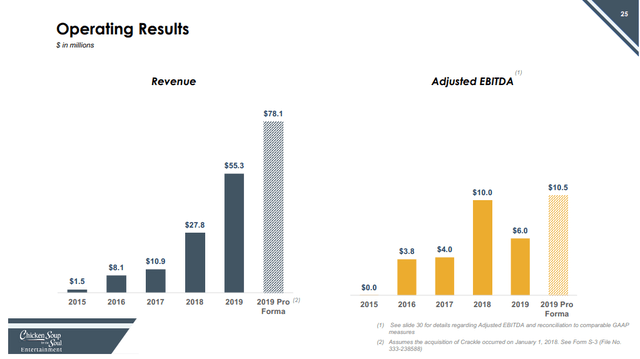 Source: Investor Presentation-Nov'20
This all is coming together for CSSE as far as revenue and earning growth since its launch shows.  2020 Q3 revenues were up 17% over Q3 2019, with earning turning positive versus a small loss in the same quarter last year. 
Looking at the Preferred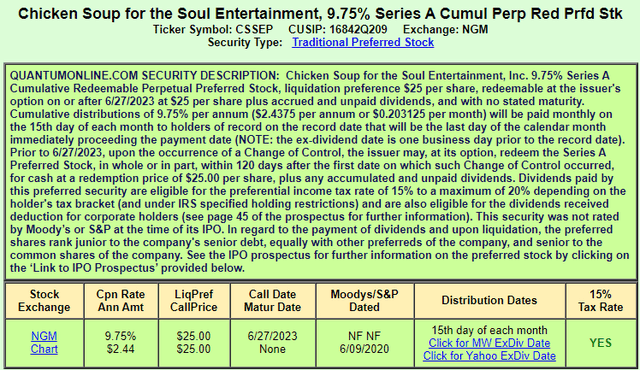 Source: quantumonline.com

Source: seekingalpha.com
CSSEP has been trading for just over two year with little price movement until last March.  Since then the price again has been steady but hasn't totally recovered.  While not rated, their Notes issued this past summer were given a BBB rating and the Preferred ranks equal to the Notes in case of liquidation.
Investors are protected from missed payments as they are cumulative, assuming no bankruptcy.  Since the common does not pay a dividend, that incentive to pay the Preferred payments is not there.
Based on the current price ($23), the current yield is 10.6% with a YTC of 13.5%.  In today's yield environment, even if junk-rated, those yields more than adequately cover the risk.
A second choice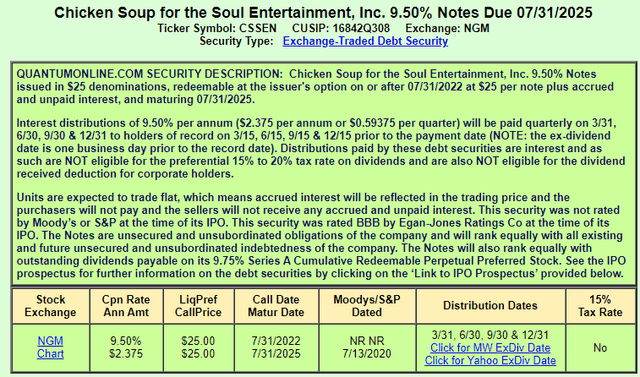 Source: quantumonline.com
For those investors looking for a built-in exit strategy, you might consider their baby bond that mature in 2025.  Along with that advantage, CSSEN payments cannot be suspended without declaring bankruptcy.  The Notes can be called 11 months before Preferred can be called though.   With CSSEN trading slightly above Par, the YTC is 9% and YTM is 9.3%.
Portfolio Strategy
For those with an appetite for some risk, both investments provide high YTCs and YTMs.  The company is growing and operating in an expanding industry, given a boost by COVID19.  Being a smaller player, there is the risk they could get squashed (remember a company called Wang Computers?) but a larger player could make a bid for CSSE also.  To me, the choice is a lower yielding Note with a set maturity date or a preferred that offers a 10% YOC for a longer time, assuming it is not called.  I like the company and the industry, so I would be bullish on either asset.
Recent SeekingAlpha article on CSSE: Link
More Cord Cutting statistics: Link
If you appreciate articles of this nature, please mark it 'liked' and click the 'Follow' button above to be notified of my next submission. Thanks for reading.
Analyst's Disclosure: I/we have no positions in any stocks mentioned, and no plans to initiate any positions within the next 72 hours.
I wrote this article myself, and it expresses my own opinions. I am not receiving compensation for it (other than from Seeking Alpha). I have no business relationship with any company whose stock is mentioned in this article.
Seeking Alpha's Disclosure: Past performance is no guarantee of future results. No recommendation or advice is being given as to whether any investment is suitable for a particular investor. Any views or opinions expressed above may not reflect those of Seeking Alpha as a whole. Seeking Alpha is not a licensed securities dealer, broker or US investment adviser or investment bank. Our analysts are third party authors that include both professional investors and individual investors who may not be licensed or certified by any institute or regulatory body.