The market has seen quite a bit of volatility recently leaving most traders scared and confused. With the 20% drop to new lows followed by a rally, then another drop and after yet another rally today, you can't really blame them. What you can do though is to not panic and realize what's happening. The market is respecting a very strong support level and is showing signs of upside.

Since the '09 low stocks have been in a strong uptrend respecting a trendline (shown below) furtively. There were a few times that the market came close to breaking it but it always ended up bouncing off until recently. Companies were improving their earnings, investors saw how cheap stocks were and the recovery was in full swing. This continued for some time.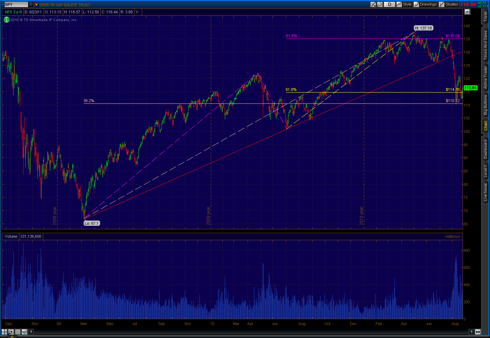 Since the start of the New Year traders have lacked conviction that the economy was still improving at the rate it had been. This made it impossible to breach the $135 Fibonacci extension level. After three attempts from easily scared buyers and sellers shutting them down every time, a classic head and shoulders pattern formed. This bearish pattern came just in time.

The H&S's right shoulder came just when concerns of a US default were at their
peak, along with the chance of a banking crisis in Europe. These events along with the already bearish pattern created fear that sliced through the once dominating trendline.

Often times when there's a major trendline break, the market (or stock) will go through "panic selling" until it hits a major Fibonacci retracement that buyers have been waiting for. That's why the S&P stopped on a dime at a level that consisted of two long-term, key Fibonacci levels. Therefore, technically the market has a very strong (longer-term levels are more respected) support level that will definitely provide a lower risk to the bulls. And, of course, many say the market is at a good price fundamentally. After all, analysts haven't lowered expectations by much and P/E's have been very low. Now wouldn't it be great if the short-term looked good too? Well it does.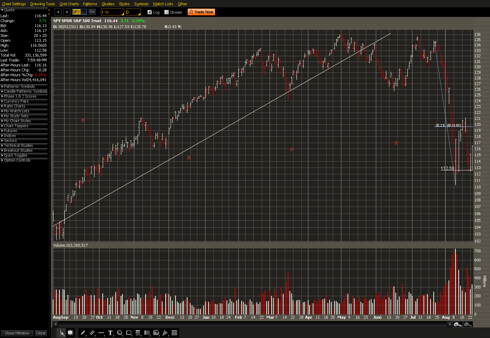 A pattern known as a "Double Repo" publicized by Joe DiNapoli in his book, Trading With DiNapoli Levels has been seen in the market in almost perfect form. In short, it is a certain type of double bottom that is stronger than normal because it gives traders almost no time to react, leaving them with quick decisions to make. Now if you look at the strong support level, it makes it unlikely that the average, hyper emotional trader will want to sell. As I stated earlier the market has gone down, up, down and then up again today. This strong up day is important because it signals that the bears are finally ready to hibernate and the bulls can take over.

There are a few other signs that seem to be pointing to a bottom. The VIX index as well as gold, which has also been responding to fear recently because it is regarded as a safe haven, have both topped. For the VIX, the 45-50 range has been unsustainable. Likewise, for gold, the 1900 level (which is also a long term Fibonacci Extension) has been impenetrable. Technical conclusion - the combination of a powerful bullish pattern combined with a bullish topping of fear provides a great entry to the market.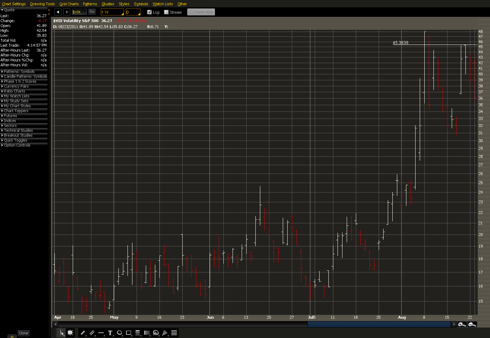 Disclosure: I am long SPY, GD, INTC, GM.