It started at 2 pm on the 27th of August and continued into the market's close and started mysteriously again exactly on 2 pm on the 28th of August. Both times, massive volume was driving gold mining stocks down (NYSEARCA:GDX). These were peak volume days in 2013 particularly in the time window between 2 pm and 4 pm heavy volume was traded with only one intention: driving gold mining stocks lower at any price. If you are a "normal" seller, you wouldn't trade your position out in this way, especially if you have to sell another big chunk the next day.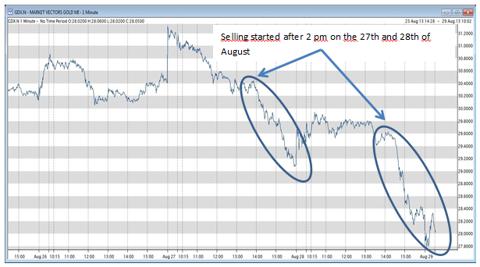 Interestingly, on the 27th as well as on the 28th of August the price was driven down by almost the same number (4.3% on the 27th) and (4.4% on the 28th). Coincidence or systematic trading?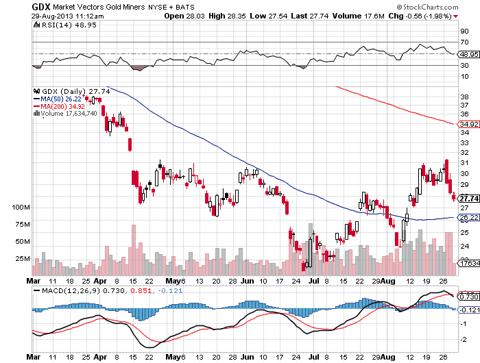 I'm not surprised to see some correction after the strong rebound and I still think gold mining stocks will test the gap from the 9th of August at USD 26.47. This would also coincident well with the 50 DMA at USD 26.22.
As long as this level is not breached, gold mining stocks are ripe to move substantially higher in the next couple of months.
Disclosure: I am long GDX. I wrote this article myself, and it expresses my own opinions. I am not receiving compensation for it. I have no business relationship with any company whose stock is mentioned in this article.