Equities both sides of the Atlantic have been rallying for the past 10 weeks with the European large cap stocks outperforming their US peers. Last 6 days have seen a higher close on the FTSE 100 with all intraday pullbacks being heavily bought into.
Yesterday the investors piled in more money resulting in a big bull candle. This is trend acceleration which is an early sign of trend end. Also, the price is far from 20, 50 and 200 day moving averages. Risk to reward for new longs here is very poor. Rather it is time to be cautious and wait for a deep pullback to initiate new longs.
static.cdn-seekingalpha.com/uploads/2013/1/24/1004836-13590822404641788-Basis-Point_origin.png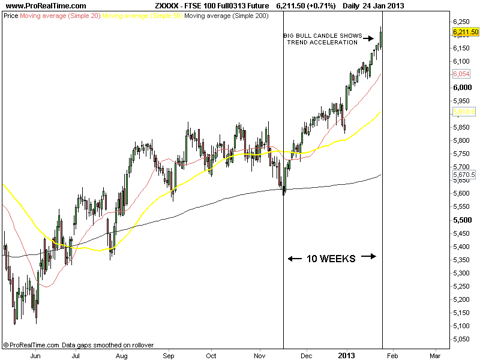 I would close all long positions, move into cash and wait for a correction.