Background - 01 June 2012 marked the release of Non farm payrolls for the month of May, widely regarded as the most important news of every month. Many trends in the financial markets tend to start or reassert after the release of this piece of data. Gold has reasserted its long term trend this time.
Fundamental view - The May employment report shows the US economy slowing sharply. Globally, the data from the euro zone and the emerging markets has been disappointing to say the least. This opens the doors for a new round of monetary easing from central banks across the world. With the data from US disappointing and the dollar at multi week high, gold is the safe haven where investors will look to find shelter.
Technical view - The rise of gold had been unabated from Nov 2008 to Sept 2011 with the uptrend clearly marked by a trend-line on a weekly chart. Last nine months have seen gold consolidate and range bound.
static.cdn-seekingalpha.com/uploads/2012/6/3/1004836-1338772782976517-Basis-Point_origin.png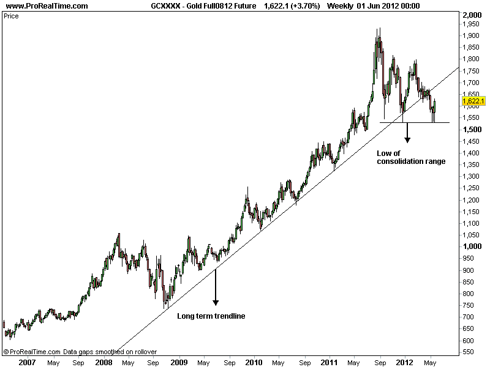 On Friday, 1st June after the release of non farm payrolls gold has rallied from the low of the consolidation range on high volume. This sets up a low risk chance to join the long term uptrend of gold which should lead to the first target of 1795$ and potentially all time highs.
static.cdn-seekingalpha.com/uploads/2012/6/3/1004836-13387728831066628-Basis-Point_origin.png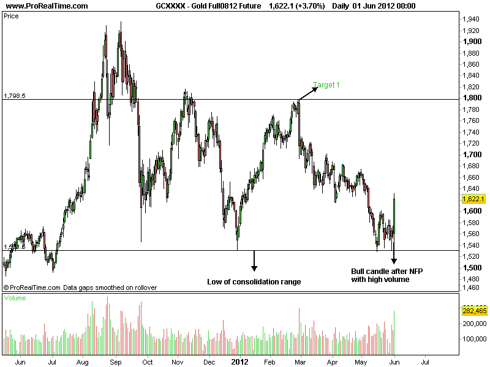 Disclosure: I have no positions in any stocks mentioned, but may initiate a long position in GOLD over the next 72 hours.