Background - USDJPY had been trading in a very narrow range for about a month and has seen a breakout of the range in the last two days.
Fundamentals - There is a consensus in the markets that more monetary easing from either or both sides of the Atlantic is on its way. With this in view the risk assets are higher and the yen, traditionally a safe haven, is being sold across the board.
Technicals - USDJPY has broken out of very narrow range in the past two days. The 50 and 200 day moving averages have been broken without the slightest hesitation.
static.cdn-seekingalpha.com/uploads/2012/8/16/1004836-1345137920166874-Basis-Point_origin.png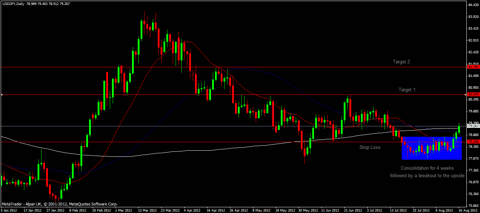 The intraday price action is even more revealing. Initially after breaking out of the consolidation range there was a big spike down when the US retail sales came out on Wednesday, 15th August 2012. This would have initiated fresh new shorts but since then the whole of the spike has been reversed and we have moved higher. This means that the market wants to go much further.
static.cdn-seekingalpha.com/uploads/2012/8/16/1004836-13451383364917848-Basis-Point_origin.png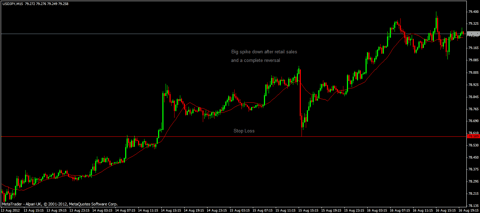 This sets up a low risk long entry for USDJPY with targets of 80.6 and 81.75 Yen.
Disclosure: I have no positions in any stocks mentioned, and no plans to initiate any positions within the next 72 hours.