The market has these imponderables. Sandisk (SNDK) had been slowly sliding down recently while Micron (MU) had been rather steady, yet today news of a fire at a Hynix facility in Wuxi, China, is bound to drive shares higher.
This facility had recently prioritized NAND flash over DRAM. Traditionally such might help Sandisk more than Micron, but with NAND flash now comprising more than 1/3rd of Micron's revenues the stock is bound to react favorably as well.
Recent trends
DRAM memory prices have been sliding recently, as we can gather from dramexchange.com's DXI index.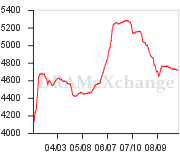 On the other hand, NAND prices, even before this fire, had been stable or increasing. Indeed, SNDK's earnings estimates have been going higher due to this (Source: dramexchange.com; Yahoo Finance).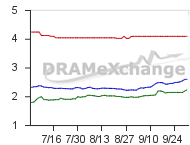 Conclusion
While data is still scarce, the fire on the Hynix facility is bound to make an already tight market for NAND even tighter. This might be compounded by the arrival of the iPhone 5C, a cheaper iPhone that's likely to lead to increased volumes and place higher demands on NAND producers. At the very least this development is short-term positive for Micron and Sandisk.
Disclosure: I have no positions in any stocks mentioned, and no plans to initiate any positions within the next 72 hours. I wrote this article myself, and it expresses my own opinions. I am not receiving compensation for it (other than from Seeking Alpha). I have no business relationship with any company whose stock is mentioned in this article.