If you ask me, I probably spend over a few hours on that website, but survey statistics say, an average user spends around twenty minutes daily per visit on Facebook (FB). That counts for something for a social networking company, don't you think?
Since Facebook's filing for IPO on February 1, 2012, the company has been through a lot of speculation and needless to say, the stock price has seen some severe ups and downs in these last few months. On May 18, the stock's first day close was at $38.23. It dropped to a low of $17.73 by September, a fall of whopping 53.34%! Since then, the price has recovered by over 57.5% and it is currently trading at $26.81 (at the time of writing this article). Don't go by the percentage numbers since they can be deceiving, but looking at the upward momentum, one has to wonder whether this is a strong trend or not.
Let's look at the technical aspects of the stock first.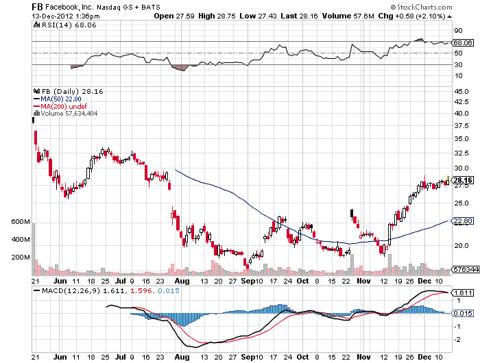 Looking at the chart above, the RSI signal is still under 70, which means the stock is not yet overbought but it doesn't have much room to go up as well.
But let's look at it from another point of view. Facebook's price-to-book ratio is 13.76, in comparison with SINA Corp's (SINA) 2.81, LinkedIn's (LNKD) 18.29 and MeetMe's (MEET) 1.32.
However, it is noteworthy that SINA Corp primarily serves Chinese communities, mostly based in China, where Facebook is blocked by the government. 50% of MeetMe visitors are from mobile phones' games and apps. What about the people who use laptops or PCs? In short, although these two companies serve the same purpose as Facebook does, Mr.Zuckerberg plays in a far wider and much deeper field than these two companies. Nevertheless the sheer scale of operation might restrict competition from growing further, and justify further increase in the price-to-book ratio.
Although LinkedIn has a separate niche of visitors, what if Facebook slowly grabs a share of that over time? That will definitely see a certain points shifting from LinkedIn to Facebook, ultimately showing in the stock price premium.
Since November, the Japanese candlesticks show longer upper shadows, indicating strong buying pressure (even when the close is lower than open). Otherwise, the closes are mostly higher than the opens, along with long bodies (long body = difference between open and close), which conveys even stronger buying pressure.
The MACD signals are also pretty much aiming at a strong upward trend, with three signal crossovers in the last three months. Seems like people are taking more and more interest in Facebook by the day!
To sum it up, Facebook's price can certainly go up, depending on the future business of the company. Remember, with one billion registered users and 845 million monthly active users, Facebook possesses a LOT of potential for making sweet money.
Let's look at the fundamental aspects of Facebook
Facebook's steady rise to one billion members by October this year had already been apprehended much before. Looking at the graph below, you can say that the one-billion mark was expected to be reached by August this year, if the growth line had followed the linear progression pattern.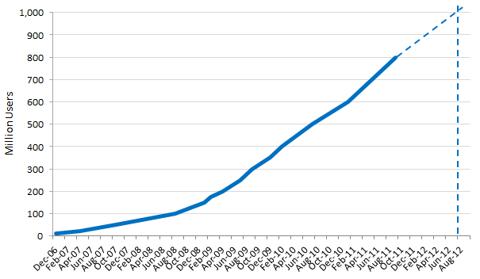 Now, the question is whether the growth rate will sustain in the future or not. Many analysts think that it might not be possible for Facebook to keep on adding users at the present rate. Yet others think that growth rate is immaterial unless the conversion rate is focused upon.
If you are worried about the user growth rate, here's something you need to see.
Last six months

Country

% Change of User Nos.

United States

5.99%

India

21.19%

Brazil

21.38%

Indonesia

15.64%

Mexico

14.81%

Thailand

18.30%

Japan

41.02%

Vietnam

49.47%

South Korea

25.29%

Nigeria

28.77%

South Africa

25.50%

Ecuador

13.10%

Morocco

14.41%

Bangladesh

13.55%
While the craze about Facebook has mellowed in the United States, things are really picking up in eastern Asia and Africa. We must remember that China with its 1.34 billion population is still blocked to Facebook. Once it opens up, it can get really interesting for Mark Zuckerberg who is already aiming at achieving the 2-billion users mark.
Another interesting thing to note is that the penetration rate is around or below 5% in India, Pakistan, Bangladesh, Nigeria and many more countries, which says that there is still a lot more business potential yet to be achieved in these regions.
Now, the question is whether the company is being able to utilize the huge user list into money or not. Here's a graph that might interest you.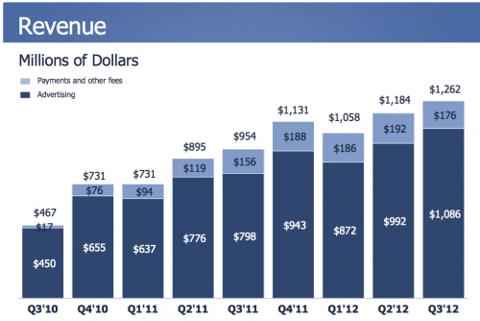 Referring the image above, it can be said that Mark Zuckerberg definitely knows what he is doing. It seems not only does he know how to increase the number of registered users but also how to extract money from that list. And with the current upward momentum in Africa and Asia, I don't think this is going to slow down soon.
Now, let's take a look at the comparative stats about the company.
Company

Metrics Used

 

Price-to-Book Ratio

Return on Average Assets

Operating Margin

Facebook

14.09

21.46%

47.32%

 

Renren Inc. (RENN)

1

4.58%

-25.66%

 

MeetMe

1.31

-20.71%

-102.68%

 

LinkedIn

18.18

2.14%

4.95%

 

SINA Corp

2.79

-19.98%

-6.97%

 

Google (GOOG)

3.93

14.93%

30.69%

 
It needs no clarification that Facebook does seem to be in a stronger position than most of the companies who do business in more or less the same niche.
About Zynga and Facebook Partnership Breakup
Let's talk about the recent severance of Facebook-Zynga partnership. In all honesty, I am not worried about it. Although 12% of Facebook's 2011 annual income depended on Zynga, it is Facebook that brought Zynga (ZNGA) into the business and yes, although the 20-year olds spend a whole lot of time gaming on Facebook, that's not what Facebook is meant for. It's basically a social networking site and it will remain so, without Zynga as well. Remember, if people just wanted to play games on Facebook, they could do the same on any gaming site for that matter.
Moreover, Facebook is already zooming in on the online gambling segment in UK. As my Alpha colleague, Chris Katje says:
"Online gambling is a great opportunity for Facebook. The social giant currently offers thousands of games on its network. By offering gambling, it will take a certain percentage of revenue earned by British gambling companies. The revenue diversifies Facebook away from advertising and revenue from Zynga's popular games. Facebook will also be watching the Zynga request with the Nevada Board closely to decide if it should venture into the United States."
Remember, we are talking about a website (or company) that "has seen:
1.13 trillion "likes"
140.3 billion friend connections
219 billion photos uploaded (265 billion in all if deleted photos are counted)
17 billion location check-ins
62.6 million songs played 22 billion times since September 2011" (as noted by Facebook)
Facebook is one such company that has huge potential to grow, but then again, it operates in one of the most volatile sectors, the IT sector, more specifically the online marketing sector. Let's just wait and watch a bit, shall we?
Disclosure: I have no positions in any stocks mentioned, and no plans to initiate any positions within the next 72 hours. I wrote this article myself, and it expresses my own opinions. I am not receiving compensation for it (other than from Seeking Alpha). I have no business relationship with any company whose stock is mentioned in this article.
Additional disclosure: Please consult your personal financial adviser before investing in the equity market.