Unless your name is Chicken Little, you're probably not running around yelling "the sky is falling!" despite the recent rollercoaster ride in equities. Market volatility levels may soon return to normal levels and investor sentiment will inevitably climb again. If this is the case, we should be in a position to maximize our profits.
For those unfamiliar with the VIX, it is a measure of near term market volatility conveyed by S&P 500 index option prices. It is considered to be a barometer for investor sentiment and market volatility. After August 2nd, we saw a spike in the VIX from $23 to $48 and it has since remained between $30 and $40. With volatility levels in this region, it is not a surprise that the 10 year treasury hit an all-time low of 1.9%.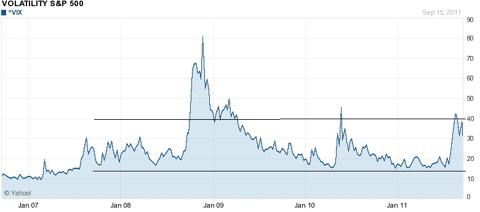 Reviewing the chart for the volatility index, it seems probable that it may very quickly return to levels below $20. As the VIX is considered a leading inverse indicator for investor sentiment, and we anticipate this index to fall to normal levels, we can rationally assume that investor sentiment may rise concomitantly. A surge in investor confidence could result in an outflow from US treasuries into equities and higher yielding financial products. Prices would fall, potentially returning the 10 year to a yield above 3%.
There are many ways to gain exposure to movements in the VIX. I would suggest looking at iPath S&P 500 VIX Short Term Fund (NYSEARCA:VXX) and Velocity Shares Daily Inverse (NASDAQ:XIV). These are exchange traded funds designed to give you some exposure to movements in the VIX. As of today's price 9/16/2011 at 12:49pm, XIV is currently trading at $7.24 and VXX is at $41.53. Both are clearly lagging behind the VIX at $31.53.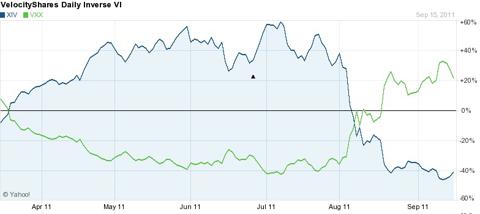 As we can see from this chart, there is a severe divergence in these two positions that we would expect to correct. A long position in XIV and a concurrent short position in VXX would yield exceptional returns should the VIX return to normal levels.
To round out the trifecta, we might consider a short position on US treasuries. To accomplish this, you could take a long position in either Proshares short 7 10 year treasures (NYSEARCA:TBX) or Proshares Ultra Short 7 10 year treasuries (NYSEARCA:PST), depending on your personal risk tolerance. These are essentially the same with the exception that the Ultra Short utilizes leverage as can be observed in the following chart.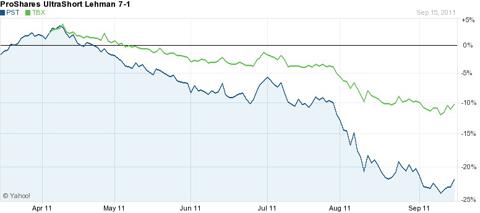 For maximum returns you could purchase January 40 Puts on VXX, January 33 Calls on PST, and establish a long position in XIV as there are currently no available options for this fund. For lower risk tolerances, simply establish long and short positions on these funds while utilizing stop loss protection at the 12-15% range. If you are one of those traders that refuse to utilize margin and has very low risk tolerance, you would open long positions in XIV and TBX with concurrent stop limit orders 8-12% lower.
Disclosure: I have taken a short position on VXX.
Disclaimer: This blog entry reflects the writer's personal views and thoughts on financial markets. The information or comments presented here should not be misconstrued as financial advice. Financial advisory service can be obtained from capital markets intermediary institutions, portfolio management companies, and investment banks with the use of written agreements. Always consult your financial advisor before acting on any of the information herein. The risk of loss in trading can be substantial.