We are issuing new trades for Aug 1 2011 with a first time short on one of US most loved financial firms, Morgan Stanley. We are very confident on this trade and hence will be confident if subscribers can increase weight age to the trade.
MS has closed at 22.39 but more importantly has lost all upward momentum and has built up downward energy which when released will take this stock down to 17 levels in the next 3 weeks. The 14 day stochastic (%k) on the daily charts have smashed below the 50 levels, the first sign of severe weakness to come. The weekly charts look even weaker (pasted below).
Daily charts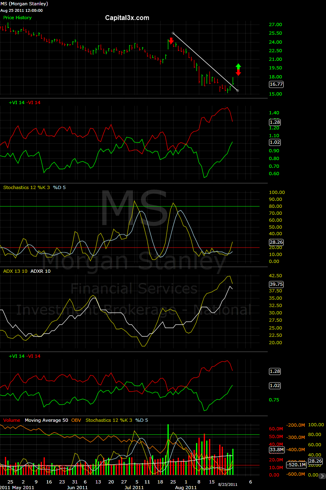 Key points on daily chart:
Stochastic at 49 levels, a clear sign of weakness confirmed by the weekly charts where stochastic are even weaker at 29 levels
Vortex indicator shows a negative cross over with the +VI (14 daily) crossing below the -VI (14 daily), a clear sign of negative energy building up.
"Internal Indicator"  which is a risk adjusted average of MA, RSI, Vortex, Stochastics has crashed -30. This is the strongest signals for a short line immediately.
Key points on Weekly chart:
Stochastic at 29 levels on the 14 week time period.
Vortex charts indicating widening gap between +VI (14 weeks) and -VI (14 weeks) pointing to strong downwave build up.
"Internal Indicator" at levels of -45 indicating an immediate short line on the stock.
1 Aug 2011 trade
Short MS @ 22.3
Long USD/JPY @77 -77.3

Target @ 77.9-78
Stop @76.7
 Kate