Not long ago--actually very long ago on 01/17/2012--I wrote an article about Inferior goods in my blog, and how demand increases for these goods when there is less income in the economy. It's a very simple and basic economic principle.
Well, I named a couple of stocks that carry inferior goods: WMT, DG, DLTR, MCD, and I will add another one that I have been following, TJX.
But you get the idea, right? If a household sees a decreased in income; well, that household is likely to reduce the expenditure in certain areas that are not an immediate necessity. Perhaps before there was enough money to buy three pair of shoes a year for work, but now it seems that it is manageable to only have two. At the same time, some households haven't seen a decreased in income, but they have lost equity on their homes, their pensions, or they, plain and simple, are scared, and they are not as confident about how their financial future is going to look like. So they spend less, and save more--assuming that they have the capacity to save.
The companies previously listed offer goods that are usually sold at a low cost. It is still very important to look at the health of the company, financials, and other important info. Yet let's look how these companies did compared to the S&P500, so far this year.
As today noon time, the YTD approximate return is: S&P 500 +4%, DLTR +18%, DG +11%, MCD -8%, WMT +7%, TJX +26%.
As you can see, with the exception of MCD--who by the way raised its dividend by 15% on Q4/11, these stocks have been ahead of the S&P.
Many macroeconomic issues are still unresolved, so it will not take a month for unemployment to turn around, for income to surge, and for confidence to increase.
Look at the level of income of the country as percent change from the preceding period, according to the BEA.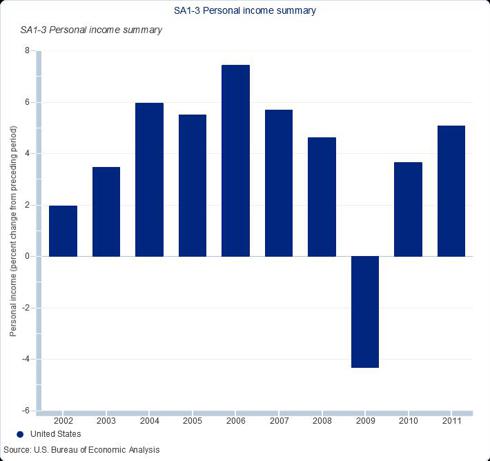 I expect these companies to continue to do better than the broad indexes and better than most sectors.
Disclosure: I have no positions in any stocks mentioned, and no plans to initiate any positions within the next 72 hours.