I am partly re-committing to equities after having been cautious since April 2012.
The S&P 500 Index is 25% undervalued based on the Rule of 20.
Earnings have peaked but are not collapsing like in 2007.
Inflation has slowed and seems unlikely to re-accelerate soon.
The U.S. economy remains ok. Avoiding the fiscal cliff removes a big short term threat. Christmas sales look ok.
Oil prices are not a big threat although Middle East tensions remain.
The Fed keeps pumping.
China is not hard landing, actually showing signs of re-acceleration.
Europe remains in poor shape but the ECB will act as a backstop if things get worse.
Technically, U.S. equities look good with stocks above the rising 100-day and the 200-day moving averages. Technical downside is 1390 on the S&P 500, -3.3% from the current 1438 level.
Not a slam dunk but, all in all, the risk/reward ratio is very favorable and many catalysts are turning positive.
Larger Rule of 20 chart here.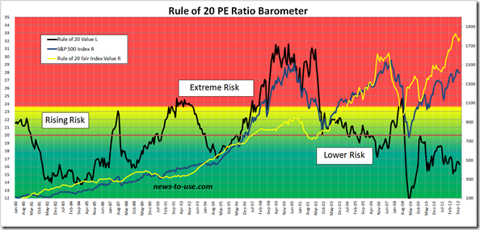 Disclosure: I have no positions in any stocks mentioned, and no plans to initiate any positions within the next 72 hours.