On December 6, 2010, news-to-use.com posted about a diplomatic cable, leaked by Wikileaks, that revealed that Li Keqiang, potentially the next Premier in China,
described China's gross domestic product figure as "man-made" and "therefore unreliable".
Mr. Li went on to say that China GDP numbers were "for reference only", revealing that for more accuracy on the economy
he used three ways of evaluating China's economic activity,  focusing on electricity consumption, the volume of rail cargo and the amount of bank loans disbursed.
Absolute Return Partners' Neils Jensen went to work and, comparing Chinese GDP growth with electricity output over the past 15 years, found an interesting pattern:
During periods of low economic growth (the Asian crisis in the late 1990s, the US recession in 2001 and the global credit crisis in 2008-09), GDP grows much faster than the electricity output. Conversely, during periods of strong economic growth (2002-07 and 2010), GDP growth is lower than the power output. Clearly the GDP numbers are massaged.

Digging one level deeper reveals something rather more serious.  Assuming the electricity stats tell the true story, and that the GDP numbers are 'for reference only' (remember, not my words!), China's economy experienced a dramatic slowdown as 2010 progressed. Total power consumption (year on year) grew by a whopping 22.7% in Q1 last year but only by 5.5% in Q4.  The slowdown in Q4 was in fact so dramatic that the power output dropped 6.3% quarter on quarter!
It thus appears that the Chinese economy is slowing more than official GDP data and commodity prices are showing.
Recent manufacturing PMI surveys seem to support this notion as reported in theChina Daily on February 1 (my emphasis):
China's manufacturing sector purchasing managers index (PMI) fell to a five-month low of 52.9 percent in January, compared with 53.9 percent in December (…)

Zhang Liqun, a research fellow with China's top government think-tank — the Development Research Center of the State Council — said the data would likely drop further in months to come.

The December manufacturing sector PMI figure fell 1.3 percentage points to 53.9 percent from November.

Sub-indices of the January manufacturing sector PMI data, which tracked the performance of production, new export orders, inventory and employment, all fell by more than 2 percentage points from December, but the purchase prices of raw materials rose. (…)
China's National Bureau of Statistics' leading economic index has declined rather significantly recently and its Quarterly GDP Index is suggesting a slower economy, certainly not an overheating one.
Another clue comes from retail sales. Nominal sales growth rates have been amazingly stable around 18.5% YoY since March 2010. Yet, the rate of inflation as measured by the CPI has accelerated sharply during the same period, suggesting that real sales have been decelerating as the year progressed. And that assumes that the published CPI reflects the reality. More on that below.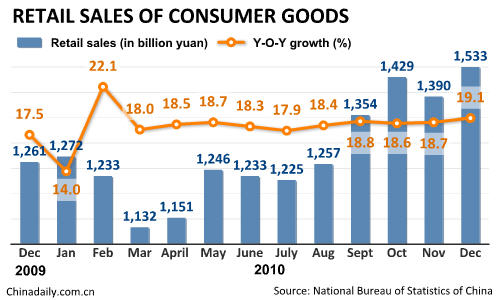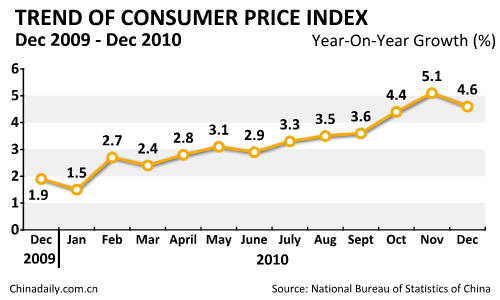 Car sales have been strong near the end of 2010 as buyers flocked to catch the last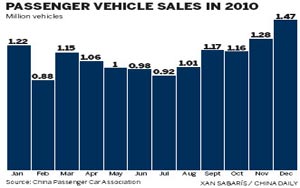 opportunity for tax incentives for small cars and subsidies for trade-ins, as well as to take advantage of Beijing's quota policy on car purchases. However, this will negatively impact 2011 demand as acknowledged by the Chinese industry (my emphasis):
"The change in policies makes us lower our anticipation for this year's automobile market from the previous 10 to 15 percent year-on-year growth to no more than 8 percent," said Cui Dongshu, vice-secretary-general of the National Passenger Car Information Exchange Association. "And the serious excessive consumption in 2010 even may lead to zero or negative growth this year."

The association's Secretary-General Rao Da said he believes that in 2011 China will probably record the first negative year-on-year auto sales growth for 20 years.
Another indicator of weakening demand is house prices which have been declining in the wake of Beijing's determination to cool the housing market off.
Numerous signs thus point to a meaningful slowing in China's economy during the first half of 2011.
Yet, the Chinese government is very busy these days finding ways and means to slow it down even further. More housing restraining measures are announced almost weekly while the PBoC keeps raising banks reserve ratio and interest rates.
My good friend and astute investor Michel Bastien sent me a note pointing out that China's yield curve has turned negative in December as the PBoC has boosted short-term rates. Michel notes that an inverted  yield curve is often a harbinger of a meaningful slowdown in North American economies, as was the case in 2006-07. He believes that the same could be happening in China. That would be negative for commodities and commodity-related currencies such as the Canadian dollar.
Michel also points out the recent rise in copper inventories as a possible sign that Chinese demand is slowing. Copper prices have soared 38% in the last 6 months alone, even though copper inventories have been rising everywhere:
I checked other metal inventories to find that most metals are also showing rising inventories in recent months, obviously not a sign of accelerating consumption, even though US carmakers are currently increasing production, raising doubts about European and/or Asian demand.
The PBoC hiked interest rates again on February 8, citing rising inflation pressures. The key benchmark rate was raised 25 bps to 6.06%, the highest level since October 2008. It is also expected that the central bank will soon increase banks reserve requirement ratio once more to curb excessive lending.
But the Financial Times rightly argues that
For those who believe China is in the midst of a property bubble, gripped by inflationary pressure, and struggling to appease irate savers, Tuesday's 25 basis-point increase in policy interest rates looks pathetic. The new one-year lending rate of 6.06 per cent will not slow borrowing when gross domestic product growth and inflation are 9 and 5 per cent respectively. The new 3 per interest rate on one-year savings accounts will lure few renminbi out of speculation and into the banks.
NBF Financial Economy and Strategy Group agrees that Chinese authorities are not aggressively tightening when considering inflation rates excluding food.
But food inflation is a real problem in China since food consumes a very large share of  income. Few Chinese give any thought to the notion of "core" inflation. The Communist Party is very serious about inflation:
Wen Jiabao, the Chinese premier, put tackling inflation at the top of the policy agenda on Sunday and suggested that the survival of Communist party rule might depend upon it.

Many Chinese officials and experts believe double-digit inflation was a leading cause of the public discontent that spilled over into student-led protests in the spring of 1989 and ended in a bloody military crackdown centred on Beijing's Tiananmen Square.

"If there is inflation plus unfair income distribution and corruption, it will be strong enough to affect our social stability and even affect the stability of state power," Mr Wen said in his annual press conference at the close of the national people's congress, China's rubber stamp parliament. (Financial Times, March 14, 2010)
There is no doubt that the recent events in Egypt are reviving the Communist Party's worst fears.  The China Daily reports that
In a December survey by the central bank, 74 percent of respondents said they were dissatisfied with rising inflation.
Could all this mean that China's economy is slowing down more rapidly than official stats are suggesting and that Chinese authorities, well aware of that, are threading cautiously, trying to control inflation without strangling the economy?
The task is daunting and time is of the essence as Neils Jansen explains:
(…) the transition of power from current President Hu Jintao and Premier Wen Jiabao to the next generation of leaders is fast approaching. Although the National People's Congress, where the new leaders will be officially instated, is not taking place until March 2012, the new power structure will almost certainly become apparent to the outside world at the next party congress, scheduled for October of this year.

Given the importance of this changeover and the significance the Chinese assign to not losing face, the leadership will do anything in its power to maintain the economic momentum until after the March 2012 congress. (…)
Jansen places more emphasis on economic growth but I believe that the Party is more focused on inflation for political stability reasons.
This inflation bout seems more challenging than that of 2007-08. The current drivers of inflation are much more global and structural than domestic and cyclical. Global and domestic supplies are so tight that prices spike immediately after even a small disruption in the normal flow of goods.
More importantly, Chinese food consumption patterns are shifting as people become wealthier. More meat eating requires more cereals to feed the animals, at a time when both China and world grain supplies are excessively constrained. Food price caps won't be effective over the medium and longer terms since rising food prices are a pan-Asian issue exacerbated by China's large and growing absolute demand for most agricultural products.
Importantly, core inflation is rising. On December 11, 2010, posting on China's November CPI, I wrote
It is very important to note that non-food prices were up 0.6% MoM in November after a 0.4% increase in October. This is a 6% annualized rate, well above target and absolutely unacceptable for the Chinese authorities. While non-food prices are only up 1.9% YoY in November (from 1.6% in October), there is nonetheless a clear acceleration in core CPI in China.
But if GDP data are "man-made", so are inflation statistics as Neils Jensen found out:
(…) I received an email from China specialist Simon Hunt, who notified me of the fact that the National  Bureau of Statistics  of China has just announced that the weight of food in the consumer price index has been reduced as of 1st January 2011. In an emerging economy such as China, where 35-40% of disposable income is spent on food items, sharply rising food prices are actually likely to lead to food accounting for a higher percentage of overall disposable income, so the Chinese reaction defies all logic. There can only be one motive: to cook the books.
Andy Xie asserts that China's inflation problem is endemic and needs tougher measures.
Massive monetary growth in the past decade has led to the accumulation of a huge amount of latent inflation in the system. It showed up first in land inflation. As the speculative frenzy concentrated money in the property market, the monetary growth did not at first lead to rampant inflation. But the dynamic changed: labour shortages and rising energy prices triggered broad-based inflation, and the stock of money suddenly became its fuel. (…)

Inflation is always a monetary phenomenon. When money supply grows faster than the underlying economy can grow through output, it results in inflation. Inflation tends to appear in supply bottlenecks first. Labour, energy and agriculture, for example, are leading inflation now, as their supplies are relatively inelastic. Cost-push inflation is spreading to goods and services in general. (…)

The government's measures to cool inflation are far from sufficient. It must recognise that inflation will remain high for the next five years, and bank deposit rates must rise above the expected inflation rate. The current deposit rates are likely to be three percentage points too low. Stability can be achieved only if people don't lose money by keeping it in banks.Tiny tightening steps cannot reverse the accelerating trend in inflation; the monetary policy just becomes further behind the curve.
How much behind the curve? Neils Jansen:
(…)  SocGen attempted to estimate how much behind the curve the Chinese actually are, using the Taylor rule as a guideline. According to SocGen's calculations, the People's Bank of China should tighten by approximately 200 basis points in order to close the gap. That will almost certainly not happen ahead of the congress next year.
China has been the engine of the world between 2000 and 2007. Its own QE program in 2009 helped set a floor on collapsing world economies; its swift economic rebound has propelled world commodities through the roof. Meanwhile, its domestic resources, commodities and labor, have been stretched to the point where inflation is now everywhere.
If the Communist Party fights inflation, it seems unlikely that it can be done without a meaningful economic slowdown. All recent PBoC statements have been citing inflation as the main policy target. The Chinese central bank has let the yuan appreciate at a faster rate recently, an effective way to restrain inflation from imported goods. The other side of the coin, so to speak, is that Chinese export prices are rising.
For most economies and financial markets, inflation is becoming the no. 1 enemy. Food inflation coupled with higher oil prices are eating into consumer disposable income and reducing income available for non-discretionary goods and services. Rising commodity prices are pressuring profit margins, pushing companies to try to raise their own prices. If they succeed, core inflation will accelerate and compress PE multiples; if they don't, profits will suffer.