North American banks market caps rose 7.1% since my last ranking on March 2013, in line with the S&P 500 Index (+7.6%) during the same period. U.S. banks gained 10.3% while Canadian banks advanced only 1.4%. Over the last 12 months, U.S. banks are up 23.2% while Canadian banks edged up only 3.5%. Meanwhile, the S&P 500 Index rose 13.3%.
U.S. money center banks did particularly well since September 2012: BAC (+55%), MS (+48%), C (+44%), GS (+29%), and JPM (+26%) all gained more than 25%. Among regional banks, only KEY made money-center type gains with a 34% jump. Other regionals were mixed: WFC (+19%), FITB (+19%), STI (+13.5%) USB (+6%).
WFC regained its top rank on market cap which it had lost to JPM last March.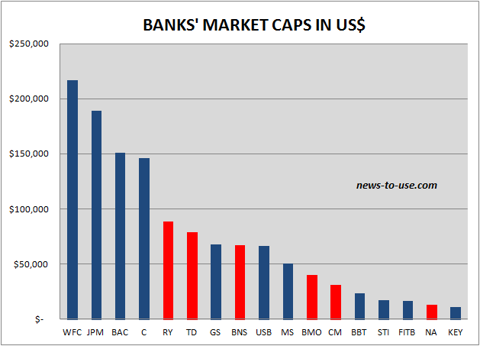 Canadian banks continue to dominate on Price to Book Values but U.S. money centers closed some of the huge gap during the last 12 months. Five of the 11 U.S. banks ranked here still trade below book value. BAC continues to trade at the lowest P/BV at 0.7x.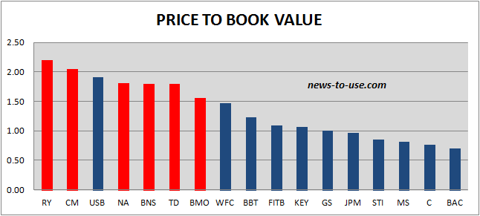 Canadian banks also dominate on Price to Tangible BV. Only two U.S. banks still trade below TBV.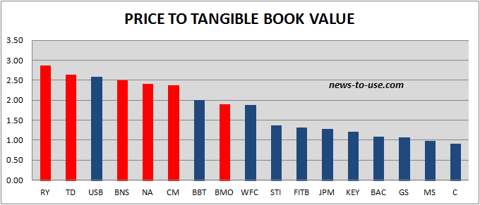 Price to Book valuation must always be analyzed against return on book to have some meaning. Five of the six Canadian banks earn a ROE (2013e) of more than 15% (BMO at 14.8%) with an average of 17.9% (17.6% last March). The U.S. banks' average expected ROE is 9.7% (9.4% last March). Excluding USB (15.7%) , the remaining 10 U.S. banks are expected to earn a ROE of 9.1% (8.8% last March), nearly half the return enjoyed by Canadian banks.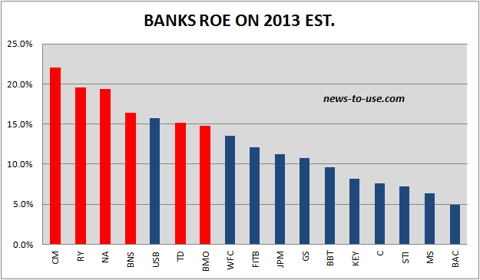 One of the better ways to evaluate bank stocks is to correlate ROE with P/BV. The chart below plots the 17 North American banks surveyed on that score. For example, even though BAC looks cheap on its P/BV of 0.7x, its low current ROE justifies its low valuation. Contrary to September 2012, BAC is not undervalued relative to its peers on the basis of expected 2013 ROEs.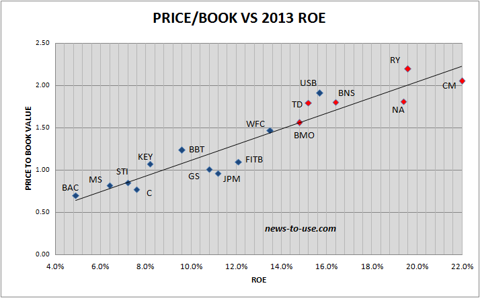 JPM has become the big outlier. Its stock rose only 3.3% since March while both BV (+2.5%) and expected ROE (10.4% to 11.2%) rose. FITB stock rose 15.5% since March but a 10% gain in BV and a rise in its expected ROE from 10.8% to 12.1% have made the stock pretty cheap relative to its peers. Here are the March 2013 and the September 2012 charts for comparison:
March 2013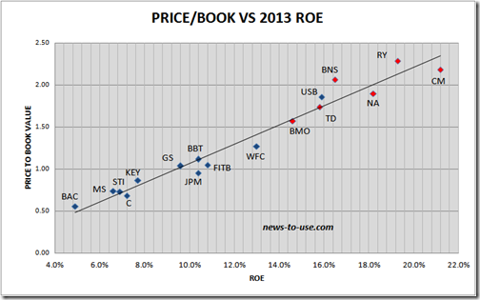 September 2012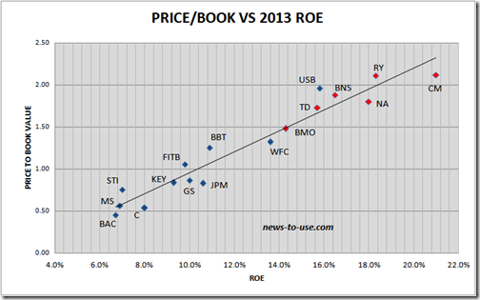 The chart below helps assess the P/BV vs ROE relationship. Dividing the expected ROE into the P/BV ratio, we get "the price of growth" in the form of the number of units of BV for each 1% of ROE.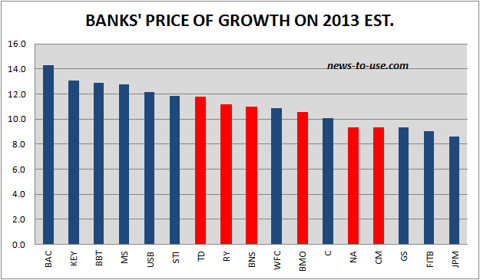 Six American banks lead the pack, up from 3 in September 2012 and none in August 2011. BAC is now the most expensive bank on that score. It was the second least expensive bank on year ago. During that period, its stock price rose 55% while its expected ROE declined from 6.7% to 4.9% (a 27% deterioration) on an unchanged BV (its expected ROE for 2014 is 6.7%).
By comparison, C, which was the least expensive stock in September 2012 is now the 6th least expensive stock. Even though its stock rose 44%, its expected ROE only declined from 8.0% to 7.6% (5% deterioration).
The two cheapest stocks by this measure are now FITB and JPM. During the last year, FITB rose 19% but its BV gained 15% and its expected ROE advanced 23%. For its part, JPM stock rose 26% while its BV gained 8.5% and its ROE advanced 6%.
By country, investors are now paying 0.11 units of BV for each 1% of ROE for both Canadian and U.S. banks. For the U.S. banks, that ratio was 0.105 last March and 0.09 in September 2012. In March 2010, the ratios were 0.11 and 0.14 respectively, the U.S. banks then trading at a 27% premium.
All previous rankings going back to May 2009 can be seen here.