We are now passed mid-way of the Q1 earnings season with 300 S&P 500 companies having reported Q1'12 earnings. According to S&P, 70% beat and 19% missed. As the earnings season advances, the beat rate has declined and is getting closer to the 67% normal beat rate, not that exciting given that analysts had considerably reduced their estimates throughout the quarter.
S&P now expects that Q1 EPS will come in at $24.33, $0.60 (+2.4%) above the March 30 estimate and +7.8% YoY.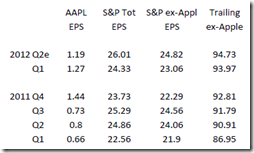 Apple remains an exceptional situation that importantly skews the total numbers. Apple's EPS exploded 92% in Q1 and contribute $1.27 to the S&P 500 earnings in Q1, from $1.44 in Q4 and $0.66 in Q1'11.
Ex-Apple, Q1'12 EPS should rise 3.5% QoQ and 5.3% YoY. The quarterly gain would be welcomed given that Q4'11 EPS declined 9.2% QoQ.
Total S&P 500 trailing earnings should reach $98.20 in Q1'12, up 1.8% from 2011. Trailing earnings advanced only 1.9% in Q4'11 from Q3'11. Essentially, earnings growth has slowed to a crawl. But earnings look even weaker when taking Apple out of the equation. Trailing EPS-ex-Apple seem set to rise a mere 1.2% in Q1 after +1.1% in Q4'11 and +1.0% in Q3'11.
Unless profits recover markedly, trailing earnings will slow even more in coming quarters. Q2 estimates have barely budged in recent weeks in spite of the apparent strong beat rates. At $26.01-cum Apple, they are seen rising 6.9% QoQ and +4.6% YoY. But ex-Apple, they would be up 7.6% QoQ (+3.2% YoY).
However, I suspect that we will see downward revisions in coming weeks. Factset reports that for the current fiscal quarter, 64 companies have issued negative EPS guidance and 39 companies have issued positive EPS guidance, a 0.6:1.0 positive/negative ratio. Importantly, only Financials have a better than 1:1 positive:negative guidance ratio while 7 sectors report worse than 1:1 negative guidance.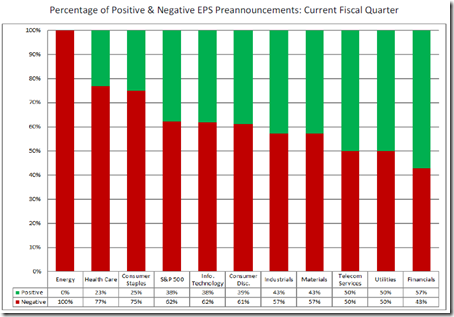 Factset adds interesting granularity to the Q1 earnings scorecard:
The Financials sector is reporting the highest earnings growth (23.5%) of all ten sectors. However, this sector is also reporting the third lowest revenue growth (2.4%) as well. Many of the companies that reported a significant improvement in earnings growth benefited from adjustments to EPS such as valuation adjustment exclusions and lower provisions for loan losses.

In terms of valuation adjustments, companies such as Bank of America, Morgan Stanley, and Citigroup reported GAAP EPS that included high valuation adjustment (CVA/DVA) charges. However, most analysts elected to exclude these charges in their estimates in Q1 2012, resulting in higher non-GAAP EPS for all three companies (and higher year-over-
year growth). In terms of provisions for loan losses, a number of the companies that reported high EPS growth for the quarter (including Regions Financial, Bank of America, Hudson City Bancorp, and Fifth
Third Bancorp) also reported substantial year-over-year declines in provisions for loan losses, which helped to boost the bottom line for these companies as well.

The Information Technology has the third highest earnings growth rate of all ten sectors at 10.7%. However, almost all of this earnings growth is due to Apple. Excluding Apple, the earnings growth rate for the Information Technology sector falls to -2.4%. In addition, the Internet
& Software Services industry (YHOO, GOOG, EBAY, VRSN, and AKAM) is also reporting high earnings growth (21.1%). Most of the weakness in the sector is coming from the Semiconductors & Semiconductor Equipment industry, which is reporting a decline in earnings of nearly 30%.
In effect, with the exception of Industrials, Q1 earnings growth rates are lower in the more economy sensitive sectors. Similarly, negative guidance for Q2 seems prevalent in most, if not all, economy sensitive sectors assuming Financials' positive guidance has more to do with balance sheet adjustments than operations.
Factset also reveals that a larger than usual number of companies are experiencing margins squeeze in Q1.
The blended net profit margin (excluding Financials) for Q1 2012 is now 8.7%. If this is the final number, it will equal the net profit margin from the previous quarter. The Consumer Discretionary (5.9%) and Consumer Staples (5.5%) sectors are reporting their lowest net profit margins in more than two years.
Many companies are citing higher energy costs to explain lower margins. Surprisingly, I have yet to hear one thank lower utility costs during the warmest quarter in the U.S. since 1895, with an average temperature of 42.01 degrees Fahrenheit-six degrees (i.e. 17%) warmer than the long-term average, according to the National Oceanic and Atmospheric Administration. Perhaps "normalized" margins are lower than "reported". We shall see in the next several quarters.
STORMS AHEAD!
The leveling off in trailing earnings comes at an inopportune time for equity investors as Europe looks set to get even stormier, economically and politically, China is weakening towards a landing that will hopefully prove soft and the U.S. seems more and more breathless as it approaches the November elections and the 2013 fiscal cliff.
U.S equities are cheap at 14.3x trailing EPS when the Rule of 20, given inflation at 2.7%, says fair PE is 17.3x. This 17% undervaluation is rare and undoubtedly appealing.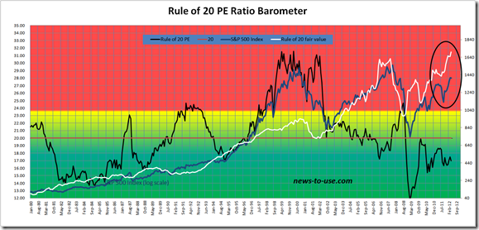 The contrarian in me says to buy stocks, especially with all the dire news surrounding us. Remember the old say: "Buy at the sound of canons, sell at the sound of violins." I did and suggested just that in March 2009, in June 2010 and in November 2011 (see my track record). This time around, I prefer to wait on the sidelines for the following reasons:
Earnings have stalled and estimates look vulnerable.
Europe seems set to get even weaker and stormier with little visibility about how all this mess will get resolved.
China does not seem about to enter reflating mode anytime soon and its politics may be messier than we think, perhaps leading to serious policy mistakes.
The U.S. economy cannot grow in isolation. It's own internal economics, mainly U.S. consumer, are still problematic. American politics are not terribly exciting either and the fiscal can-kicking contest is fast approaching the "grand canyon". The Fed may well twist again but as Bernanke admits
The size of the Fiscal Cliff is such that there's no chance the Fed could have any ability whatsoever to offset that effect on the economy.
Much lower oil prices could be the savior but Middle-East politics and Saudi Arabia's own domestic imperatives are likely to keep prices higher than desired.
The S&P 500 Index is 9% above its 200-day moving average, entering the seasonally weak May-October period.
Market "internals", whatever that means, are not inspiring. Apple reported another blowout quarter, +92% YoY, 22% above consensus. Yet, the stock rose less than 8% after the report and remains 8% below its recent high. If even fast growing and financially strong Apple fails to excite investors with a stock selling at 14.7x trailingEPS, what can?
I therefore maintain my April 5 view (EQUITIES: MIND THE GAP!): I sense that it is unlikely that markets will reach "fair valuation" (now 1700) within this complicated context. A repeat of last spring is more likely: in April 2011, the S&P 500 came within 10% of the Rule of 20 fair value before correcting (18%!). If 90% of fair value is all we can hope for, that's 1530, less than 10% above the current level.
Given the 9% "technical gap" which might get aggravated by disappointing earnings, 10% upside does not provide a good risk/reward ratio.
Disclosure: I have no positions in any stocks mentioned, and no plans to initiate any positions within the next 72 hours.