By JinBae Kim
It amazes me how far Apple's stock (NASDAQ:AAPL) has grown in the past few years. In April 2010, the stock was trading around the $240 mark. Now it is teetering between the $500 and $600 mark. To be able to grow more than %100 at this size is remarkable. It is hard to believe but there seems to be no reasonable cap to Apple's stock.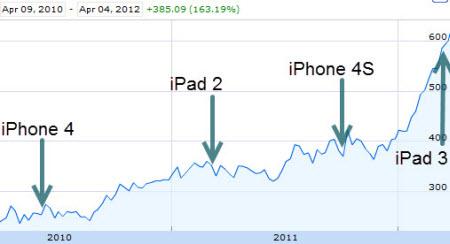 So what is so special about Apple? Constant innovation. As we can see from the chart above, the stock's growth has been powered by notable product releases, each with significant amount of demand (the new iPad sold 3 million units in its first weekend). Apple's ability to innovate is unmatched, and the iPhone and iPad are the perfect embodiments of its innovation.
The iPhone and iPad have already come a long way since its original versions, and we are at the brink of the iPhone 5 and the iOS 6, as it is predicted to be showcased at Apple's Worldwide Developer Event (WWDC 2012) in early June. The buzz for these new upgrades is immense. There have been numerous rumors regarding liquid metal features, larger and high-resolution display, and 3D Mapping (crowd-sourced open source projects have the potential for reporting increases in traffic, police, road-work and much more). Multiple tech blogs are tracking down Apple's every move.
Source: 9to5mac.com
I am not going to go into every specifics of the new iPhone, but I can tell you that the iPhone 5 and iOS 6 is going to capture the demand of the consumers.
Apple TV, on the other hand, is supposed to have a different take on traditional TVs. It is not going to be easy making an impact on this market, but it is possible. With the different services that Apple products offer, including the many existing applications and FaceTime, Apple TV could be the first "non-TV TV". Forrester's analyst James McQuivey also believes that portability could be a differentiating factor for Apple. The Apple TV still has a long way to go but it has the potential to compete with existing leaders like Samsung and Sony.
On top of all this, Apple is also expected to reveal the latest redesign of its MacBook Pro laptops. MacBook Pro has never had a major market share, but these new products are expected to be thin and equipped with Apple's Retina Display that is used on the iPhone and iPad.
With these new upgrades and new products in mind, Apple's senior VP of industrial design, Jonathan Ive, recently revealed the importance of a "new project" that he is working on. Ive claims that this new project is Apple's best project. He is probably referring to any of the above upgrades and new products I mentioned, but it says a lot when Apple's senior VP says that a new project "feels like the most important and the best work [they have] done."
It is not ludicrous to think that not only will Apple continue to invent new products and improve its existing ones but the consumers are going to love these new products and improvements.
Apple is more than just a hardware company. Apple is not Motorola, Nokia or RIM. Apple has come up with various accessories to its hardware products in order to capture the consumers. Apple doesn't make much profit from iTunes, iCloud, the App store, or the constantly updated iOS but the ecosystem of these different services maintains the high demand for its products. This ecosystem is the backbone of their hardware and it will continue to attract consumers to its new products.
With or without the great Steve Jobs, Apple's future is solid. Yet Apple's PE multiple is 13.7, which is much lower than its historical average ratio. Despite being a leader in the market and in innovation, Apple has an average PE multiple compared to others in the technology sector.
Apple stock is not going to be capped at $600. Recently I saw Apple's stock rise all the way to $640 then decline to the low $500s. Despite these fluctuations in prices, Apple is still undervalued. Current prices do not give justice to Apple's future. Apple will pass Exxon as the top earning stock by the end of this year. And it is very possible that Apple will reach $1000 dollars in the future.
Disclosure: I have no positions in any stocks mentioned, and no plans to initiate any positions within the next 72 hours.