By JinBae Kim
Facebook (NASDAQ:FB) has 901 million users in the world and accounted for 14.6 percent of all Web traffic in 2011. The first thing I do when I wake up in the morning is check Facebook and the last thing I do before I sleep is check Facebook. Facebook is a great social networking website, but can it be a successful company?
Facebook's main problem is its existing revenue model, which heavily relies on advertising. In 2011, advertising generated 85 percent of Facebook's overall revenue of $3.71 billion. This year, $872 million of its $1.06 billion revenue came from advertising. Facebook's overdependence on advertisement for revenue is dangerous for two main reasons. First, it has yet to find an efficient advertising model. Second, Facebook needs to find a way to apply the advertising model to mobiles.
Facebook needs to find a more efficient way of advertising on their website without damaging the Facebook experience for its users. Four out of five Facebook users have never bought a product or service advertised on the site, according to a recent Reuters/Ipsos online poll. According to a eMarketer's recent study, Facebook was very weak in converting leads into sales. eMarketer deduced that email or direct-mail marketing even has a higher converting rate than Facebook advertisements. The problem lies in the characteristics of the users. Facebook users have no intention of looking at advertisements when they log in. Users are so preoccupied with their own photos and statuses, they have no time to look at irrelevant advertisements that take up a very small part of the page. Therefore it is difficult to even label these 901 million users as leads. This is why GM, a top 5 internet advertisers according to KantarMedia, pulled out from Facebook advertising.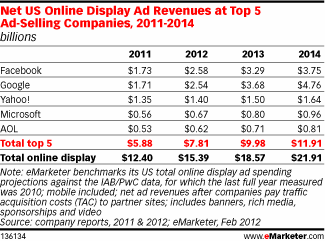 As we can see from the chart above, although Facebook is the current leader in US Online Display Ad Revenues, it will lose its position in the market to Google by 2013. For a company that relies heavily on advertising for revenue, their advertising model is inefficient and weak. Facebook is still an amazing social networking site because its advertisements do not hurt the user experience. But its about time Facebook realize that it is mainly an advertising site. It needs to find a better balance between advertising and user experience.
Many investors and analysts have already voiced their concern about this second issue: the mobiles. With rising mobile electronics, particularly smartphones and tablets, mobility is becoming very important, especially to the younger generations. According to comScore, users spend more time with mobile versions of Facebook than the browser version. Facebook's applications on mobiles are average at best; the iPhone app has a two-star rating on iTunes and the Android app has had its share of user rage. These underdeveloped mobile applications affect the user experience of Facebook and also denies the advertising opportunity that can be gained from the traditional browser.
What does Facebook need to do in order to sustain its dominance in the social network arena and also keep the new investors happy?
If I had the answer to this problem, I would be at Zuckerberg's office trying to bargain for these overpriced Facebook stocks instead of writing this article. But I do know that Facebook needs a change, just as Zuckerberg knows it. Facebook has been making some changes in the past few months. Primarily, it has been seeking out heavy acquisitions to expand the company. Among the many acquisitions, the $1 billion acquisition of the mobile photo sharing company, Instagram stands out. Other acquisitions include Tagtile (mobile customer loyalty service), Glancee (a networking mobile application), and Karma (gift-giving mobile application). After gaining a whooping amount of capital from the IPO, I fully expect Facebook to continue acquiring social networking companies on the mobile platforms. These acquisitions are great changes to Facebook's existing operations. Facebook increases its social networking force in the mobile platform, converting a potential threat into a opportunity.
Unfortunately, not all changes have been positive. At an attempt to change its revenue model and digress from the overdependence on advertising, Facebook has started to employ a new feature called "Highlight." For those of you who did not know, only 12% of your friends see your average status updates. This new feature, which is being tested in Australia now, allows you to pay a few dollars to show your posts to a wider audience. If Facebook decide to add this feature, your News Feed will be filled with posts from people that simply have more pocket money than others. You will lose control over the information you see on Facebook.
This futile attempt to find another revenue source shows the desperation that Facebook is facing. At least, Zuckerberg understands the situation and is trying hard to make a change. I am a devoted Facebook user and I love Facebook for all that it is. But if Facebook does employ this feature worldwide - which I highly doubt since I cannot imagine that it got any positive feedback - I will not only be upset but offended.
Facebook needs a change, but a good one. It should not be too hasty in making changes because one bad decision like "Highlight" will put Facebook next to Myspace, if anyone still remembers what Myspace is. I would run away from this stock until I can see a real commitment to a new advertising model. Even at $26, Facebook is trading at ridiculous multiples without any stable revenue source and a difficult future. There is nowhere else to go but down from this price level.
Disclosure: I have no positions in any stocks mentioned, and no plans to initiate any positions within the next 72 hours.