Dow Jones
Having its single biggest losing day in 4 mos (ironically on the anniversary of Black Friday in 1987), the Dow Jones index shed over 230+pts while forming a LH in the process. It is currently sitting just above a support level just sub 13300, but if the aggressive selling from Friday continues, we could see a drop to 13000 follow shortly after. Bears can look for breakout pullback setups below the 13300 or wait for a pullback towards 13550 but we could be seeing kinks in the armor of this uptrend since June.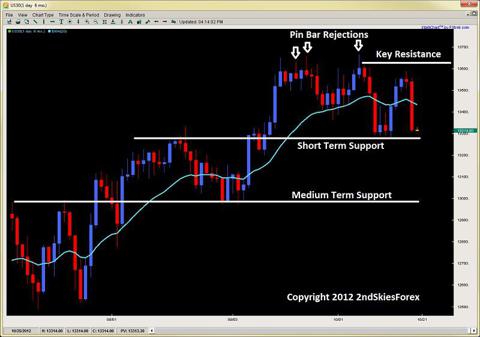 Silver
Failing to close above $35 after an impressive run from $26.50, Silver has been forming a series of bearish impulsive legs, followed by corrective legs which then continue with further selling. This is interesting to say the least, considering over 2.6 million ounces were withdrawn from the Comex on Friday. The actual total was 4.16 million ounces, but 1.6 million ounces were deposited, thus the 2.6m net outflows. One has to wonder how such physical supply could be scooped up in such a large amount but not have an upward effect on spot prices.
I suspect this is due to paper short manipulation, and will rear its head soon with sharp upward price movements. Short term, one has to be bearish until $32.50 is breached. Bulls can look for longs at $31.25 which was the Aug. swing high and pin bar rejection. Bears can look for corrective pullbacks towards $32.50 targeting the former mentioned swing high.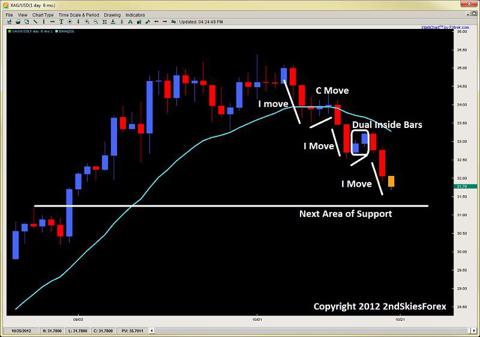 For those wanting to learn to trade price action, access to the traders forum, lifetime membership & more, visit my Price Action Course page here.