Some really interesting price action to start this week. I'm focusing on several pairs/setups, but one that intrigues me is the Euro
EURUSD
Consistently being sold with small pullbacks over the last two weeks, the pair has continually conceded support levels and made a series of LH's (lower highs) with the selling getting pretty aggressive last week.
I'll look to sell rotations up towards 1.3345 or 1.3425 targeting 1.3150. Notice the bearish engulfing bar at the 20ema which started the heavy selling this last week.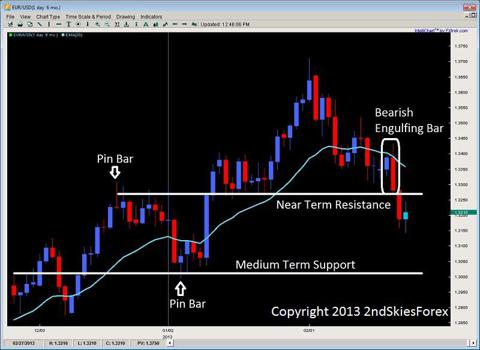 GBPUSD
Getting hammered for the last 30 days, which are also 30 daily closes below the 20ema, the pair on thursday formed a counter-trend pin bar. This was definitely not a pin bar to buy, and anyone espousing this really does not understand the trends, volatility or pin bars.
With the UK losing its AAA credit rating, I expect medium term selling to resume, so will look for corrective pullbacks into 1.5315 and 1.5415 to rejoin the trend until I see evidence of a reversal.